This post might contain affiliate links, which means I receive a small commission if you purchase through my links, at no additional cost to you!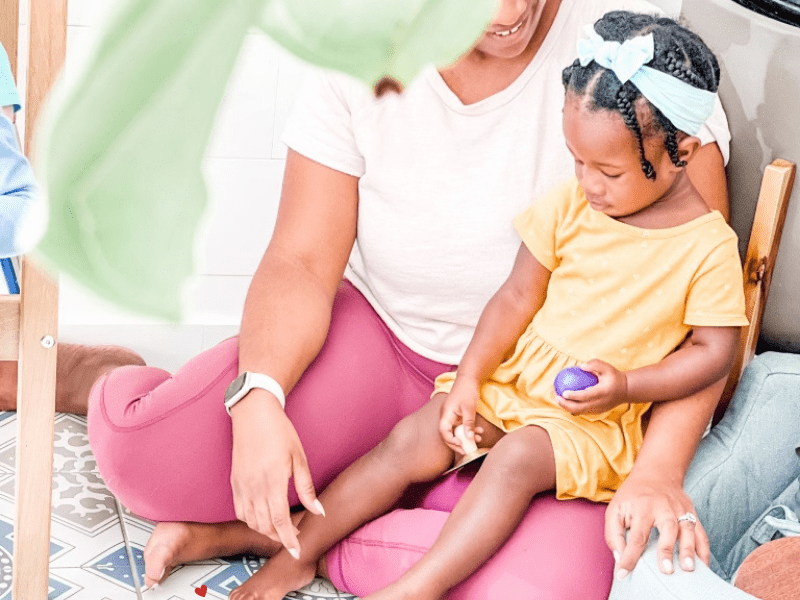 Are you looking for simple activity ideas to do with your busy toddler at home? Well, you've come to the right place, Here is a list of 19 Simple activity ideas that are perfect for toddlers to do at home.
With my busy toddler always on the move, and looking for something to get into. I like to keep a list of simple activities on hand that I can set up in a pinch.
Sensory Rice Tray
A personal favorite of mine! Sensory play is extremely beneficial for children. Using what you already have you could easily set up a nice sensory rice activity for your busy tot at home!
Check out my DIY rainbow rice post here
Other Post You May Love:
Water Tray
What I love most about sensory bins is that you can add pretty much anything to them. It's so easy to create a personalized experience for your little one.
Add water, toys, and food coloring in order to make a fun water tray!
Playdough
Who doesn't love playdough!? You can make your own recipe or buy playdough that is ready to go! Add rolling pins, cookie-cutter shapes and so much more!

Posting activity
If you are not familiar with the term posting, let me explain. Posting refers to the concept of placing an object inside a container by pushing it through an opening ( slot, holes, etc).
Posting activities are beneficial because they promote dexterity and hand-eye coordination! Check out this simple posting activity that I created for my daughter. This was the first posting activity I introduced to her when she was around 12 months!

Sticky Notes On The Wall
Sticky notes on the wall are a fun activity for babies and toddlers. For younger babies, you could use stickies on the wall as a way to encourage them to pull up ( gross motor development).
For older toddlers, you could use sticky notes on the wall in order to teach a new concept such as letters, numbers, and even colors!

Farm Animal Tape Rescue
This activity is great for eye-hand coordination and a good way to introduce tape! Use a hard surface or muffin pan. Place a variety of objects in the muffin pan, next using tape, tape stripes of tape going across the openings on the muffin pan.
The objective of this activity is for your little one to pull the tape off in order to rescue the objects inside the pan! Loads of fine motor practice with this activity.
Block Play
Block play is one of those activities that I think all children benefit from! Block play is an open-ended activity that allows children to create, and imagine as they see fit.
As a former preschool teacher, I have tried tons of blocks from different brands. My current favorite is the block set from lovevery!
Sorting Objects by colors
The concept of sorting is a skill that children typically develop and master over time. I love this amazing color sorting set from learning resources because it fosters fine motor skills, and cognitive development once children are able to recognize and match the colors.
Pom-Pom Sweep Activity
If you haven't introduced pom poms to your little ones, now is the time! Pom poms are a great addition to any activity, whether it be sensory rice, water play, or even an arts and craft project!
Check out my post on how to set up a fun Pom Pom sweep activity! All you need is tape, pom poms, and a small broom!
Sidewalk Chalk Paint
When it's warm outdoors, we love to get out and enjoy the weather! Chalk paint has become a favorite for us, and believe it or not it's super easy to make.
Check out my post on how to make sidewalk chalk paint!
Book Nook Corner
If your little scholar loves to read, setting up a book nook might be a good idea. Think of setting this up somewhere quiet! You can add cushions, blankets, pillows, and your toddler's favorite books!
See my post about 12 books that I think every toddler should have!
DIY Ball Pit
Ball pits online can be very expensive, trust me I checked! So I had to get creative and think of a fun way to set up a ball pit for my daughter without breaking the bank!
Here is everything you need, Find a large bin ( that your toddler can fit in) or use the corner section of your sofa ( this is what I did). Grab your balls, remove the bottom cushion from the couch, and add the balls! That's it, you have just created your own ball pit for a fraction of the cost!
These are the balls I use from amazon and love!
Cushion Fort
I have an unpopular opinion that I know many people may not like, but here it is! I do not see the purpose of those popular child sofas that have become insanely popular!
I think if you have a couch, with cushions you can replicate the same concept at a fraction of the price. The price of the " child sofas" is pretty expensive!
Using the cushions and pillows from your couch, you can create a fun obstacle and build an epic fort. This is great for gross motor skills, which are important for young children.
Pouring And Scooping Activity
When children participate in pouring and scooping activities, they are enhancing their gross motor skills by pouring and lifting.
Setting up a pouring and scooping station is fairly easy and you may already have some of the things on hand! You could use rice, pasta, beans, and even water. Add a few cups and containers and you have just created a fun, and simple activity for your little one.
See my post on an easy pouring and scooping activity using pasta!
Garden Sensory Bin
Another sensory play activity, but with a slight twist. One of the things I love most about sensory play and sensory bins is that you can completely customize them to meet your child's interests.
Here are a few themed sensory bin ideas;
Space
Garden
Farm
Winter Wonderland
Spring
Construction site
Paper Tunnels
How do you make paper tunnels? It's insanely easy and you will want to make it over and over again! Check out my post on how to create and set up the perfect paper tunnel activity!
This activity is great for gross motor skills and eye-hand coordination!
Foam Tray
Super messy, but worth the clean-up! I like to use chickpea juice from the can when you empty out the chickpea, add food coloring, mix with a handheld mixer, and you will have foam. This is a safe recipe that won't harm toddlers if they decided to taste test.
Pom Pom Drop
A fan favorite amongst toddlers, another fun activity that uses those bright-colored, and soft pom pom balls! This activity is great for fine motor practice and color matching.
See my post on how to create a fun pom pom drop activity
This Post Is About 19 Simple Activities For Toddlers To Do At Home