Affiliate Disclaimer: This post might contain affiliate links, which means I receive a small com soon if you purchase through my links, at no additional cost to you! I only recommend things that I love and have tried!
This Post Is About; 
How To Set Up Montessori Shelves
What are Montessori shelves
How To Organize Montessori Shelf
Toy Rotation
When it came time to set up a Montessori-inspired shelve for my daughter I was elated! Im obsessed with creating a space for her, a space that allows my daughter to engage in meaningful play, play that helps her developmentally!
Deciding to set up an easy to access, shelf for your little one is an amazing idea! It's the best way to encourage meaningful, independent, and focused play!
Not to mention our sanity as parents. Having a designated space with Montessori shelves aids in keeping things organized and neat! It's so easy to get overwhelmed with the number of toys our kids accumulate!
Are you interested in seeing how to set up a Montessori-inspired shelf? Keep reading!
Oh, before I forget, this post can be used for Montessori or not! You don't have to adopt the Montessori method in order to create a learning shelf for your little one!
What are montessori shelves?
Montessori shelves are a concept inspired by the Montessori method. The goal is to create an environment that encourages children to follow their interests, which provokes independence!
Montessori Shelves Are;
Open, This allows for the toys to be visible and easily accessed by children!
Low, This is so children can see what activities and toys are available, allowing for easy access
Stable, Montessori shelves are usually made of natural material and extremely sturdy
Clean & Organized, The. shelf space is often organized and not cluttered at all. Only toys and activities are out that interest the child.
How do you organize toys on the shelf
It's no secret that young children can get overwhelmed easily! Too many toys on the shelf can overwhelm your child! When you set a limited amount of toys on the shelf, it encourages children to play with what interests them the most, it also aids in more meaningful, independent play! Depending on your shelf size, try to limit the number of toys from anywhere to 5- 8 toys at a time. This is a great starting point, start small and add more toys if need be.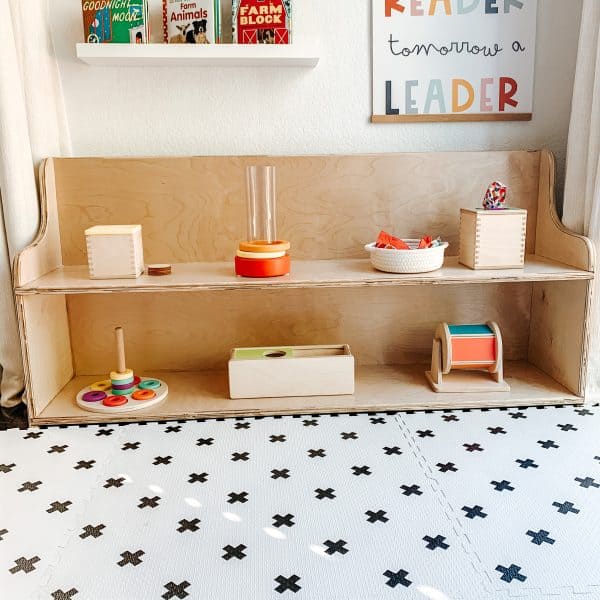 Limit toys out, Toy Rotation
It's important to be mindful of the number of toys you put out, and most importantly how many toys you put out at once! The concept behind the Montessori shelves is to only offer well-thought-out activities that interest and challenge your child. Putting too many toys out can be counterproductive and overwhelm your child easily.
Toys rotation is everything! If your child has a lot of toys, this is a great way to keep the shelf organized, and it also helps keep your child engaged.
Baskets, and Trays
The use of baskets and trays on a Montessori shelf is important. Some Montessori activities call for smaller pieces. So having trays and baskets to hold those objects is amazing! Also, it's a great way to keep things organized, and when the time comes your child will be able to put the trays and baskets back on the shelves!
Montessori Trays On Amazon
Leave toys " unfinished"
This was a game-changer for me, I initially started off by adding baskets or trays with the activity already set up. I noticed that my daughter wasn't as engaged after using the toys a few times. Children tend to be more interested in unfinished activities. Once I noticed this I started to leave her puzzles, ring sets, and other activities unfinished. Because of this, it gave her the opportunity to assemble and work through the activity.
When I was offering the activities completed, it didn't leave anything else for her to do!
Tips for setting up Montessori shelf
Assesibility Montessori
Accessibility is everything! We want to encourage independence and confidence. When children can access what interests them the most it really encourages independence and builds confidence! 
Find shelves that are truly child-sized. If you are unsure, get down on your child's level and play with them in the space. This will give you an idea of what you need to add, and what types of shelve would work best for your child! 
Create a space that allows full range to explore
Full range to explore freely! You want to set up a space that really allows your child to maneuver freely without any restrictions. Offer activities and toys that allow your child to explore freely! If you offer things that aren't developmentally appropriate, You may find yourself restricting your child, saying "NO" a lot! This can be frustrating for children. 
Offer toys and activities of interest
This is a big one, You want to offer toys that are good quality, toys that speak to your child's interest and encourage development. Toys that are age-appropriate!
activities that aren't too easy, and challenge your child. 
I'm subscribed to the lovevery play kits! We absolutely love the play Kits! Each month my daughter receives toys geared around her developmental needs! Toys that aren't too easy, but also offer a bit of a challenge! The toys are really good quality and engaging to say the least! 
Toys to include;
Sensory activities
Books and Music
Photographs
Natural objects
Househld items
Use natural material
If possible offer natural material when possible! The Montessori concept includes using natural material and fabrics ( Wooden trays, wooden toys, bickered baskets, etc)
Toy rotation whe possible
Toy rotation helps with keeping toys organized, but most importantly it keeps your child engaged! Basically, you would put the unused toys out of sight, once your children start to lose interest in their current toys, you can just swap them out!
Take away out to from setting up the Montessori shelf
Low, easily accessible shelves
Quality toys and activities
Limit amount of toys offered, also toy rotation when possible
Offer toys that interest and challenge your child
Offered unfinished activities