REVIEW OF THE LOVEVERY PLAY GYM
This Post Contains Affiliate Links, Which means will Receive a small commission if you purchase through my link. 
This Post Is a Review of the Lovery Play Gym
The lovery Play Gym unique designs incorporates simple Montessori inspired toys, a large mat, and different learning stations to keep your little one engaged.
Of all the play gyms I have used over the years as an ECE educator this one is hands down my favorite! 
The gym truly grows with your child and comes with a guide on different ways to use the gym. 
The Lovery Play gym was created with your child development in mind! 
As a preschool teacher, nothing excites me more than creating an engaging learning enviomrennt for my daughter. 
I had been eyeing the Lovery Play Gym when I was pregnant and knew I would eventually want to get one for my daughter. Considering I'm a huge advocate for early childhood education i already understood the importance of introducing her to different learning experiences early on. 
I eventually got my hands on the play gym and I want to share with you my honest thoughts and review as a mom, and Early Childhood Educator! 
THIS POST IS A REVIEW OF THE LOVERY PLAY GYM
The lovevery Gym Comes With The Following: 
The Large Learning Mat With the Diffrent Stations 
An Activity Guide 
Montessori Inspired Toys 
A Cover to create tent 
High Contrast Learning Cards for infants 
Learning cards for older Babies 
Does The Lovevery Play Gym encourage development for babies
The Loverye Play gym's unique design offers endless opportunities for exploration and development from birth and up. I got the play gum for my daughter when she was around 6 weeks of age.  The guide was extremely helpful,  It really took the guesswork out of how to use the gym for me. I knew which parts of the gym I could use according to her age and current developmental milestones! 
My Review of the lovevery play gym As a mom
So as a mom, I love the lovevery play gym for my daughter. As I mentioned before I purchased her play gym when she was around 6 weeks of age and she uses it daily! She is currently 8 months and she still loves playing with the play gym. I still use the guide that was sent with the play gym as a reference for ideas on different ways to use it. 
The Lovevery play gym keeps my daughter fully entertained and the plus side to that is she learning as she explores! 
MY REVIEW OF THE LOVEVERY PLAY GYM AS A Teacher
From one early childhood educator to another, my heart explodes when I see toys that offer endless learning experiences for babies. I know it can be tough to keep little ones entertained and engaged, so I really love that this play gym does just that. 
The amount of learning opportunities available with the lovevery play gym is a huge bonus! I love the simplicity of it, it definitely has a Montessori approach which I like! It's not overstimulating and keeps little ones entertained. 
The playmat has tabs on each learning zone that allows you to hide the zone that your little one isn't using. I love that concept as an educator because it really helps the child stay engaged with one activity at a time, which prevents overstimulation. 
Learning Zones on the Play Mat 
Making Sounds
How Things Feel 
Hiding And Finding 
Exploring Colors 
Play Space Cover 
Learning to focus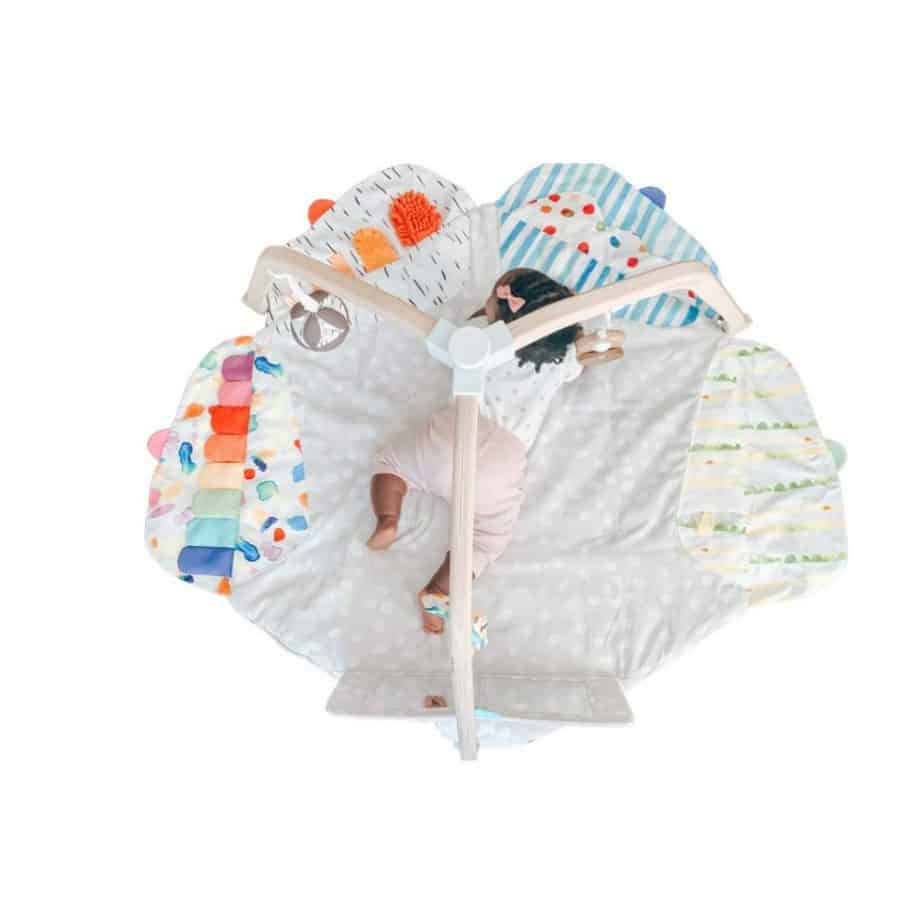 THIS POST IS A REVIEW OF THE LOVERY PLAY GYM
Very entertaining and engaging for children 
Simple, Tocix free toys ( Montessori Approach ) 
Endless Learning opportunities 
Sensory Exploration 
Clean and sleek design 
Grows with babies development from birth 
cost ( Depending on your budget this may be a bit pricey for a play gym ) 
The wooden frame isn't collapsable, so storing it away can be hard unless you break it down each time. 
Absolutely! Speaking from a teacher's perspective this is hands down the best play gym I've used over the span of my career! I love all that it offers and the endless learning experience it offers to babies. As a mama of an 8-month-old busy baby, I love it! It keeps her well engaged and she loves it. 
As with anything, be sure to do your research and go by what is best for your little one! I would love to hear from you, Do you have the play gym? What do you love most about the Lovevery play gym?