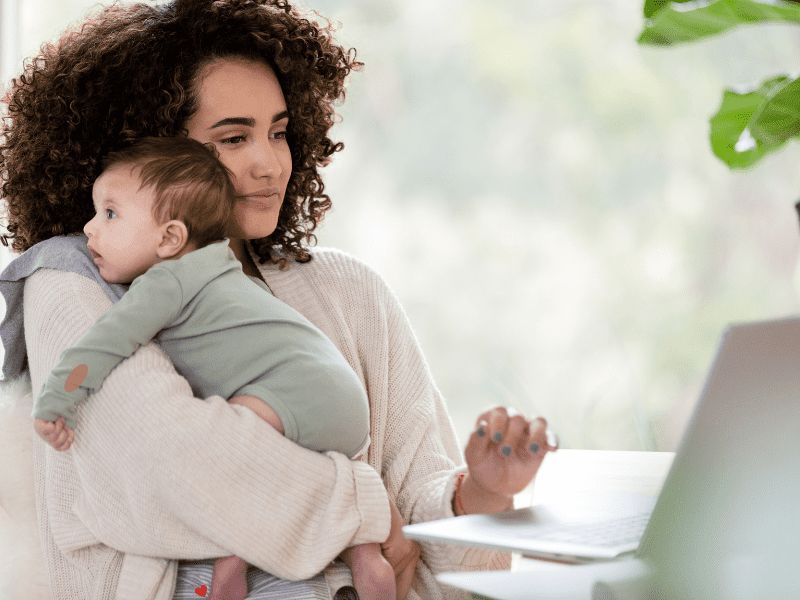 If you're a mom looking for ways to earn passive income, you have come to the right place! I'm going to share eight passive income ideas for moms!
Whether your goal is to spend more time with your little ones or earn a few extra hundred dollars, these passive income ideas are perfect for moms! Okay, let us get right into it!
Top Picks: Best Passive Income Ideas For Moms
Affiliate Disclaimer: This post might contain affiliate links, which means I receive a small commission if you purchase through my links at no additional cost.
What Is Passive Income?
Okay, let's start with the basics. You may be wondering what exactly classifies a gig as passive income. According to the IRS, Passive income can come from two types of sources; business or a rental property.
Both of which don't require you to participate actively all the time. Think of it this way, let's say you create courses in a particular niche; you may spend 8 hours, in the beginning, planning and making the course.
Let's say you spend another 10 hours marketing the course to your audience. Eventually, you can put that course on autopilot and reap the benefits from all your upfront work.
You may update your course and make any necessary changes along the way. So it is not entirely hands-off, but passive income is about doing most of the work upfront.
Become A Freelance Writer On Fiverr
If you haven't heard about Fiverr, where have you been? Fiverr is a great platform to earn a good amount of money! I love this platform for moms because you can create your schedule and earn on your own time!
The options are endless with what you can do on Fiverr. My favorite is copywriting for businesses, bloggers, and online professionals! Freelancing is an excellent passive income idea for moms looking to earn some extra money on the side.
Selling Digital Products On Shopify
Selling digital printables is truly passive! Creating digital printables to sell online takes some upfront work to make the printables, but once you do the upfront work, you can practically set it and forget it.
The plus to selling digital products is that you do something once and benefit later. Planners, kid birthday invitations, and social media templates are some of the most popular printables.
Other Posts You May Love
Starting A Blog
Starting a blog for many moms has been highly successful and considered passive when done correctly.
If you want to earn passive income while spending more time with your kids, then starting a blog may be just the thing for you!
Starting a blog requires a lot of work, like a ton! However, the reward is also there! ( insert Blogger success story here)
Graphic Design Freelancer
If you have an eye for design and love to create compelling designs for brands and local businesses, becoming a graphic designer on freelance platforms like Fiverr may be the perfect fit for you!
Graphic designers on Fiverr make anywhere from $$ to $$ of a passive income!
You can create logos, social media packs for brands, branding templates, and even contracts! The options are endless!
Selling Name Stickers
As a former preschool teacher, let me tell you how helpful it is when parents have their child's personal belongings labeled! Nothing is more frustrating than sending a kid home with the wrong water bottle or lunchbox!
Most schools and childcare centers require parents to label their child's things before they can start.
Surprisingly selling name stickers for kids is a super lucrative passive income option! If you have insight into making stickers or have considered buying the circuit, now is the time!
Create Party Invitations To Sell on Etsy
If you are a parent, you know just how essential invitations are! Whether it is for your little ones' 1st birthday or a special invite to your baby shower. Party invitations are essential; party invitations are digital printables that sell well on Etsy.
If you have an eye for design, creating party invitations to sell as passive income may be your next side hustle! Plus, you can create invitations during naps!
Print On Demand
If you are a graphic designer or creative entrepreneur, you may be interested in the POD industry.
Suppose you have always dreamed of selling unique products to your ideal customer, but you don't want to take the traditional route of buying in bulk and holding tons of inventory. In that case, You should consider print-on-demand as your passive income gig!
What is POD? Print on demand is a print service you use to create products, whether a T-shirt brand, books, bracelets, or personalized mugs. With print on demand, you upload your designs to the print service, and when someone buys, they will ship the products to your customers directly! More goes into it, so research and see if this is the perfect passive income gig for you!
Start A Youtube Channel
Youtube has been around since 2005, and it is safe to say this platform is here to stay! Unlike our favorite social media platforms, youtube is a search engine within itself!
Millions of people flock to youtube every month for entertainment, how-to videos, and so much more! If you have more knowledge in a specific industry or have helpful tips you would love to share with the world; you may want to consider starting a youtube channel!
Building a youtube following does take some time, but once you develop your following, your opportunities to monetize are endless!
This article is about the 8 Best Passive Income Ideas For Moms!