Affiliate Disclaimer: This post might contain affiliate links, which means I receive a small com soon if you purchase through my links, at no additional cost to you! I only recommend things that I love and have tried!
This article is about
5 Tips for encouraging positive behavior in toddlers!
The green and red choices chart!
Behavior Charts
How To Encourage Good Behavior In Your Toddler
Encouraging positive behavior in toddlers doesn't have to sound impossible. In fact, teaching toddlers self-discipline shouldn't be a terrifying thought! It's best to start early (at around 2). Children catch on fairly quickly, so the earlier the better!
Here are 5 tips that you should implement early on to encourage positive behavior in toddlers!
5 Tips For Encouraging Postive Behavior in Toddlers
Clear Expectations ​
A great starting point for encouraging positive behavior in toddlers is, setting clear expectations! Often times as parents, teachers, and caregivers we forgot to tell our little ones what is expected of them! Since we don't set clear expectations, toddlers usually end up doing the very thing that we don't want them to do! Which then gets categorized as " bad behavior" but in reality, they just don't know what is expected of them!
As adults, we tend to not give our toddlers enough credit, they are really intuitive, and smart little people. To be clear, set expectations. This is the first step in encouraging positive behavior!
Model Behavior
It's no secret that children learn from doing, and sometimes they pick up new behaviors from the people they spend the most time with. Because of this, it's important that we model the very behavior that we are encouraging our toddlers to show! Whether we realize it or not, they are watching us and sometimes they model the behavior that they see. I know it's easier said than done, trust me I get it! With a 14month old running around, I am starting to see her do things that I tend to do, like sweeping the floors or singing and dancing. We are always together, so it's only natural for her to model some of the things she sees me doing!
It's not realistic to expect children to model any behavior other than the one that they see. Whether we realize it or not, children are watching us and they definitely learn behavior from us as well.
Create Routines
From the time my daughter came home from the hospital, we were firm on creating routines for her. As an early childhood educator, I know how important routines are for small children. Creating a routine for daily activities helps toddlers feel in control of their environment. As a result, it encourages positive behavior! Just like adults, toddlers thrive and feel secure when they have consistency and some predictability!
This doesn't mean that the routine will never change, it will! Children are able to adapt, but having those daily routines consistent for the most part is a huge gamechanger! You will be shocked how much it encourages positive behavior!
Offer Praises
As parents, we sometimes focus primarily on the things that our children aren't doing. We oftentimes find our selfs saying "stop that" or " don't do that" more often than not! It's important to become aware of our responses to certain behaviors and try to focus on more positive reinforcement if possible. As a new mom, and a mom to a toddler! I do believe there is a time for discipline and consequences. However, as a teacher, I know the benefits of focusing on positive reinforcement with toddlers and young children!
Take it a step further and introduce positive reinforcement strategies and reward systems. When toddlers show positive behavior reward them with words and rewards if possible! These rewards can be physical items or simple affirmation tags!
Grab these fun Affirmation Tag Necklaces!
Self-reflection really helps us parents recognize our actions, and ensure we aren't taking our frustration out on our kiddos! When we become aware of this it helps us better respond to our toddler's behavior and promote positive behavior! 
Self Reflection
It's been a tough year for most of us! With most of the world coming to a complete stop due to the pandemic, it has been extremely stressful and hard for a lot of families. As adults, we sometimes unconsciously take our frustration out on our kids! This is a huge one, sometimes we are so overwhelmed and stressed out that everything our kids do can be annoying. This is definitely a hard pill to swallow, but it's necessary to recognize! We have to make sure we offer patience and don't allow our adult stresses to affect how we interact with our toddlers!
Age Appropraite activities
Creating a space for children to engage in age-appropriate daily activities is essential. It really encourages positive behavior, because children are engaged in age-appropriate activities that allow them to play independently.
When toddlers don't have anything to do, they can definitely start to get into things that we prefer them not to do. It's important to offer them daily activities that keep them engaged and foster their development!
Behavior Management Bundle To Encourage Positive Behavior In Toddlers!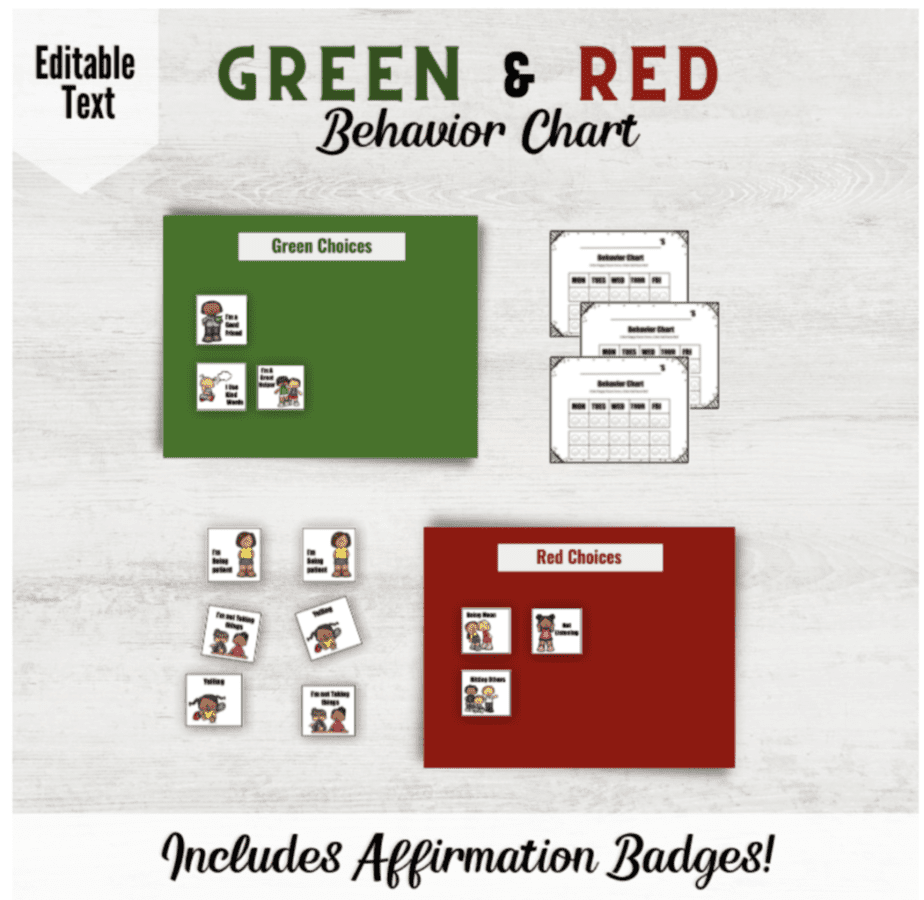 This Post Was About
5 Ways To Encourage Positive Behavior In Toddlers
Green, and Red Choice Behavior Charts
Affirmation Badges