If you are expecting and looking for a way to tell friends and family,y about your pregnancy on Instagram, this article is for you. Here are 36 Pregnancy Instagram Captions!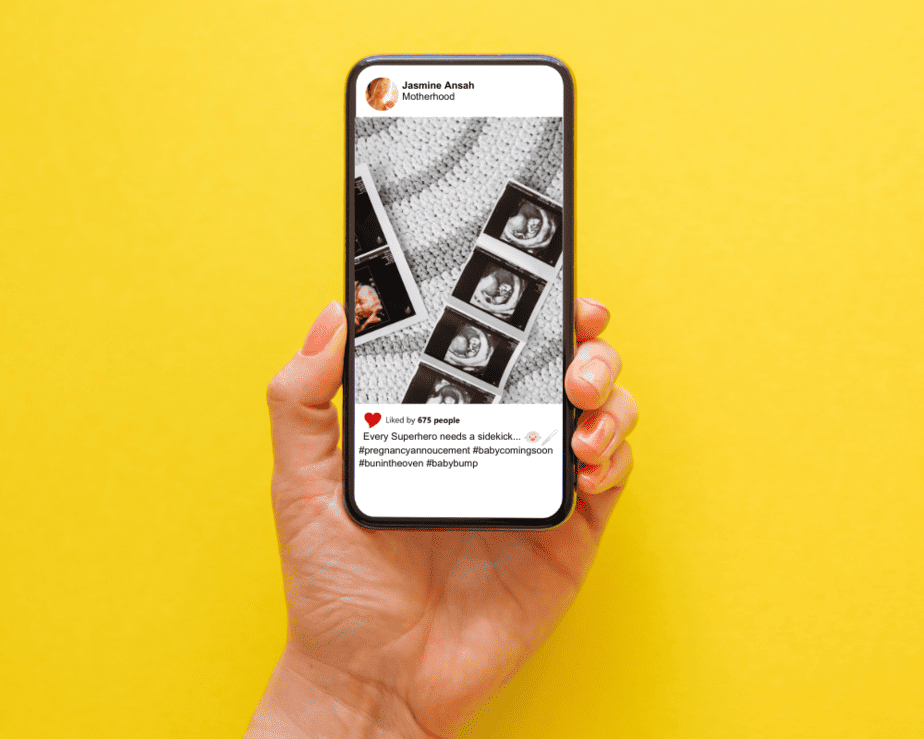 Affiliate Disclaimer: This post may contain affiliate links, which means I receive a small commission if you purchase through my links at no additional cost!
Congratulations on your pregnancy and this incredible journey you will embark on! Being pregnant and bringing a little joy into your world is a fantastic feeling we will always cherish.
Below I have compiled a collection of fun, popular, and funny pregnancy Instagram captions. With a picture and the right caption, your news will be published soon for all your friends and family to share! Here is the list of 36 pregnancy announcement Instagram captions.
Cute Pregnancy Instagram Captions
" No wonder I've been super hungry…🍔🍟"
"Every superhero needs a sidekick…👶🏽"
"Feels good not to hide the baby bump anymore…"
"Finally, someone to occupy the middle seat…"
"When I bump, you bump, we bump 🤰🏽"
"Bra off, hair up, belly out."
"This is it. This is pregnancy."
"I was told there would be glowing."
"I have two brains in my body. I've never felt so dumb."
"I need sleep, but someone uses my stomach as their bounce house.💤"
"No big deal; just growing a tiny human."
"Current score: 1-Pregnancy Cravings, 0- Me"
I"m pretty sure ill need a forklift to get me out of bed soon 🛏️."
"I'm pregnant, not fat…okay, maybe a little fat."
"Who knew that the #1 pregnancy symptom would be frequent peeing?🧻"
Other Posts You May Love:
Popular Pregnancy Instagram Captions
" The best is yet to come ( due date) 👶🏽"
" Dont mind me, Im just bumpin' along 🤰🏽"
" Our family is expanding, and we are beyond excited."
" You + Me = Three"
"Miracles take a little time. #babycomingsoon"
First came love ♥️, then came you."
" A Sweet adventure is about to begin 🤰🏽."
Welcoming our little one ( due date)!"
"Somethings brewing ☕️, Coming (due date)." – photo of mom drinking tea
"We're adding a new pumpkin to the pumpkin patch 🎃!"
" I grow humans. What's your superpower ⚡️!"
" Bun in the oven, Continue to bake until (due date) 🥖."
Funny Pregnancy Captions For Instagram
"Not drinking for two, I'm eating for two 🥤🍕."
"I think I have a food baby 🍟, and a real baby 👶🏽."
Please pass the tissue 🤧. Pregnancy makes me emotional."
"Am I sweaty from being pregnant or glowing?"
"Pregnancy cravings are real. I just ate a pickle with a side of ice cream 😳."
"I need maternity clothes to accommodate my growing bump and appetite."
"I'm grooming a soccer player with all this kicking happening⚽️."
Wondering if I'm ready for this baby, or just ready for the glass of wine after this baby 🍷."
I'm sure this baby will love ice cream and hate vegetables 🥬."
This Post was about 36 Best Pregnancy Instagram captions.