Affiliate Disclaimer: This post might contain affiliate links, which means I receive a small com soon if you purchase through my links, at no additional cost to you! I only recommend things that I love and have tried!
This Post Is About 10 Treasure Basket Idea
If you are familiar with the Montessori method, im sure you may have already heard about treasure baskets! I've always been a fan of the Montessori method, and as of lately I've been making a conscious effort to implement more and more Montessori methods at home with my toddler!
She is 15 months now, and constantly on the go. She is eager to explore and learn new things. I stumbled upon treasure baskets and the concept of treasure baskets when I was looking for activities that encourage language development.
My LO is at the age where she is starting to develop more language skills, and I want to do everything to encourage and foster that development!
Over the past few months, I have created some really fun and simple treasure baskets for my daughter, and I want to share them with you! These baskets are perfect for busy toddlers eager to explore! They are super simple to make, and im sure you can find most of the objects lying around the house!
What Are Treasure Baskets For?
Montessori treasure baskets are baskets that contain related objects inside the basket, that you can rotate in and out based on your child's interest. The possibilities are endless in regards to what you can put inside the baskets.
Going based on what your child is currently interested in, is a great start when introducing treasure baskets! These adorable baskets are full of treasures that encourage children to use the sense ( smell, taste, touch, see, hear)
What Should I Put In My Babies Treasure Basket?
In terms of what to put inside of your littles baskets, you have full creativity to do so! As I mentioned before it's best to go based on your child's current interest and build from there. Be sure to ONLY include safe, non-choking hazard items! If possible try to stick with natural materials, and toxic-free! I would also refrain from plastic if possible. The true Montessori way, calls for more natural materials.
Kitchen items ( spoon, measuring cups, straws, tops, Cooking spoon, whisk, )
Fabric swatches, small pieces of different types of fabric ( silk, cotton, leather, )
Balls ( different shapes, sizes, and textures ) Lovevery link
Play animals ( farm animals, wild animals, insects )
Felt/ wooden play foods ( different shapes, colors, and sizes)
Brushes ( different size brushes, Variety of brushes) toothbrush, paintbrush, hairbrush, etc)
Loose parts ( any safe loose parts you have around the house )
Instruments ( things that make sounds, Bells, rattles, Tamborine)
Ribbons ( different textures, colors, and sizes )
Pom poms ( different sizes, colors, and textures)
What Age Are Treasure Baskets For?
Treasure Baskets can be introduced early, believe it or not! The sooner the better in my professional option. I did treasure baskets with my daughter as early as 6 months. I would use teethers, or things that I knew were safe. At around 6 months and up, children tend to put everything in their mouths. So I always try to put objects in her treasure basket that are toxic-free, and safe if she puts them in her mouth.
What Should I Not Put In My Babies Treasure Basket?
Small-Object ( Choking Hazard )
Objects that are breaking apart
Plastic ( if you are doing the Montessori method )
Toxic Toys ( Lead, Phthalates, BPA )
Related Post: Teaching Toddlers To Talk
Treasure Baskets And Language Development
Montessori treasure baskets are truly beneficial for toddlers. They encourage children to engage their senses when playing with their baskets, but they also encourage language development! Now that my little one is getting older, and building her language skills. I love to introduce treasure baskets to her as a way of language development. Most of the time she explores the baskets independently. However, i do like to engage with her as well, naming the objects that she picks up and plays with. Over time she will become familiar with the objects, and eventually be able to show me, or tell me what they are! All important steps in language development for toddlers!
9 Treasure Basket Ideas For Babies And Toddlers!
1. Fabric Swatches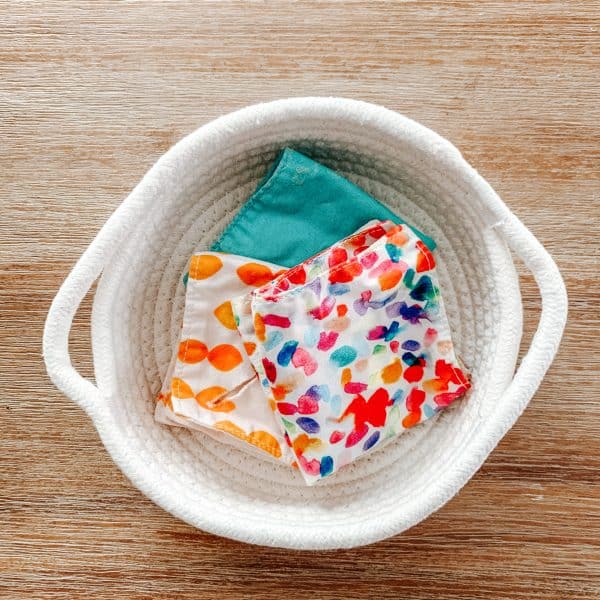 You can find fabric swatches at most craft stores or even online. These fabric swatches pictures are from one of the lovevery play kits I get for my daughter on a subscription basis.
2. Zoo Animals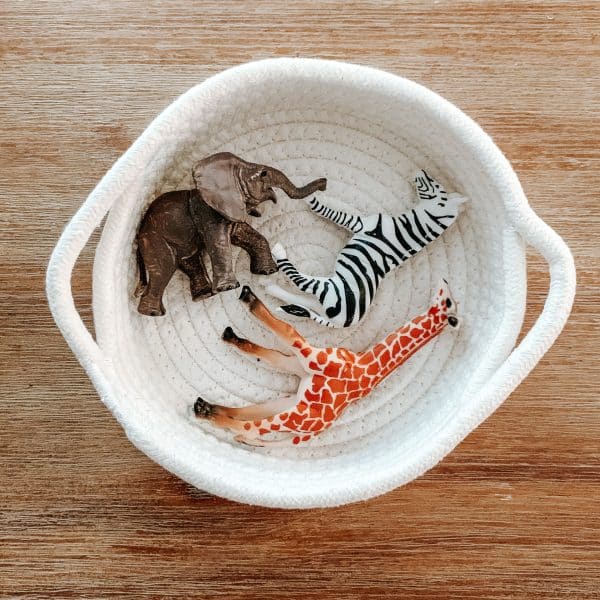 Create a similar treasure basket with farm animals, zoo animals, and even insects!
3. All Metal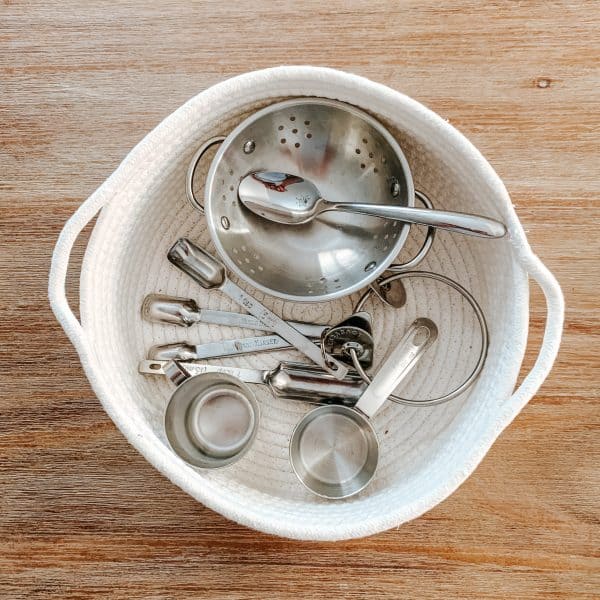 Kitchen items are great for treasure baskets! You can pretty much use whatever you have in your kitchen! You can also use play kitchen supplies as well.
4. Play Felt Food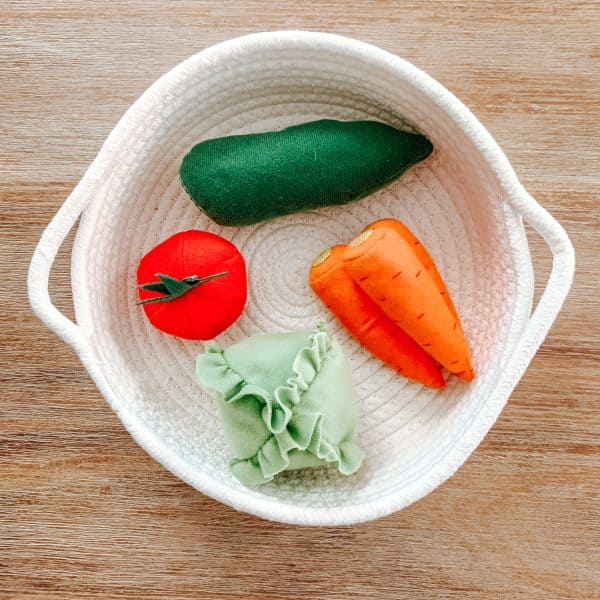 I'm obsessed with how cute and soft felt play food is, Adding play food is great for treasure baskets! You could also take it a step further and add matching flashcards for matching! You can use any play food you have already!
5. Musical Instruments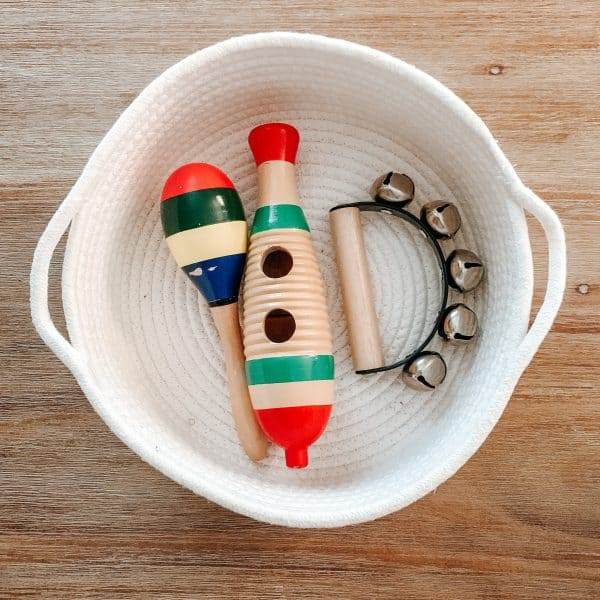 So many options for treasure baskets when using instruments! You can use actual instruments ( tambourines, Shakers, Xplophone ) Or you can use items around the house that make great instruments ( pots, pans, spoons, or containers with beans )
6. Kitchen Untensils And Jars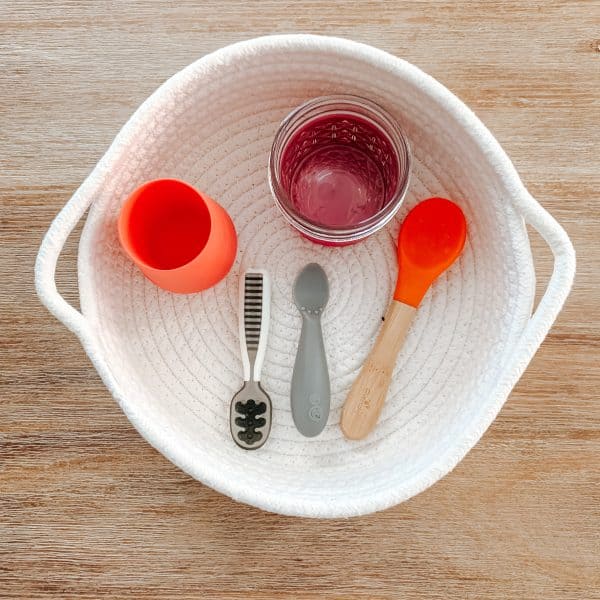 A great way to include real-world items into your toddler's treasure basket! I personally love adding everyday household items to my daughter's treasure basket! She loves playing with real items from around the house.
7. Pom Poms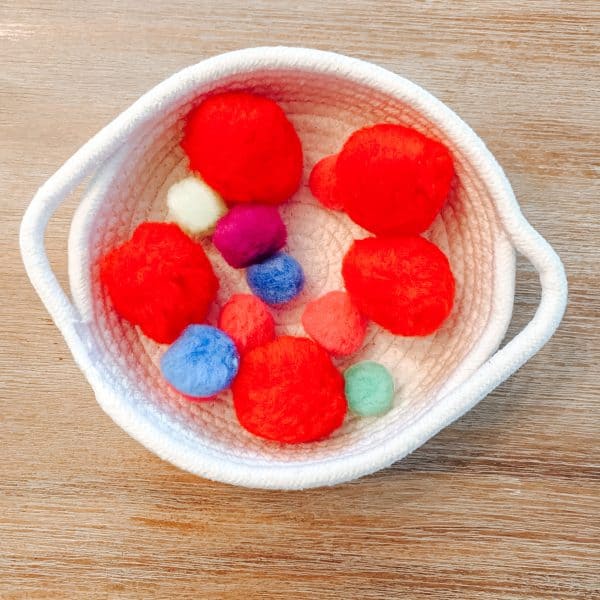 Pom Poms come in all different shapes, sizes, textures, and colors! Add a lot of variety when adding pom poms into your toddler's sensory bin! Super fun and interactive for toddlers!
8. Small Books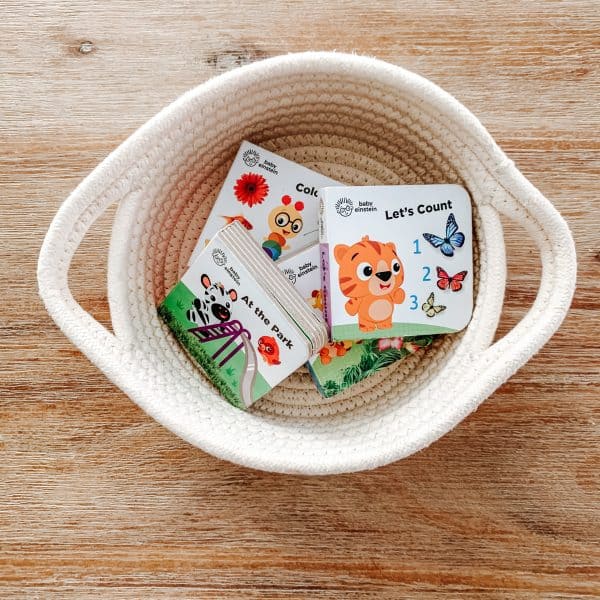 We love these tiny books from baby einstein, my daughter loves playing with them, and they are the perfect size for her little hands. I love adding a few of them to her treasure baskets! She enjoys exploring them all, and turning the pages herself!
9. Balls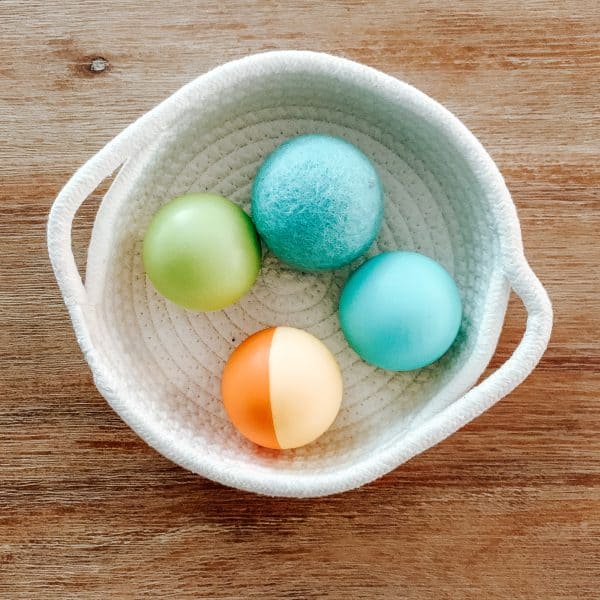 Toddlers love balls! Adding a variety of balls to your toddler's treasure baskets is a great way to keep them engaged! Try adding different colors, textures, and even weight.