Nothing frustrates me more than thinking of a fun activity idea to do with my toddler, only to realize that I don't have everything that I need to create the activity! ARGH! If you can relate, and have experienced the same frustration then this list is just for you! In other words, Here is a list of 11 activity supplies that you need, and that will save you time when creating activities.
As a mom, with a busy toddler on the move, I don't have time to go shopping every time I change my daughter's activities! Between nap times and mealtimes, and playdates I want to make sure im not adding more unnecessary stress to my plate!
Deciding to build my activity supply collection has been a game-changer for me! I've been able to cut my prep time in half, considering I'm not running around the house looking for the supplies I need!
Affiliate Disclaimer: This post might contain affiliate links, which means I receive a small com soon if you purchase through my links, at no additional cost to you! I only recommend things that I love and have tried! To read my full disclosure click here
Related Post: Easy sidewalk Chalk Paint For Toddlers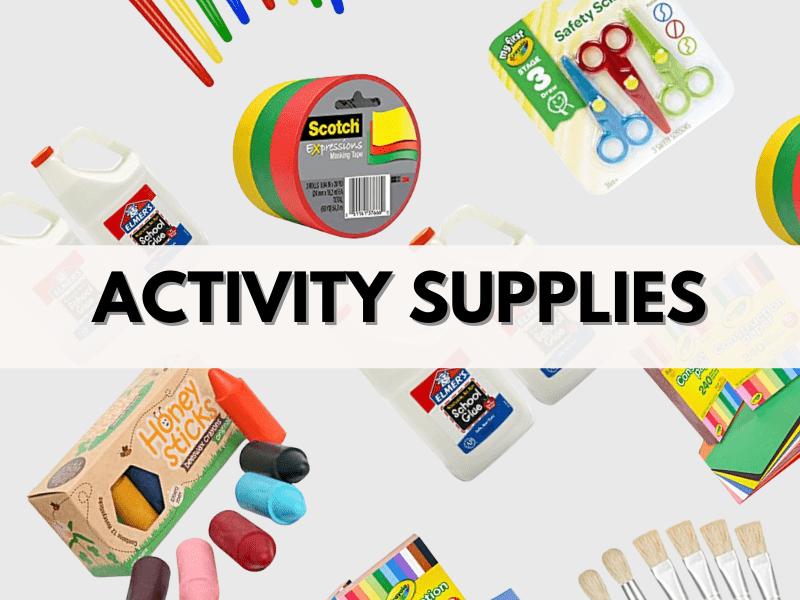 Build Over time, Dont break the bank
It's important to note that you do not need to run out and buy everything on this list. For instance, these are all things that I accumulated over time! Build a little at a time, and your supply collection will start to grow!
Supplies, crafts, and activities can get pretty expensive! Therefore it's a great idea to pace yourself and build over time.
1. Scissors
First on the list Is scissors! I know I'm not alone when I say, trying to look for scissors with a toddler running around isn't fun! I like to have a pair of really good scissors for myself, and a pair of safe scissors for her when she starts to use scissors.
2. Glue
Typically when creating crafts, you always end up needing glue of some sort! Elmer's glue is my glue of choice unless I need something much more durable, I'll grab for my glue gun
3. Tape
Whether you are putting up artwork or sticking something together! It's great to have quality tape on hand when creating activities for little ones. The tape itself is also a great activity for toddlers, stick a few strips of tape to the wall and watch your toddler have a good ole time!
4. Velcro Tape
My go-to tape my activities that need to be secured to a shelf or even wall! I rely on Velcro tape for just about everything!
5. Hole Puncher
I can count the number of times I needed a hole puncher for activity and didn't have a hand. I have learned my lesson and now I always keep a hole puncher close by!
6. Paper
Most crafts and some activities call for paper! Having a pack of plain white paper and construction paper on hand has been a huge time saver for me when creating crafts or new activities!
7. Crayons & Markers
Your little artist needs options when creating their latest masterpiece! Crayons and markers are my top supply must-haves for toddler crafts and activities!
8. Thermal Laminator
A thermal laminator is essential when creating activities that are interactive, or you want to get multiple uses from! Im starting to create flashcards and a busy book for my daughter so having this laminator on hand is so helpful!
9. Printer
Gone are the days when we had to take a trip to the local print shop to print papers! Im always printing something for my daughter ( flashcards, busy book pages, coloring sheets and so much more ). Having an at-home printer was a no-brainer for me, I'm glad I'm able to print what I need within minutes.
10. Paint & Paint Brushes
An absolute necessity for at-home activities with toddlers. We do some sort of art activity each week, so having the essential art supplies on hand has helped a lot!
11. Buttons, Pom Pom's, & Pipe Cleaners
Sensory jars, sensory trays, or even a fun fine motor activity using buttons. All of these activities call for manipulatives that you want to have on.
---

This website participates in Amazon Services LLC Affiliate/ Associates Program. Which is an advertising program for sites to earn commissions and advertising fees for linking to Amazon.com and advertising.