Looking for an easy color matching activity to do with your toddler? I have the perfect activity idea for you, using a recycled cardboard box! It's simple, easy and so much fun!
Affiliate Disclaimer: This post might contain affiliate links, which means I receive a small commission if you purchase through my links, at no additional cost to you!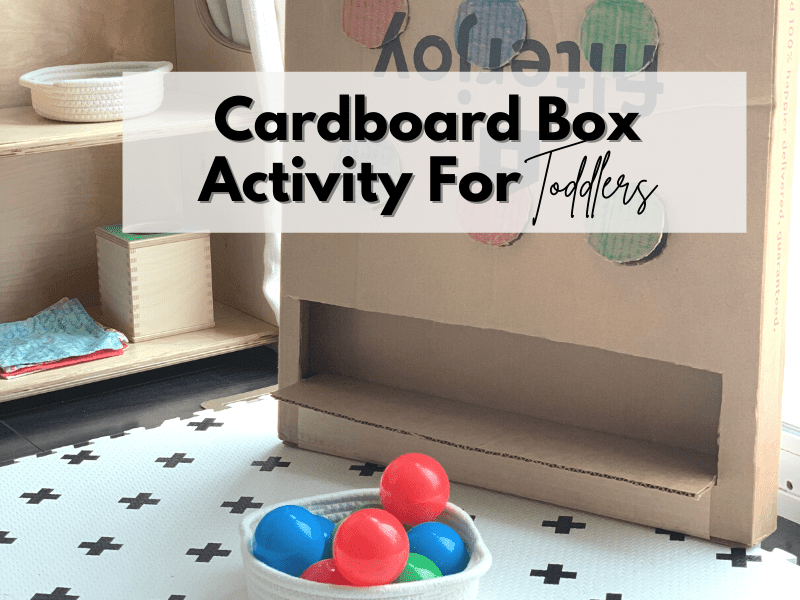 Why Kids Love Cardboard Boxes
There is a saying amongst parents that if you buy a child a toy they will play with it and set it aside, but if you give them a cardboard box they will engage in hours of play. I love this statement because it's TRUE!
Most of the time, simple activities that don't require much prep or supplies turn out to be the best activities!
Every 3 months or so, we get furnace filters from a filter subscription company, The boxes that filters come in are a really good size, and I'm always thinking of fun activities I could create with the boxes.
So here we are, I decided to create a color matching activity using a cardboard box.
Understanding the interest of the child
As of lately, my daughter has been obsessed with balls. Although she is still young for color recognition. I still expose her to color-enriching activities daily. So when she does reach the point of learning her colors, she will be familiar with them.
You can easily make this activity into a color matching activity for preschoolers as well.
Activity Overview
Preparation Time: 10 to 15 minutes
Supplies You Will Need
Recycled Large Cardboard Box
How to make this cardboard box activity
Making this activity is fairly simple! Everything you need you may already have. When choosing a box for this activity try to use one that is long enough, and deep enough. It needs to be wider in depth so the balls can easily roll down to the bottom of the box.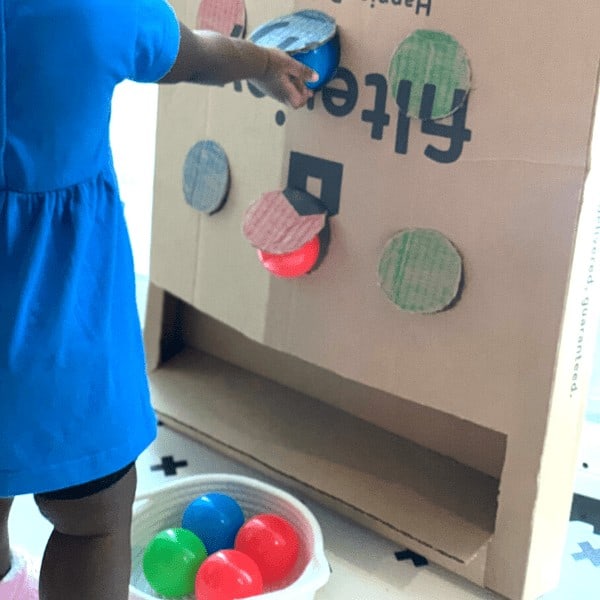 Easy Steps On Creating This Cardboard Box Activity
First, using the box of your choice, start by tracing medium size circles on the box.
Next, once all your circles are outline, start cutting the circles out. IMPORTANT: Leave a small part of the circle uncut, this will allow for the flip flap feature. If you cut the circle out entirely, it wont work.
Using your Jumbo crayons, Color each circle to match the colors of the balls.
Lastly, at the bottom of the box, outline a long rectangle, and cut it out using your box cutter.
Hold on to the rectangle piece you cut out, use it as a ramp inside the opening of the rectangle. This is a great landing spot for the balls.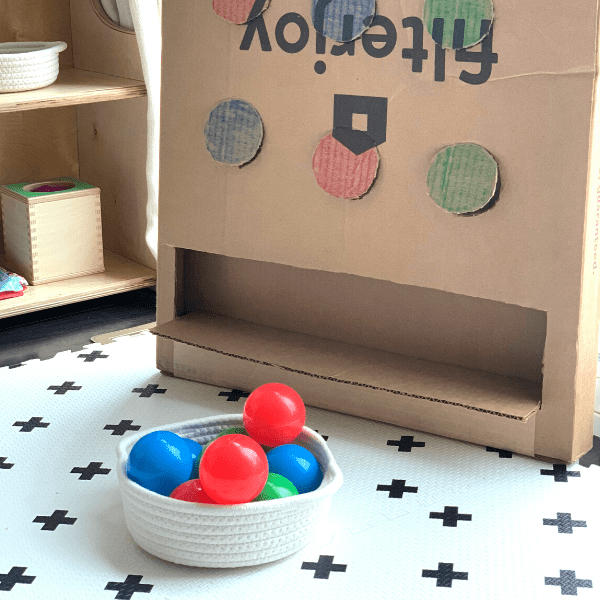 Recent Blog Post
A great color matching activity
When I create new activities for my daughter, I always take into account what she could get from that activity. She is becoming interested in learning about colors, so I wanted to make this activity a color matching experience for her as well.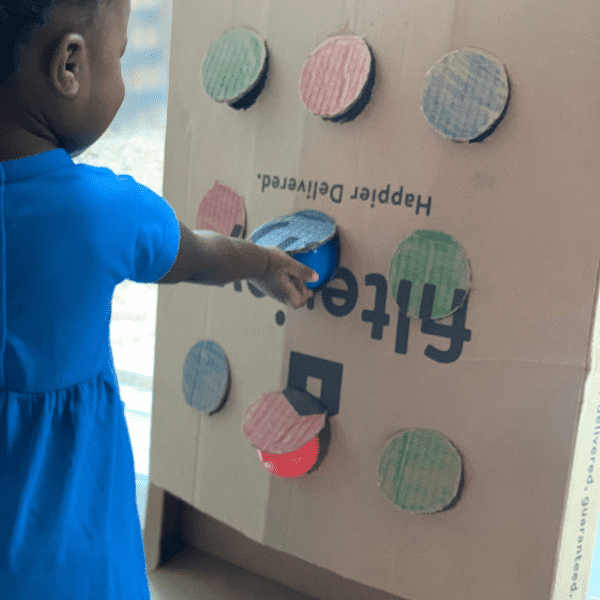 Endless activity ideas using cardboard boxes
It's true, the best toys and activities are the ones that are not expensive at all. Working with children over the years has allowed me to see that kids don't always need the most expensive toy in order to have fun. In fact, the most fun usually comes from things we already have around the house, stuff that allows them to really use their imagination and have an open-ended play without any restrictions!
This Post Was About A Fun Cardboard Box Activity For Toddlers
---
This website participates in Amazon Services LLC Affiliate/ Associates Program. Which is an advertising program for sites to earn commissions and advertising fees for linking to Amazon.com and advertising.