Are you looking to start the baby-led weaning method with your little one? Keep reading to find out what I wish I knew before starting baby-led weaning.
Affiliate Disclaimer: This post might contain affiliate links, which means I receive a small commission if you purchase through my links, at no additional cost to you!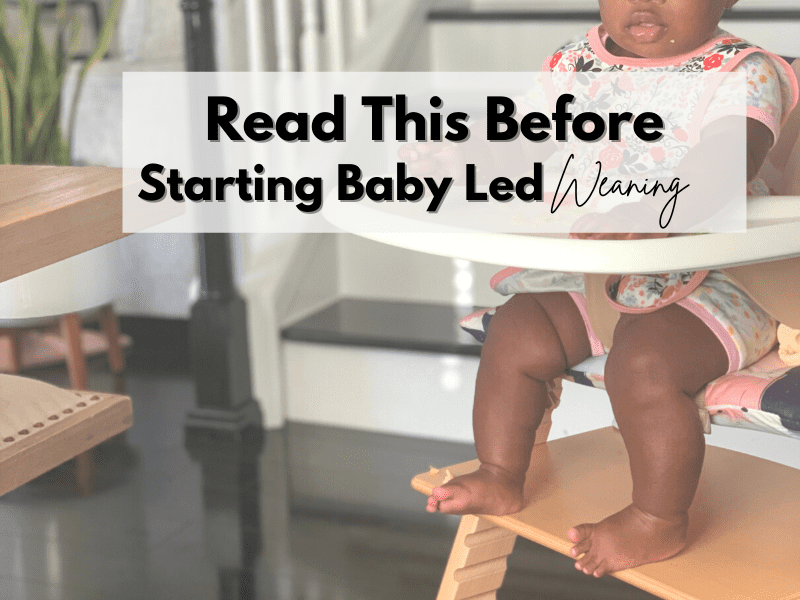 Baby Led Weaning has become increasingly popular over the past few years! It has become the preferred method for a lot of parents when it comes to introducing little ones to solids. If you're thinking about starting baby-led weaning with your little one, I'm going to share with you what I wish I knew before starting baby-led weaning.
Related Post You May Love:
What is baby led weaning?
Baby-led weaning is the method of introducing solid food to the baby. Instead of offering purees and spoon-feeding babies, baby-led weaning allows the baby to self-feed with solid finger foods.
Claimed by a former public health nurse in the UK, Gill Rapley
6 things you should know before starting Baby-Led Weaning
OK, let's face it. The baby-led weaning method may not be the right method for every baby. I actually enjoy doing the baby-led weaning method with my daughter, but I know that not all babies are the same. What works for some may not work for all and that is perfectly OK. As parents, we try to figure out what works best for our little ones.
1. Gagging Reflex
Let me start by saying, I was NOT prepared for the gagging reflux. This was the hardest part of implementing the baby-led weaning method. I literally had to sit on my hands and constantly remind myself that the endless gagging was a part of the process.
When babies are first introduced to the baby-led weaning method gagging is a normal part of the process. Gagging is your babies' natural way of protecting themselves from choking. Knowing this helped me commit to the process, but it was definitely hard and overwhelming at times.
2. Messy Floors
I didn't realize that my floors would be the landing place for all the food that didn't make it into my daughter's mouth. To my surprise, my floors took a huge hit and were very messy after each meal. I didn't really think this through before starting the baby-led weaning method, so to my surprise, I was cleaning the floors multiple times a day.
3. Food Rash
Rashes are normal for most babies within the first year of life. Food rashes are amongst those common rashes that many babies develop when first starting solids.
With all the food exploration happening with the BLW method, your little one is bound to get some sort of skin irritation or rash from food.
4. Sensory Play
Sometimes mealtimes turn into sensory play, I wasn't expecting this. I have to quickly lower my expectations and realize it's a part of the process.
I am all for sensory play, in fact, the benefits of sensory play are endless. Be prepared for meal time to turn into sensory exploration for babies. Don't get me wrong this isn't a bad thing, but it will leave a huge mess for mama to clean up when the baby is done eating. For the most part, little ones will eat most of the food however there are those times when they are not as interested in eating but more so interested in playing with their food
Recent Articles You May Love
5. Choking Hazard
I hesitated to list this one because honestly there are a lot of choking hazards threatening babies in their first year of life. But with the baby-led weaning method, you need to be knowledgeable on how to prep and cook the food for your baby. This was a big one for me and I often second-guessed myself because I didn't want to risk my baby choking. So I took an online course on feeding littles. After taking this course I felt more confident in prepping and serving food to my daughter. It's always best to monitor baby
6. Food All Over The Place
Sometimes food will end up not only on the floor but all over babies' faces, and pretty much everywhere. This is to be expected considering that babies are mostly using their hands to feed themselves.
This Post Is About 6 Things You should Know Before Starting Baby Led Weaning
---
This website participates in Amazon Services LLC Affiliate/ Associates Program. Which is an advertising program for sites to earn commissions and advertising fees for linking to Amazon.com and advertising.