Are you looking for a simple way to create a fine motor activity for your toddlers? Using things you probably already have around the house, I have a super easy, and simple fine motor activity for toddlers using buttons.
Affiliate Disclaimer: This post might contain affiliate links, which means I receive a small com soon if you purchase through my links, at no additional cost to you! I only recommend things that I love and have tried! To read my full disclosure click here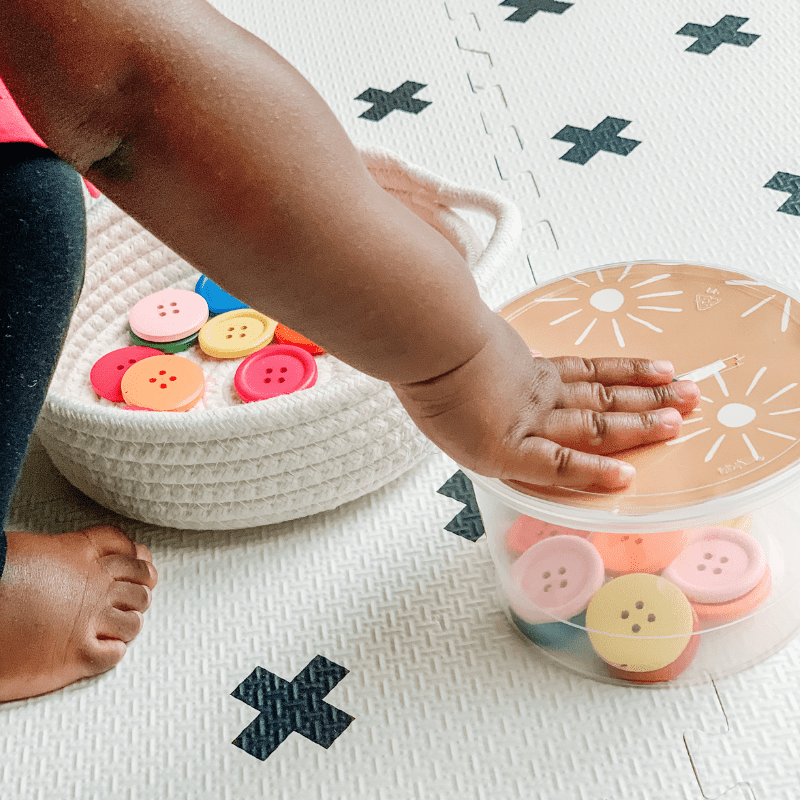 Activity Overview
Prep Time: Less than 5 minutes

Estimated Cost: $10
Create this easy fine motor activity using buttons and a few other items I'm sure you already have around the house. My daughter loves buttons, so creating this interactive activity for her has been a huge hit! Who knew that a few buttons and a container would be so fun!
Trust me when I say, your little one will love this activity! You can even take it out with you to restaurants or even on the plane. This activity is truly engaging and interactive for toddlers!

Related Post: 14 Supplies You Need For Creating Toddle Activities
What You Need
Instructions
Time needed: 5 minutes.
Cut Opening On Lid

Using your box cutter, cut a small rectangle on the top, center of the lid. Be sure to make the opening into the shape of a rectangle to ensure the buttons fit easily.
Note: Try not to make the opening too big when starting off. It's best to start small and make the opening wider if you need to.

Check Opening

Using the buttons, check the opening to make the rectangle size is a perfect fit for the buttons to fall inside.
The goal is to make the opening just the right size for the buttons to easily fall in, rather than creating the opening too small for the buttons to drop in.

Place The Lid On

Next, go ahead and place the lid on the container.
Aim to find a container that has a secure lid, depending on your toddler's age it's ideal that they are not able to take the lid off easily. As a safety

Put Everything Together

Using a small tray or basket place the buttons inside the basket, and place the container near the tray of buttons.
Introducing this activity for the first time
Typically when introducing a new activity to toddlers, you can start off by demonstrating how to use the activity. Without talking about what you are doing, use slow hand motions when demonstrating how the activity works, repeat a few times or until you feel your little one is ready to give it a try.
Fine Motor Skill practice is the focus of this activity
---
This website participates in Amazon Services LLC Affiliate/ Associates Program. Which is an advertising program for sites to earn commissions and advertising fees for linking to Amazon.com and advertising.