As an early childhood educator, I have seen almost every play mat on the market. Some worth buying and some not so much! As an educator and new mom, I'm always looking for toys that foster my daughter's development. So when I heard about the lovevery play gym, I knew I had to try it!
Affiliate Disclaimer: This post might contain affiliate links, which means I receive a small commission if you purchase through my links, at no additional cost to you!
My daughter was a newborn at the time, so this was perfect in terms of timing, and I would get to really put this play gym to the test, which is exactly what I did! Here are 6 reasons why you might want to consider getting this play gym for your little one!
1. High Quality Material Toxic Free
If you have a little one with sensitive skin or allergies, or you just want a safer toxic-free method this is for you! 
All the components of this play gym are made of quality material and are toxic-free! As a new mom, I didn't want to worry about my daughter breaking out, or mouthing some of the toys that come with the play gym! 
The least of my worries, since I knew the Lovevery play gym was made of quality material
Related Post: How To Set Up A Learning Space At Home For Toddlers
2. Encourages Development
As an early childhood educator, I was initially attracted to this play gym because of all the different learning zones it offered! 
I knew this gym would be something my daughter would use through most of her infancy, and even into toddlerhood! The play gym comes with a tent cover, we will get more into that in a bit!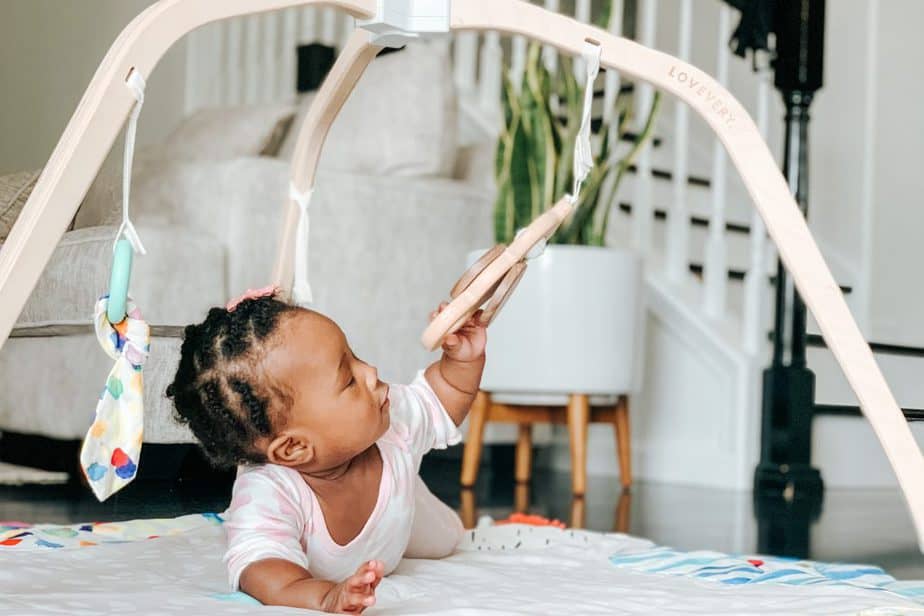 3. Perfect For Tummy Time
This playmat was a game-changer for our tummy time sessions! Because of all the different learning zones, my daughter was very engaged and enjoyed tummy time from the start! 
All the learning zones are perfectly designed, and offer a different sensorial experience! Your little one will start off looking at the different learning zones, but as they get older and more mobile they will start to really interact with the learning zones! Which is amazing to watch!
The Learning Zones
learn to focus, the place for adding the mirrors or card sets 
Exploring colors 
How things feel 
Making sounds 
Hiding and finding 
Play space cover ( this is the tent cover I mentioned earlier! Super fun for older babies and even toddler!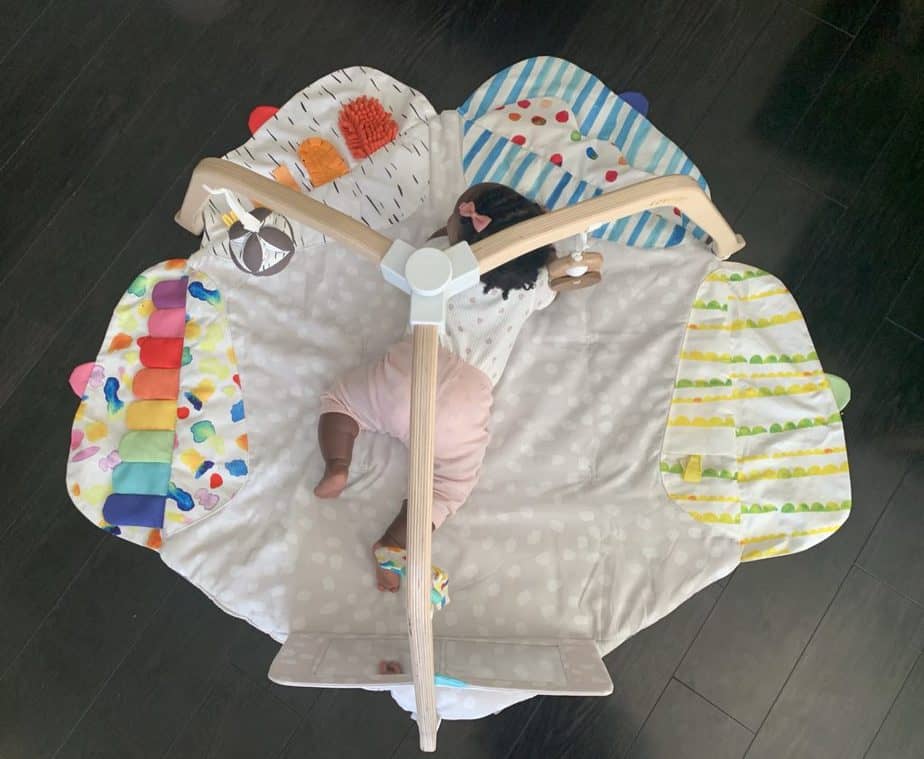 4. Completely Customazible
Depending on what my daughter was doing at the time, I loved how customizable the play gym was. I could just use the mat if I wanted to or, I could just use the tower!
We even took the learning mat to the park with us a few times, which was amazing! Oh, before I forget the playmat is completely washable! Just follow the washing instructions! 
5. Grows With Baby | Definitely Get Your Moneys Worth
Another deciding factor for me! I knew I didn't just want a lot of toys that my daughter couldn't use over time! I wanted to purchase toys that I felt would really stand the test of time and grow with my baby!
From the day we brought our daughter home until about 1 year old, she has used her Lovevery play gym a lot! 
She is well into toddlerhood now, and she really enjoys using her playtime as a reading book with her tent cover on top! 
The Lovevery play gym comes with a cover, which babies and toddlers love!
6. Super Cool Accessories
Oh so, the Lovevery play gym comes with cool accessories!
Batting Ring
Organic Montessori Ball
Silicone Ring
Mirror And Card Set
Organic Montessori Ball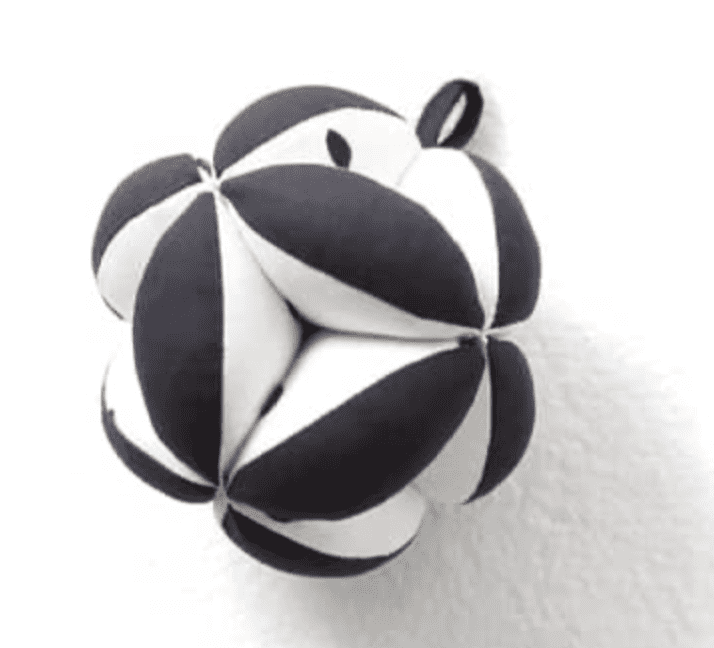 Montessori must-have, and a classic. What I love about this ball so much is its high contrast!
When attached to the play gym is perfect for batting and grasping! Like all the toys that come with this play gym, it can be detached and used as a regular ball! Montessori balls are designed and shaped for easy grasping, and hand-to-hand coordination!
Batting Ring
My daughter's favorite, even to this day! Since she is walking, I removed the batting rattle from her play gym and she plays with it like a toy! She loves shaking it and listening to the cool sounds it makes!
The batting ring is good for babies learning to use those gross motor skills and swinging at things within eyesight! It's also great for grabbing, and hearing the sound that it makes!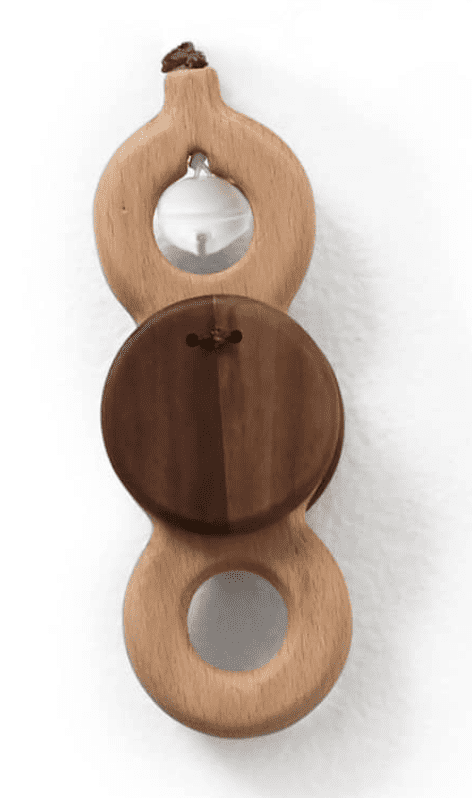 Organic Cotton Teether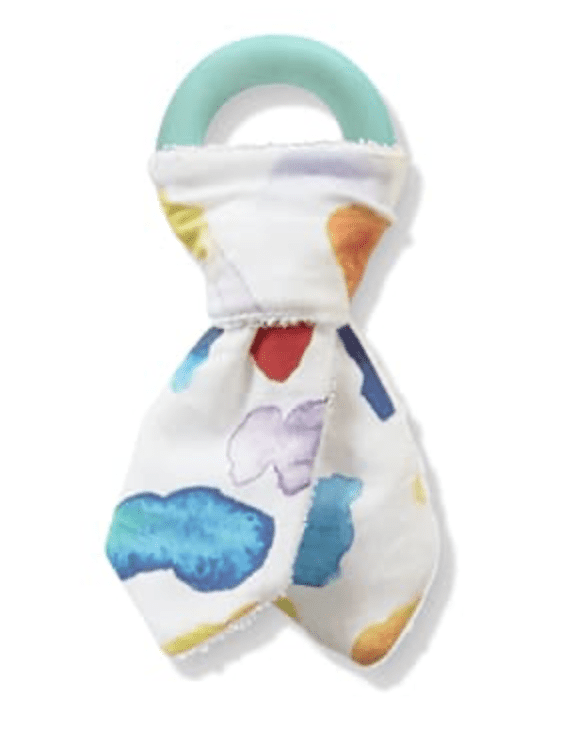 Can you believe that some babies start teething as early as 4 months! So this teething ring is an amazing addition! The fabric attached to the teething ring makes a crinkly sound, which my daughter loved! Tons of sensorial experiences with this play gym!
Mirror And Card Sets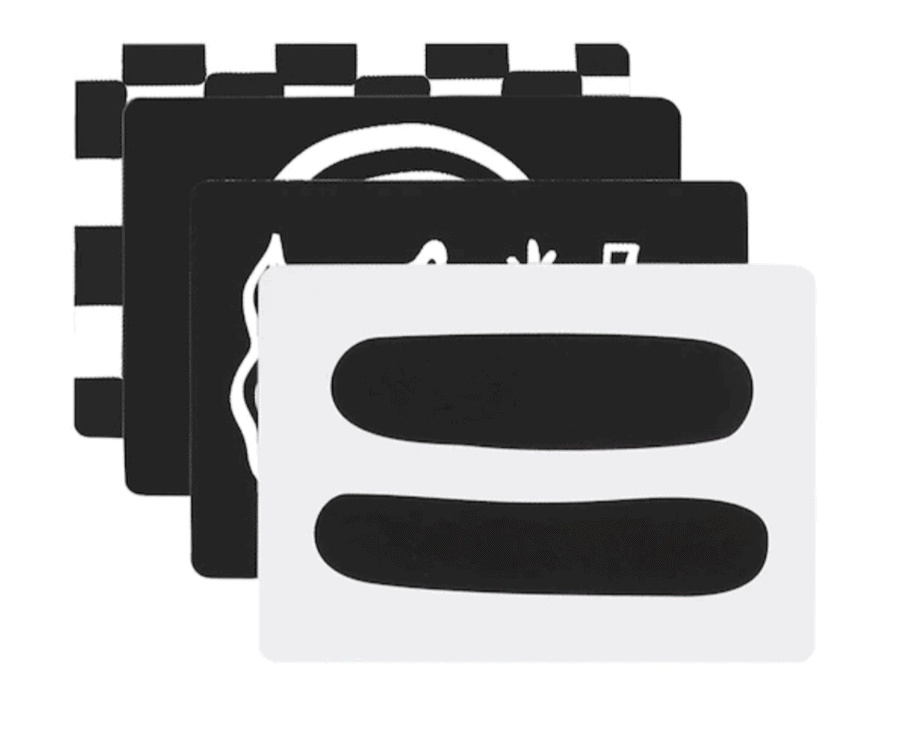 The card sets comes with ( high contrast cards) which are great for newborn babies!
Common objects cards
Faces card set
It also comes with 2 mirrors that are great for babies doing tummy time, and looking at their cute little faces
The Takeaway
Made of high quality material, Organic Fabrics On Some Elements
The Perfect Tummy Time Mat
Easy to Break Down | Customazible
Grows With Baby, Definetly Worth The Money
The Loverye Play gym's unique design offers endless opportunities for exploration and development from birth and up.
Related Post: How To Set Up A Learning Space At Home For Toddlers
---
This website participates in Amazon Services LLC Affiliate/ Associates Program. Which is an advertising program for sites to earn commissions and advertising fees for linking to Amazon.com and advertising.