This Post Is About How To Make Play Area In Living Room
Whether you have a spare room or extra space in your living room, carving out a specific play area for toddlers is a great idea. Many families spend a good chunk of the day in the home's main living room, so setting up a play area in the living room for your toddler is AMAZING! Here are a few tips to help you get started!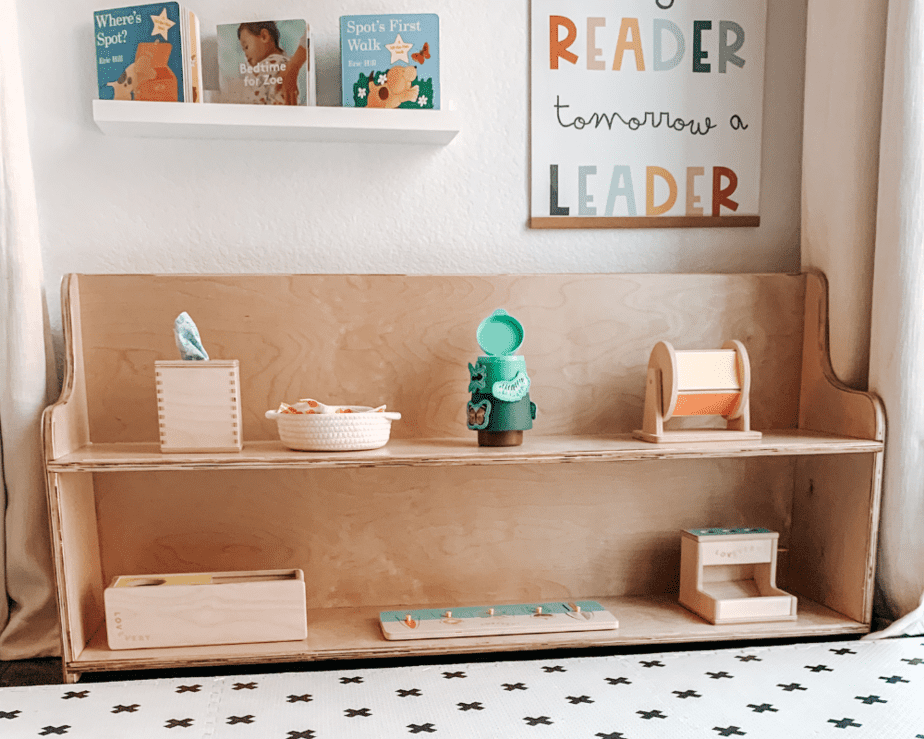 Affiliate Disclaimer: This post might contain affiliate links, which means I receive a small commission if you purchase through my links at no additional cost!
How To Make A Play Area In Living Room | 6 Easy Tips
1. Start With Play Mats
You want to start with getting play mats for the play area. Playmats were among the first things I searched for when designing my daughter's play area in our living room. Playmats can be expensive. I was so excited when I found these super cute play mats for her learning space!
Playmats also serve as an excellent outline of where you would like the play area.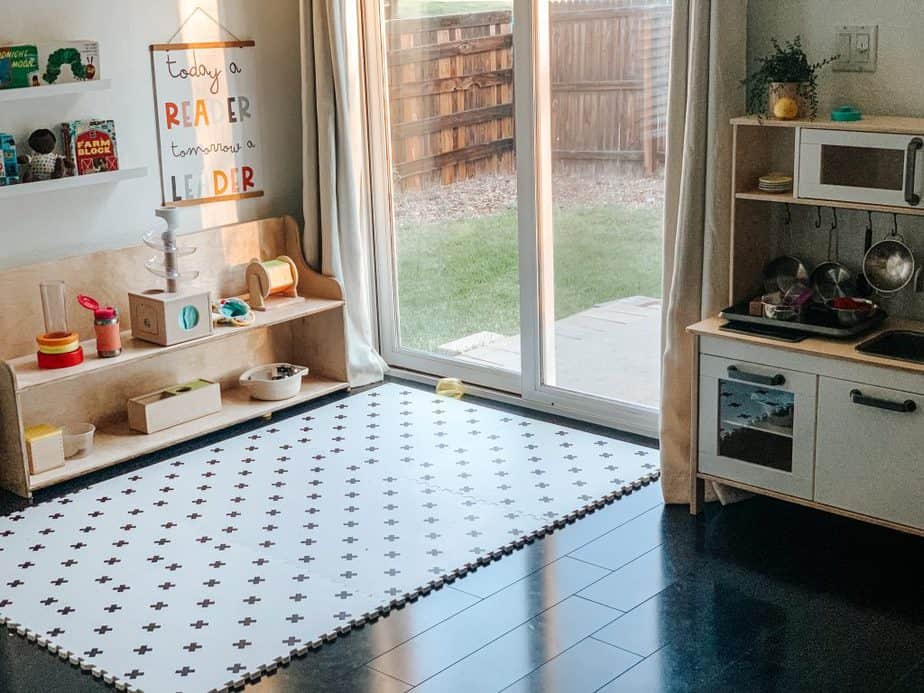 Best Play Mats For Play Area In Living Room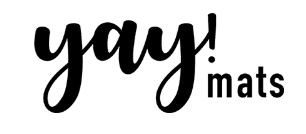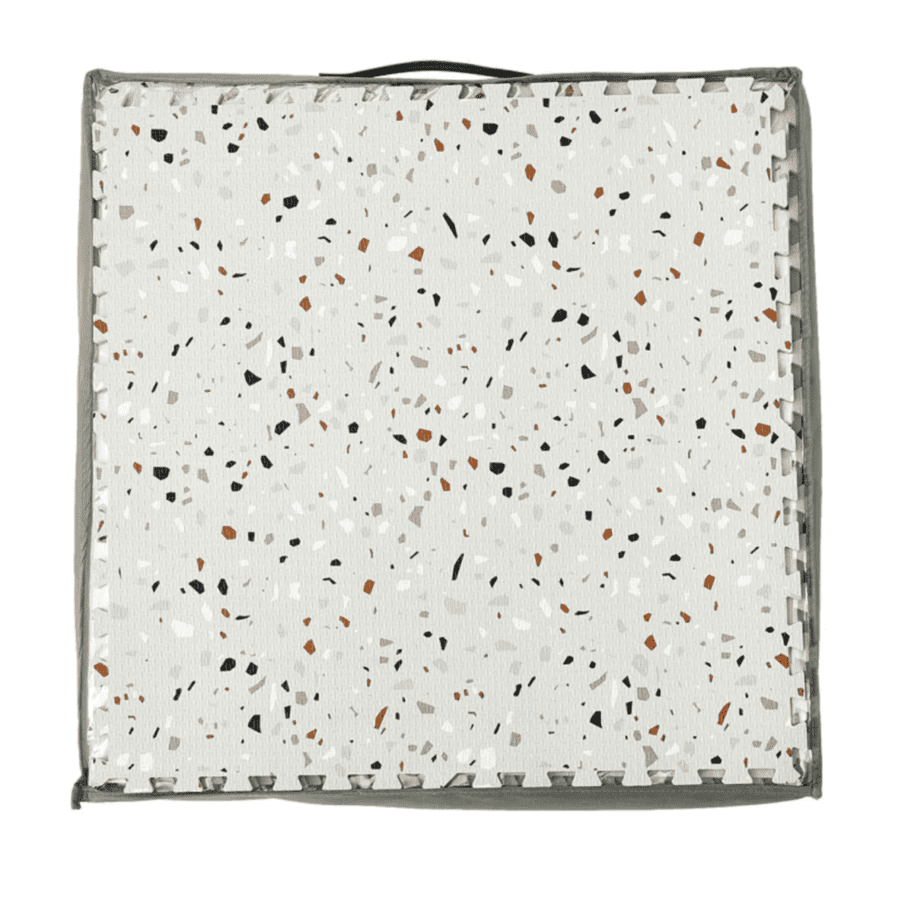 One of my personal favorites is the playmats from YAY Mats. Affordable, Adorable, and Durable!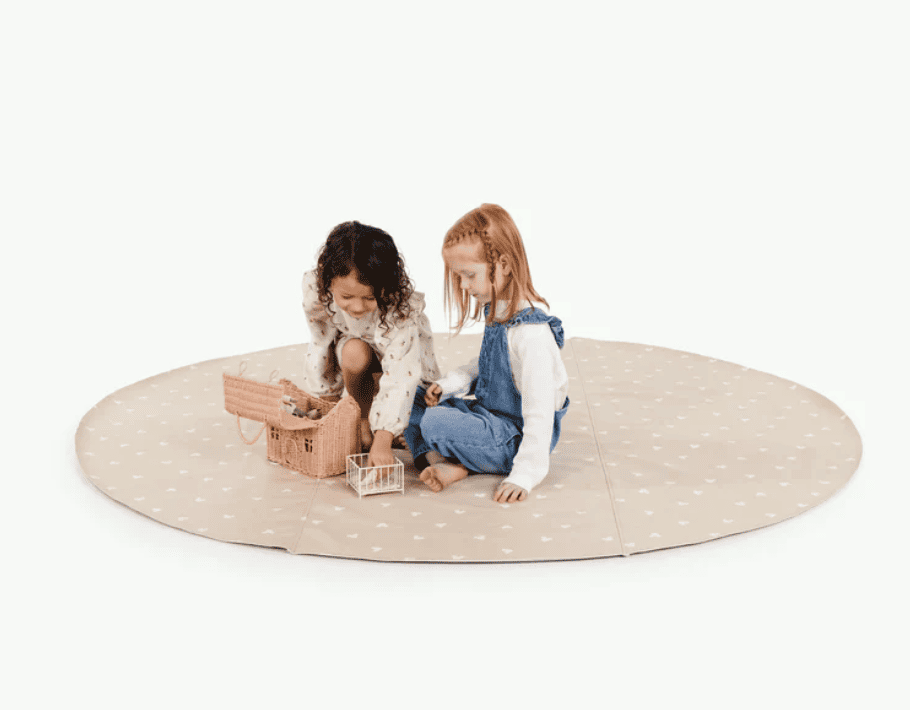 You can take the popular portable play mat anywhere, indoors or outdoors—a favorite amongst parents for its versatility.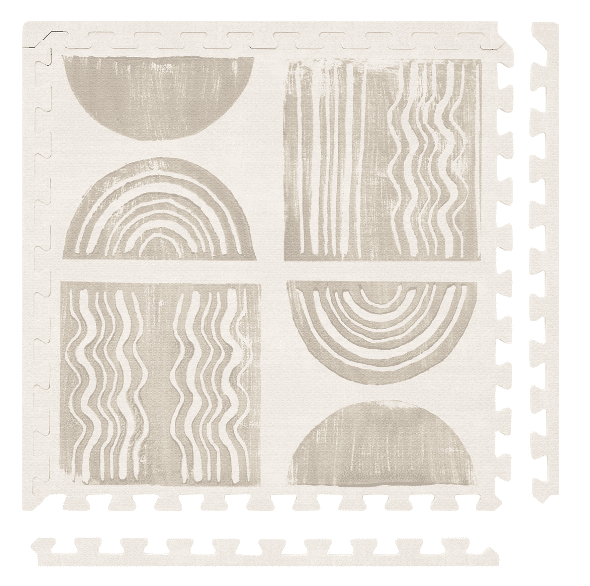 Playmats that can reflect your home's style. Super comfortable, durable, and easy to wash! Another favorite amongst parents.
Other Posts You May Love:
2. Add Wall Decor To Personalize The Space
What's a play area, or even a playroom without wall decor? Depending on your toddler's playroom vibes, you can find inexpensive downloadable posters on Etsy or even Amazon! You would need to download, print, and hang them up.
If you're looking for wall decor ready to put up right away, here are a few really good options for that as well.
3. Add Shelves To Display Toys & Books
Adding a play shelf is a great start to displaying all your little ones' toys. If you are into the Montessori method and toy rotation, then a play shelf Is something you want to add to your play area. When looking for a play shelf, I wanted to find one with some storage.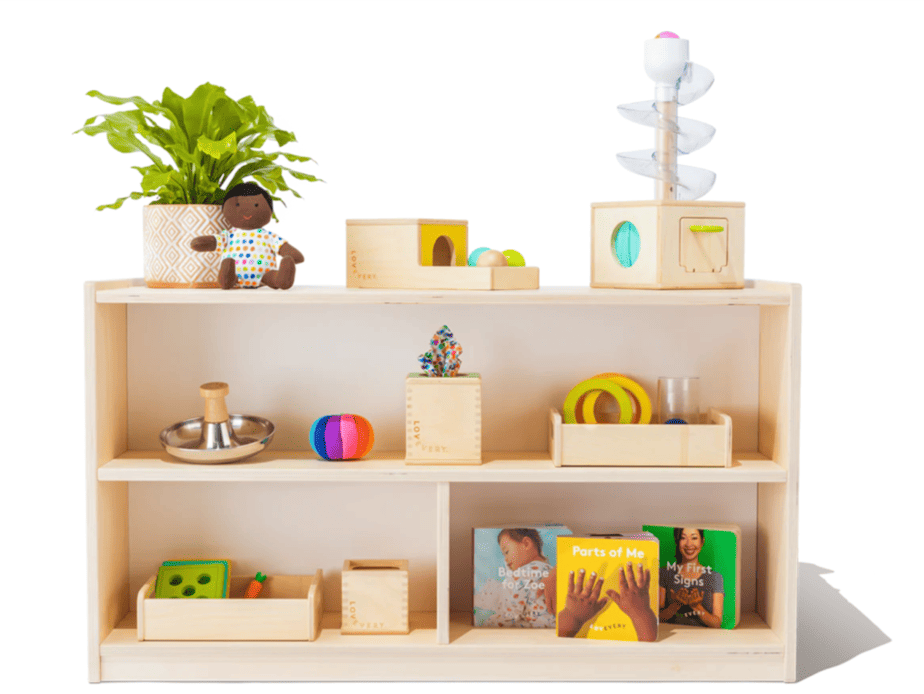 If you're a fan of Lovevery, then I'm sure you may have heard about their multipurpose Montessori play shelf.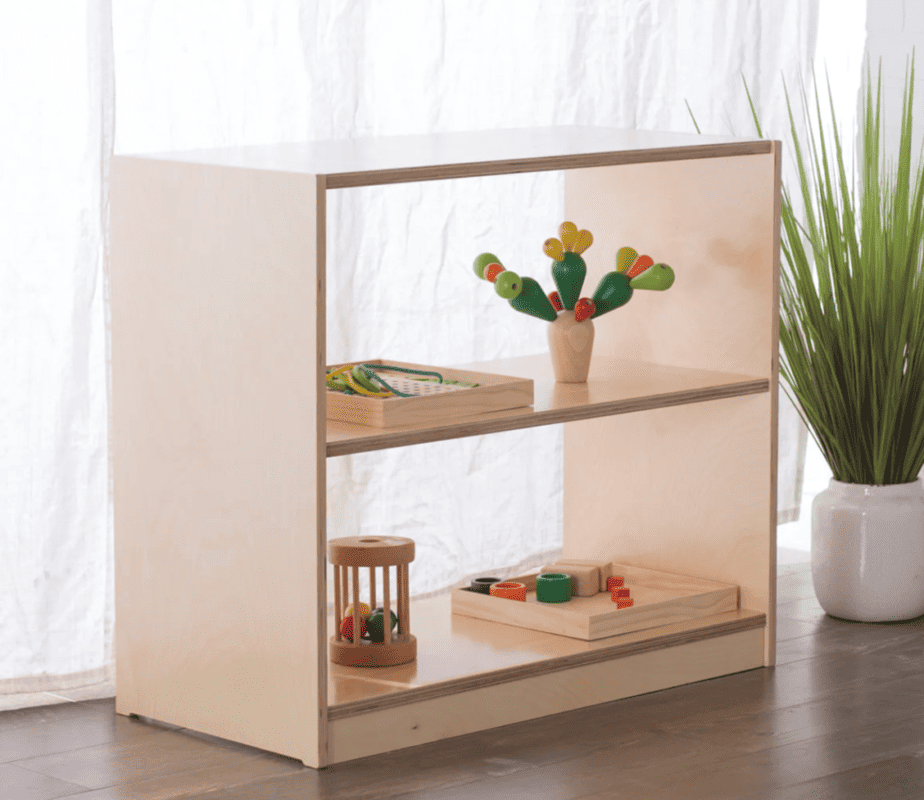 Sprout Kids is known for their Montessori furniture. Their open-back shelving offers the Montessori vibe.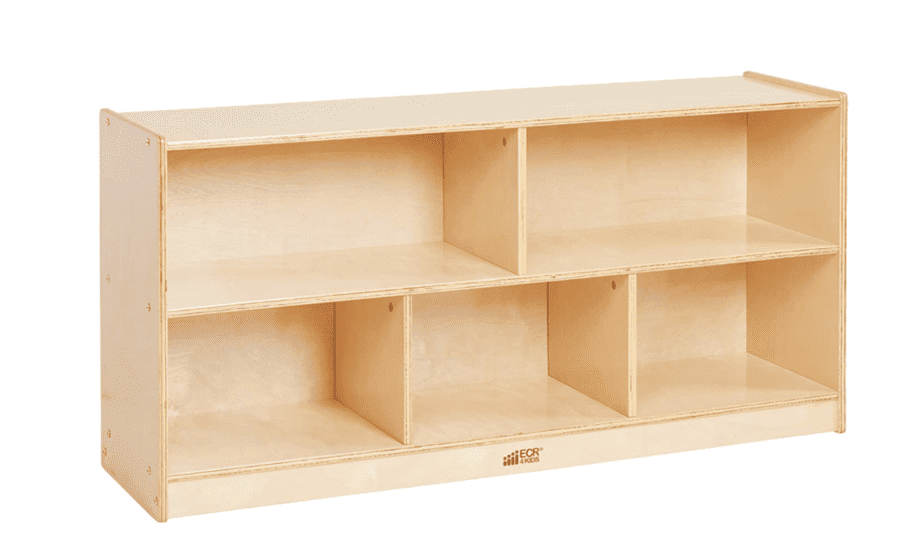 A popular Amazon find, and best seller! This bookshelf has excellent reviews! With a 5 compartment cabinet and durable birch plywood.
4. Book Shelf For Play Area
If your tot is a little bookworm like my daughter, you will want to add a bookshelf to your little one's play area. A bookshelf is an excellent solution for storing all your little ones' books, but it also allows toddlers to see the book from the front ( rather than the side of the book). This is great when you encourage daily storytime with little ones. If they can see the book, they are likelier to pick it up and want to read it.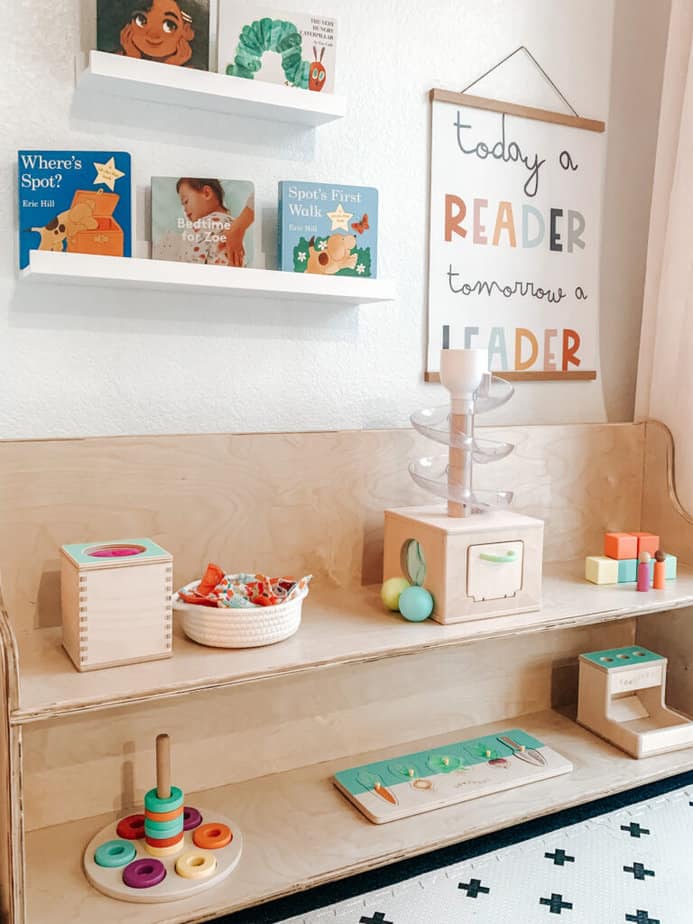 Here are a few of my favorite Book Recommendations
5. Add Developmental Toys To Shelves
Finding suitable toys for your toddler's play area can get overwhelming. So many toys are on the market, and it's almost overwhelming! Try to find age-appropriate and safe toys for toddlers. As your child grows, you will continue to add more toys and rotate toys out.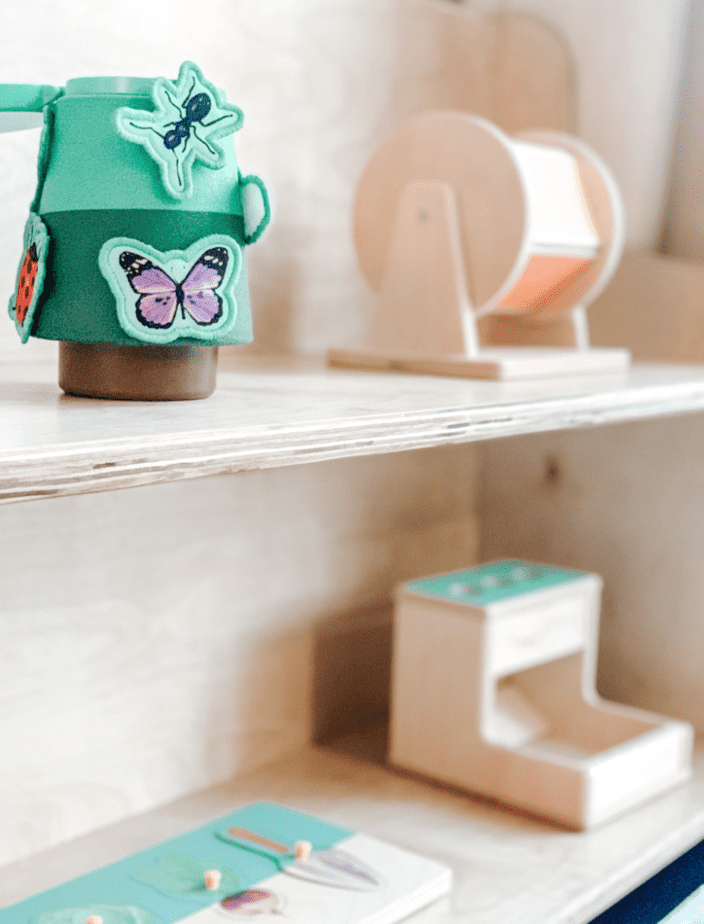 6. Pick The Right Spot For The Play Area
Lastly, finding the right area in a living room is important!
You don't need an extra bedroom to set up a play area in a living room for your toddlers. I believe in setting up a play area connected to the room where the family spends most of their time.
I picked a spot in our living room beside a lot of sunlight. The area is also accessible from the main living area, which is perfect for me! I can do some light housework while she plays.
This Post Was About How To Make a Play Area In the Living Room
---
This website participates in Amazon Services LLC Affiliate/ Associates Program, an advertising program for sites to earn commissions and advertising fees for linking to Amazon.com and advertising.