Since my daughter was little, I have searched for clean, organic, and sugar-free vitamins. If you are like me, this is the post for you. This is an in-depth Hiya Vitamin Review!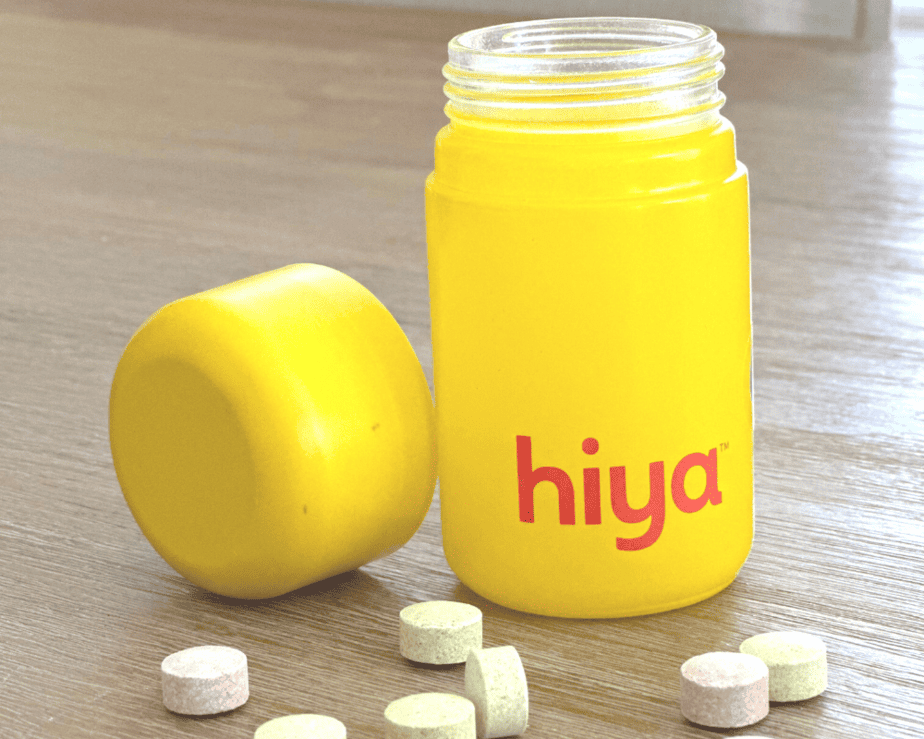 Affiliate Disclaimer: This post may contain affiliate links, which means I receive a small commission if you purchase through my links at no additional cost!
Other Posts You May Love:
What Makes Hiya Vitamin Different From Others
Hiya Vitamins are getting all the buzz these days because they are the first of their kind to be sugar-free! You will find zero grams of sugar in these multivitamins, which is huge compared to other children's vitamins that are loaded with sugars, additives, and other unwanted junk!
0g Of Sugar per serving
Eco-friendly packaging
Dairy-Free & Gluten Free
Clean Ingredients
Hiya Vitamin Ingredients
Made with fruits & vegetables, naturally sweetened with monk fruit extract, and also contains 15 essential minerals and vitamins. The Hiya ingredients are like no other and are truly clean.
As a mom, who is into clean ingredients, and sugar-free alternatives, I think the Hiya vitamins are great for kids and a cleaner option on the market when it comes to vitamins for kids. Im big on ingredients, organic foods, and sugar-free when possible. The Hiya vitamins hit all three marks!
Essential Minerals & Vitamins
Vitamin A | Found in Kale & Squash
Vitamin D | Found in Fish
Thaimin (B1) | Found in Seaweed
Folate (B9) | Found in Brussel Sprouts
Biotin (B7) | Found in Cauliflower
Calcium | Found in Broccoli, and kale
Zinc | Found In Beans
Manganese | Found in Potatoes, and Chickpeas
Vitamin C | Found in Oranges
Vitamin E | Found in Avocado, & Spinach
Riboflavin | Found in Spinach and Bananas
Vitamin B12 | Found in Eggs, and Milk
Pantothenic Acid (B5) | found in Plants
Iodine | Found in Eggs, and Kelp
Selenium | found in Tuna
Organic Fruit & Vegetable Blend
Organic Apple
Organic Beet
Organic Broccoli
Organic Carrot
Organic Green Cabbage
Organic Kale
Organic Parsley
Organic Spinach
Organic Blueberry
Organic Raspberry
Organic strawberry
Organic tomato
Check the Hiya Vitamins website for any ingredient updates and changes.
Are Hiya Vitamins Sugar-Free?
Yes, all of Hiya Vitamin's products are sugar-free. This is important for kids because too much sugar can lead to cavities and other health problems. Hiya Vitamins for Kids is a great way to ensure your kids get the nutrients they need without all the sugar.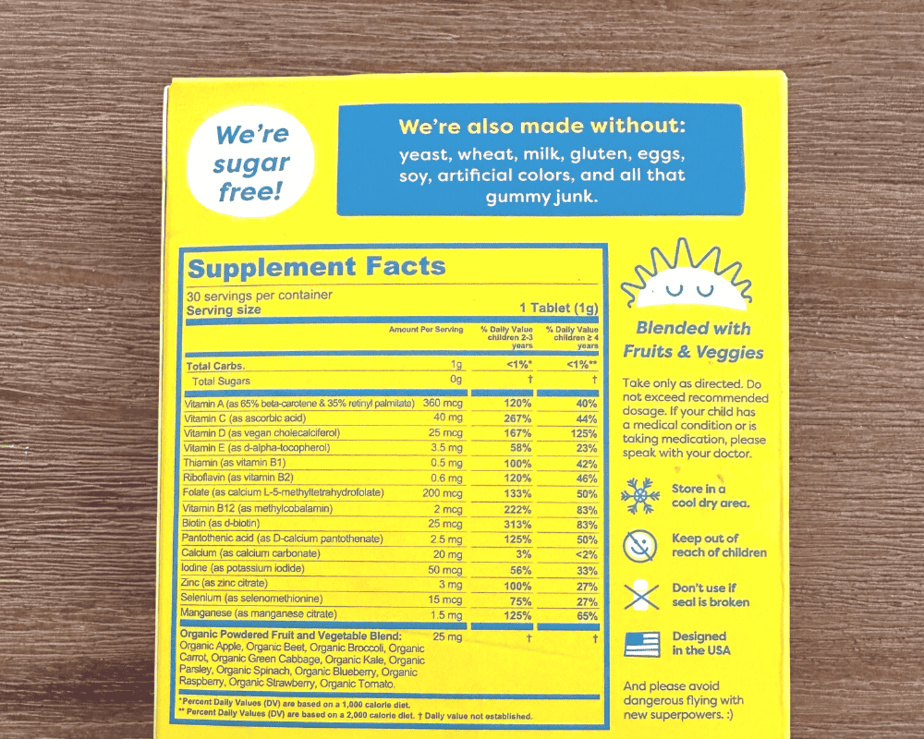 Hiya Vitamins for Kids offers a variety of products, including multivitamins and probiotics. Hiya Vitamins are clean and contain organic fruits and vegetables!
Hiya Vitamins Compared To Other Kids Vitamin Brands
When comparing Hiya vitamins to most store-bought children's multivitamins, you will find that most are gummies loaded with sugar or other additives, which takes away from the purpose of a multivitamin!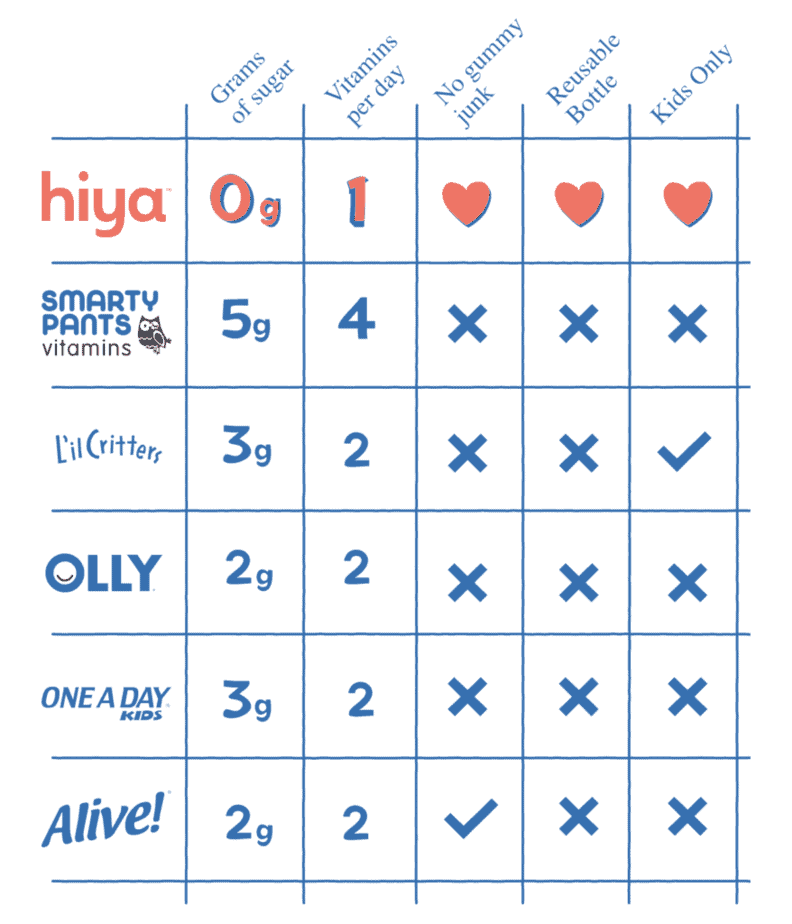 How Much Do Hiya Vitamins Cost?
Compared to other children's multivitamins, Hiya is more expensive. Still, when we think about the quality of this multivitamin, its eco-friendly packaging, 0g grams of sugar, all the minerals, vitamins, and fruit/ vegetable blend, I would say these vitamins are definitely worth the price. Click Here to see Hiya Vitamins' current rates.
Hiya vitamins are subscription-based, so you would get monthly refill pouches to replenish.
Not A Fan Of The Taste?
As good as these vitamins are, there is a chance that your little one may not be a fan of the taste. This was the cause for my daughter, and I wanted to try different ways to serve these vitamins to her until she got used to the taste. I found it best to add to her smoothie on days that I make her a smoothie, I have also dissolved the vitamins in her water, and she drinks it easily.
Alternative Ways to Serve Vitamins
Add to Smoothies
Crumble, and Add to water
Break into smaller pieces
Add to the child's favorite beverage.
Hiya Vitamins FAQ:
Is Hiya Good Vitamins?

Yes, Hiya contains clean ingredients and contains ZERO grams of sugar. As a mom, Hiya vitamins are a great choice for toddlers and kids.

What Age Is Hiya Vitamins For?

Age 2 to 15 years old, These vitamins are designed for kids ages 2-15. It is not recommended to give these vitamins before the age of 2.

Are Hiya Vitamins Made In The USA?

Hiya vitamins are, In fact, manufactured in the USA. They are manufactured in a GMP- Compliant facility in the US.