As an early childhood educator, and new mama I love finding the best educational toys and activities for toddlers! Now that im home with my daughter, I've become more involved in creating a Montessori home for her.
As an educator, I love the Montessori approach and methods. So including Montessori toys on her play shelf wasn't even a question! I wanted to offer her the best Montessori toys for her development!
Related Post: How To Set Up Montessori Shelf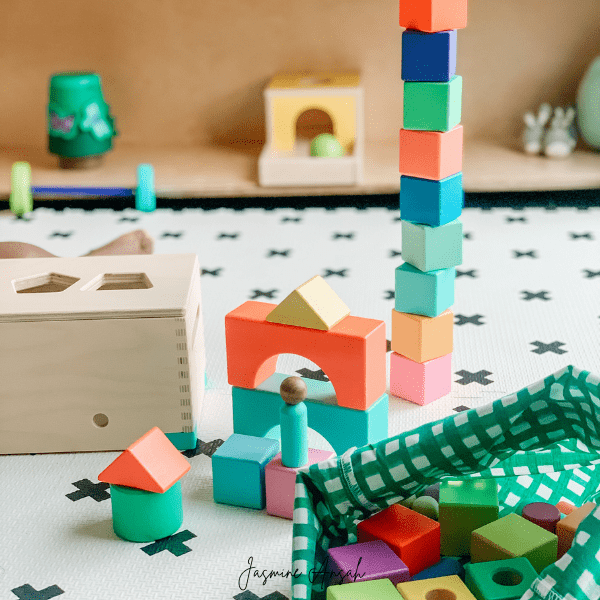 Why are montessori toys better?
I wouldn't say Montessori are better, because the reality is there are toys that are not Montessori that can be engaging and still offer a learning experience for toddlers.
However, most Montessori toys do offer more of an educational learning experience for children. Montessori toys are designed with a focus skill in mind. The idea is for children to master the focus skill over time. Unlike some conventional toys that don't have a focus skill at all, or they are meant solely to entertain your child.
Depending on what you are looking for, Montessori toys are better for teaching a skill to children. If your looking for a toy to entertain your child then a conventional toy may be the way to go.
The Benefits of montessori toys
Encourages children to explore and experiemnt
Encorages independence
Focuses on one skill at a time
Grows with your childs development
Encourges problem solving skills
What is considered a montessori toy
Montessori toys usually have one or more of the following qualities listed below in order to be considered a Montessori toy
Made of high quality materials – Wooden Toys
Toxic Free – Safe For Children
Most montessori toys are simple
Montessori Toys are based on reality
The toys are constuctive – allowing children to explore their own ideas when playing with the toy
Promotoes STEM learnig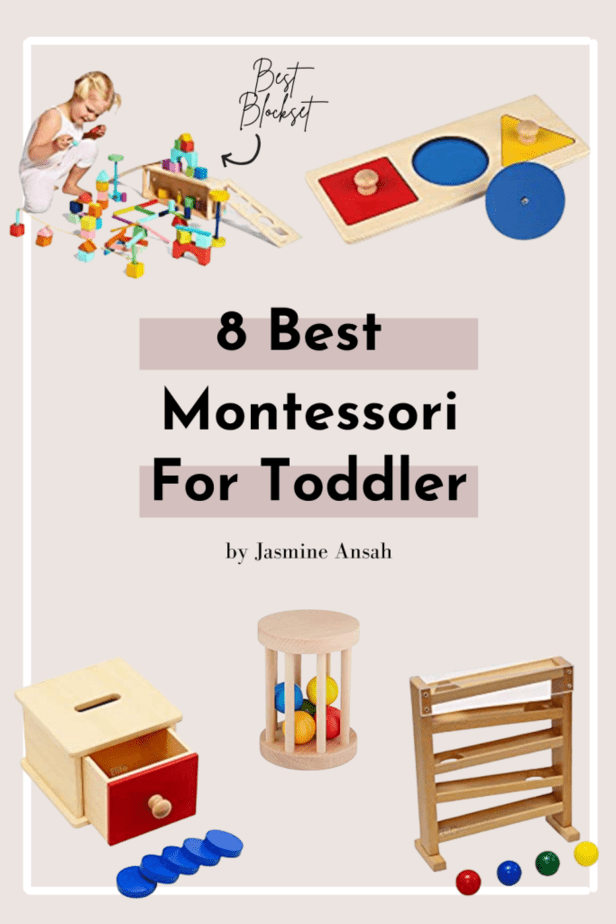 The Best Montessori Toys For 1 year olds
Here are the best Montessori toys for 1-year-old toddlers! I did not want to through another toy list at you, I wanted to break down what the toy is, and what the focus skill for that toy is!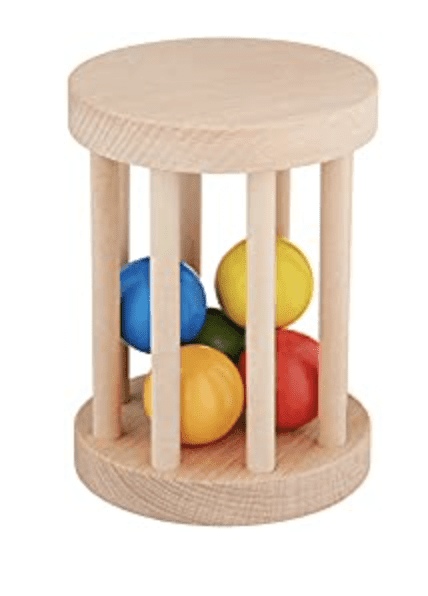 Cylinder Rolling Drum
The Rolling Drum Cylinder is great for toddlers and infants. The cylinder drum offers toddlers the experience of exploring their senses. This toy focuses on senses, toddlers will be able to see, feel, and hear all at once!
For younger infants, it's great for practicing the hand-to-hand skill. Infants will enjoy moving this toy from one hand to the other, all while shaking, and maybe even chewing on the cylinder!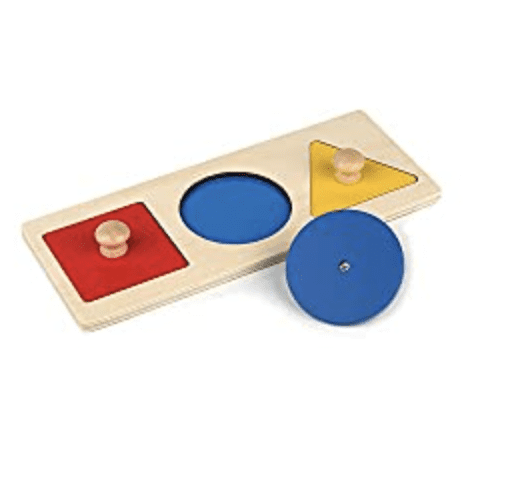 Montessori Shape Puzzle
Montessori shape puzzle, a great introductory puzzle for toddlers learning how to use puzzles. I love that most Montessori puzzles have small handles on each shape/object. This helps with toddlers who are still practicing the pincer grip, it's also just easier for puzzle placement as well.
Focus Skill: Hand-eye Coordination | Spacial Awareness | Fine Motor Practice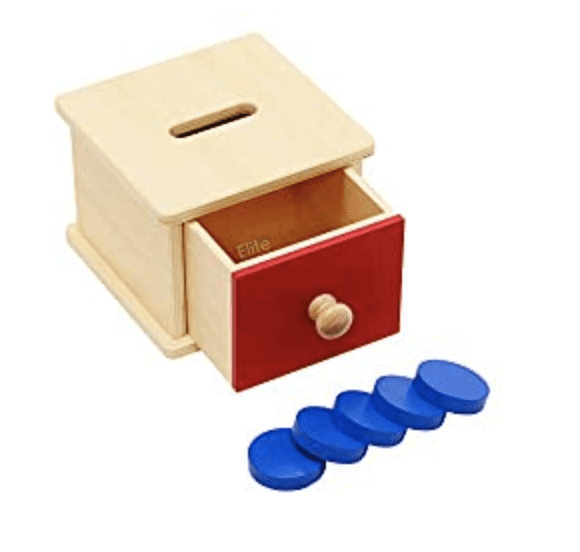 Montessori Coin Box
Coin Boxes are AMAZING for toddlers practicing fine motor skills, and precision. This toy is one that will definitely grow with your child. The objective is to get children to get the coins into the opening. This will require fine motor precision and rotation of the wrist in order to get the coins inside.
This toy is more complex, but it's something that toddlers get better with over time with practice! Add other small household items around the house for added fun!
Focus: Fine Motor Skills | Hand-Eye Coordination | Dissapearance & Reappearance of objects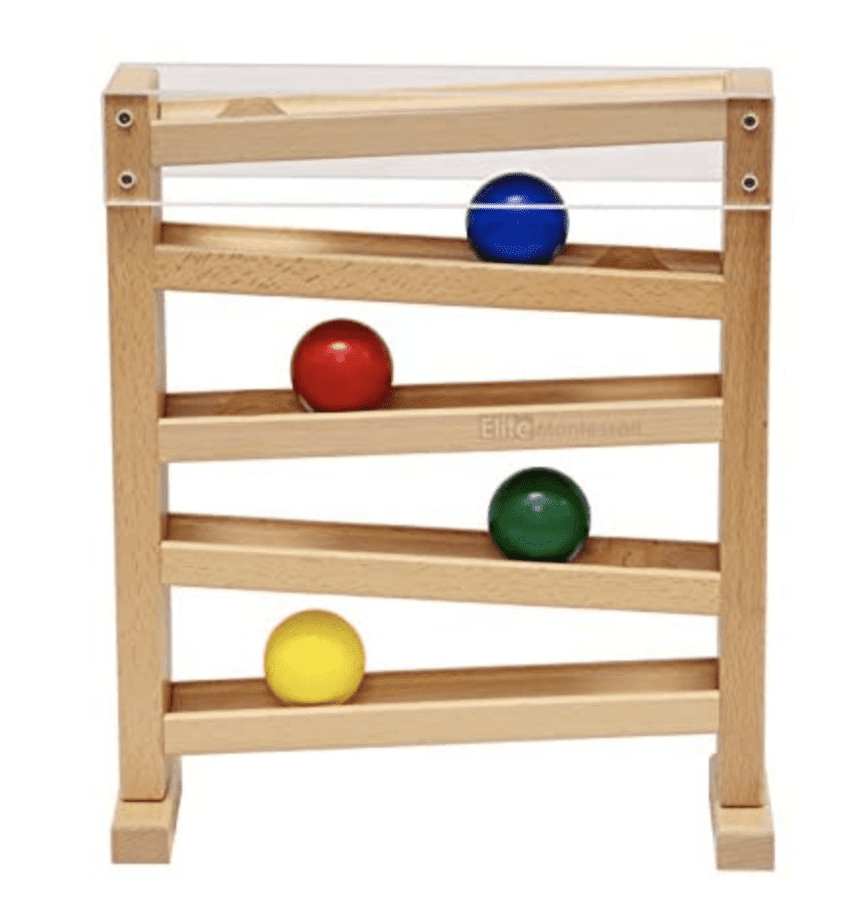 Montessori Ball Tracker
Nothing Screams fun like watching balls roll down a ramp! This has been a personal favorite in our house. This is a really good toy for toddlers who love to observe how things move! They will focus on the balls coming down the ramp, they will want to put the balls back at the top to watch it all over again!
This is definitely a toy that will get good use, you can use the balls that come with the toy, or grab some stuff from around the house and see what objects roll down the ramps as well.
Focus: Motion | Grasp, Placement, and Release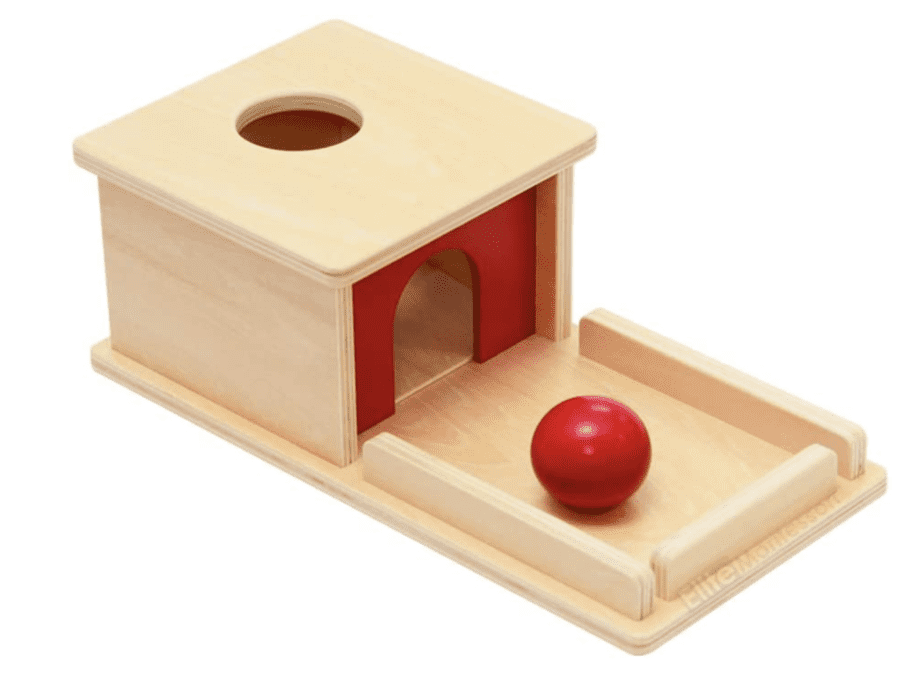 Elite Ball Drop Box
Building gross motor skills is sometimes overlooked. This toy is great for practicing gross motor skills. Intended for toddlers to grab the ball, place the ball inside the hole and watch for the ball to come out the front of the box. This toy also encourages the concept of object permanence, Which is the child's ability to know that an object is still there even when they can't see the object!
Focus: Gross Motor | Object Permanence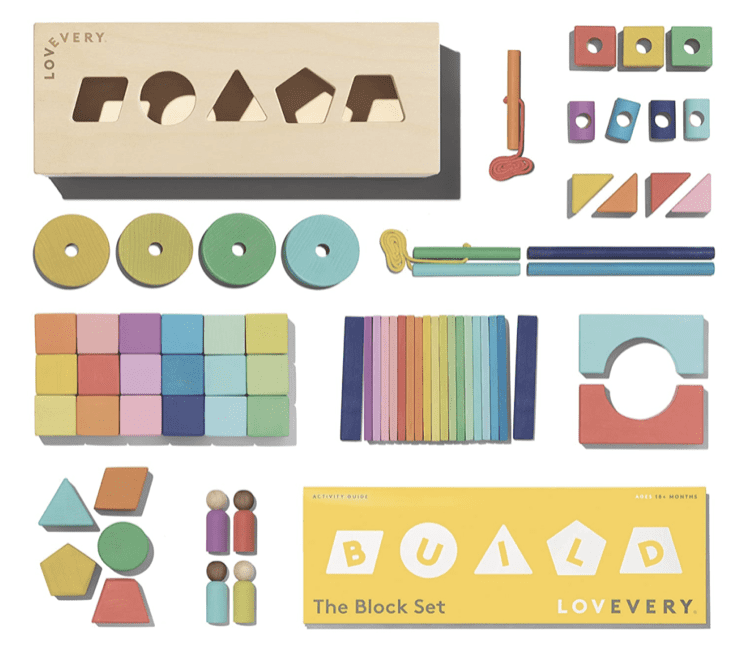 Lovevery Block Set
A Multi-Functional block set! With over 20 activity possibilities, this block set is everything! I personally was hesitant ordering this for my daughter who at the time is under 18 months, but I have been able to create some super fun, and engaging activities for her using the blocks from this set! We LOVE our Lovery block set!
Like most blocks, the purpose is to engage children in problem-solving, build their vocabulary, fine/gross motor skills and so much more! This block set by lovevery even offers stem activities which are amazing! Introducing blocks to toddlers has so many benefits!
Focus: Language Skills | Problem Solving | Math & Stem | Fine & Gross Motor Skills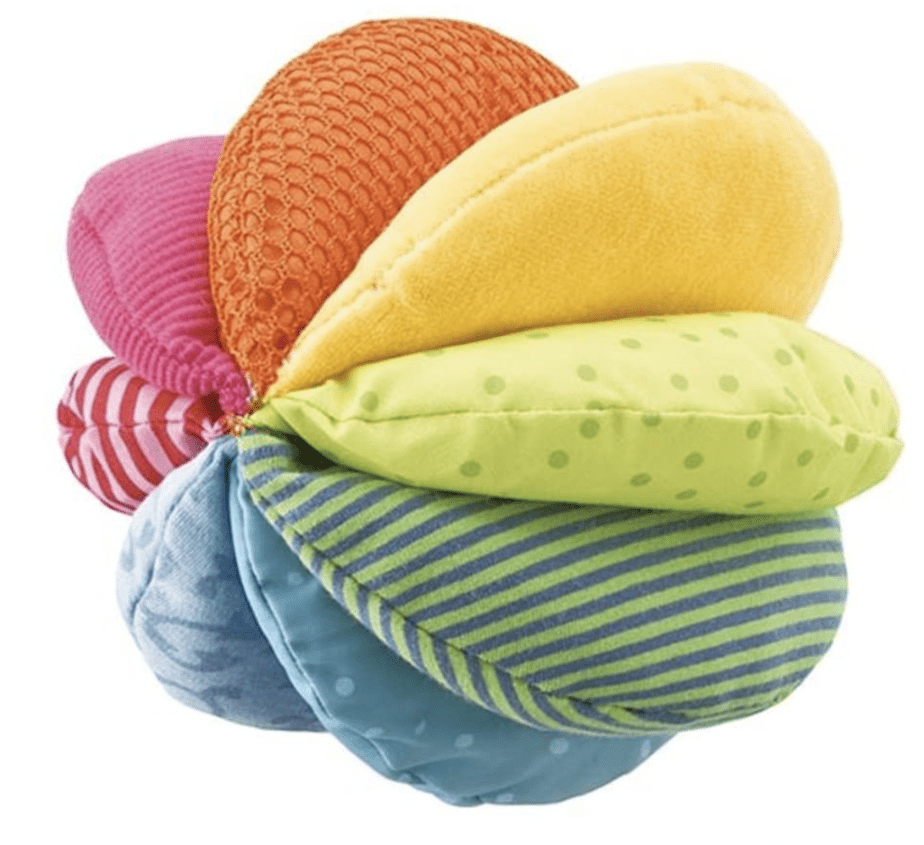 Montessori Fabric Ball
Montessori balls are interestingly shaped balls, that have lots of different crevices and pockets for babies and toddlers to be able to grab on to and explore. Because of how purposefully designed the Montessori balls are, it really encourages hand-to-hand transfer for children, and for older children they are still able to roll, toss, and catch the balls as well.
Also, Montessori Balls are typically made up of different texture fabrics, and different patterns which allow for a well-rounded sensory experience for babies and toddlers!
Focus: Hand to Hand Transfer | Dexterity | Eye-Hand Coordination | Fine motor and gross motor skills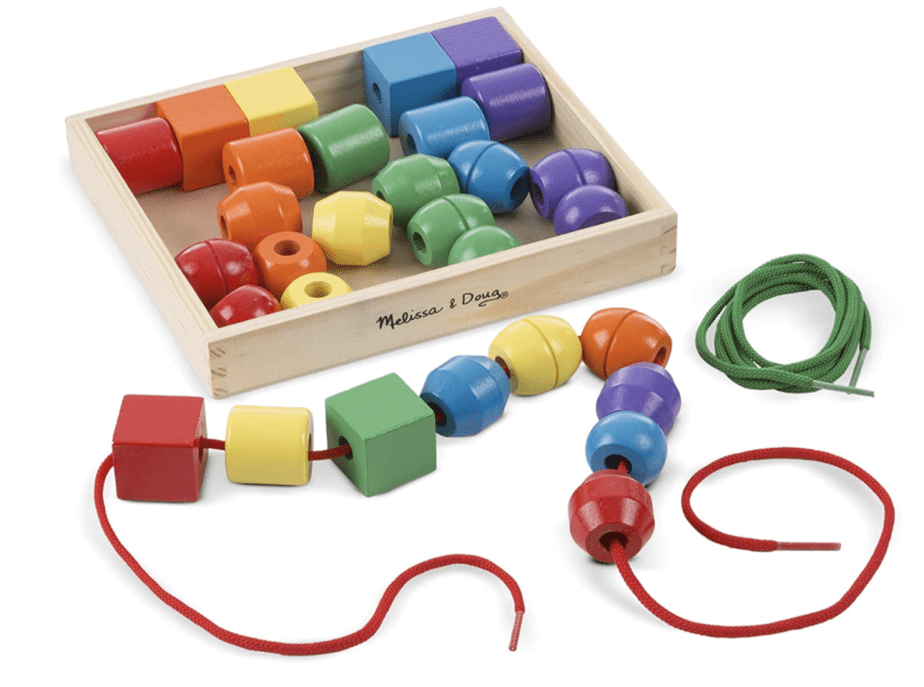 Melissa & Doug Lacing Set
Threading sets are meant to challenge toddlers to really use those fine motor skills, and this set does just that! I love toys that offer a little bit of a challenge and really grow with the child as they master the concept. For smaller toddlers, I would tie a larger object at the end of the thread to act as a stopper for the beads that they add to the string. This threading set is beautifully made!
Focus: Fine Motor Skills | Hand To Hand Transfer | Eye-Hand Coordination
---
This website participates in Amazon Services LLC Affiliate/ Associates Program. Which is an advertising program for sites to earn commissions and advertising fees for linking to Amazon.com and advertising.