Are you looking for toys that start with an B? If so you have come to the right spot!
Based on your search, I know that you are a teacher or parent doing an alphabet theme, or introducing letter sounds to your little.
Either way, this is the post for you, Be sure to check out my other post similar to this on; 20 Best Toys That Start With An A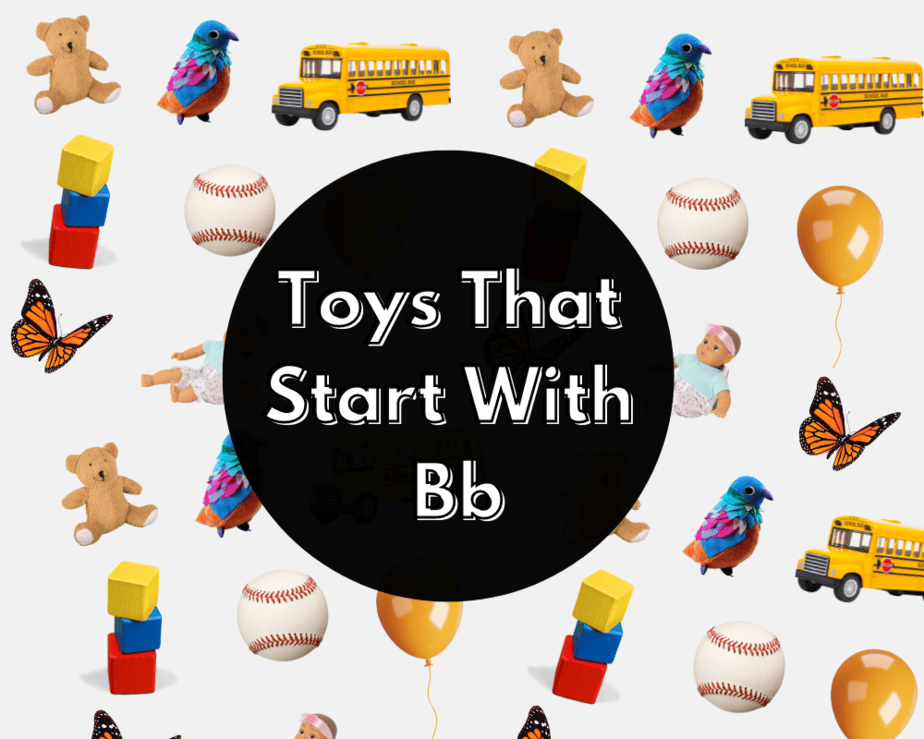 Affiliate Disclaimer: This post may contain affiliate links, which means I receive a small commission if you purchase through my links at no additional cost!
Toys That Start With An B
All the toys mentioned are great for show and tell lessons, and also sound baskets which is what im doing with my daughter. If you the Montessori method, you can find miniature versions of the items listed, in order to fit them inside a language cabinet.
Specific Order To Follow When Teaching Letter Sounds?
This comes down to preference. As a preschool teacher, I have taught the alphabet in order, and I have taught it in different sequences. It honestly doesn't matter. The most significant thing I would suggest for parents to do is to break the alphabet up.
Children can digest it better when you aren't throwing all 26 letters at them. I say start with 3-4 letters at a time. Move on when they have mastered them, and you can add more if you feel they can handle it.
Related Post:
At What Age Should You Teach Letter Sounds?
Typically, children start recognizing letter names by age 3 to 4 and later learn letter sounds around kindergarten.
However, this doesn't have to be typical for every child. My 2-year-old knew all the uppercase and lowercase letters by age 3. She started to learn letter sounds at the age of 3. She has shown interest in learning, so we followed her lead.
Follow your child's interest. If they are ready to learn early, go for it! If they aren't ready, wait until they show interest. Contrary to society and social media pressure, children learn at their own pace, and it isn't a race.
Letter Sounds or Letter Names First?
There are a lot of opinions on whether a child should learn letter sounds or letter names first. Contrary to what you may have heard, a growing number of studies have started to show that children learning both letter sounds and names at the same time do pretty well.
I follow the Montessori method, which proposes you teach letter sounds first. I had every intention of teaching my 2-year-old letter sounds first, but she was interested in letter names then, so that's the path we took.
As a preschool teacher, im a massive advocate for following the child's interest when teaching new concepts.