Are you looking to teach the alphabet to your toddler or preschooler? As a former preschool teacher, I have 5 easy ways to help you get started with teaching the alphabet to your toddler or preschooler.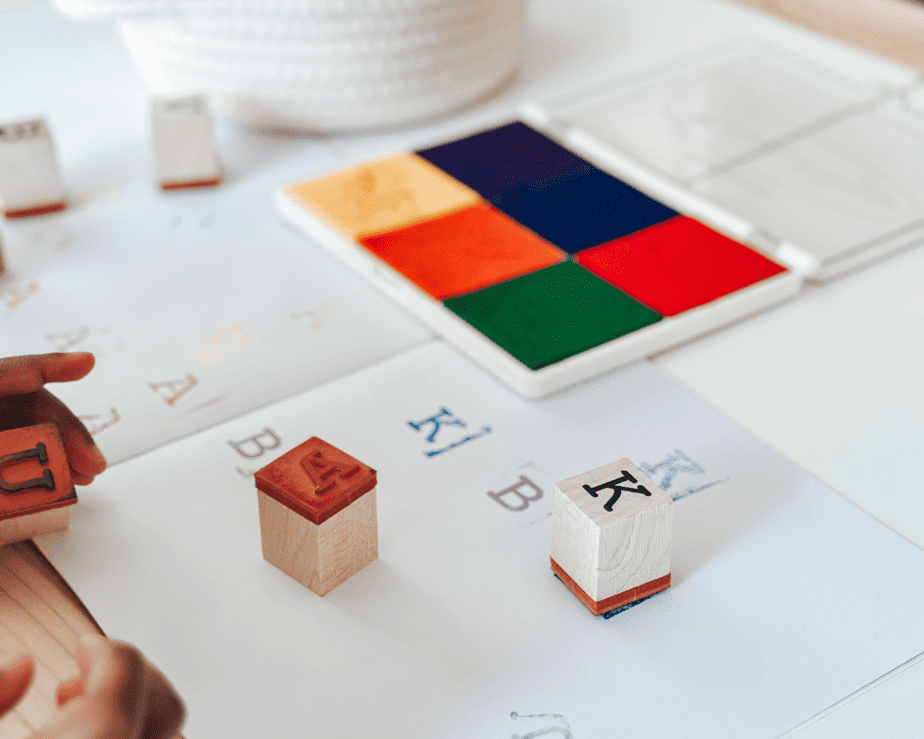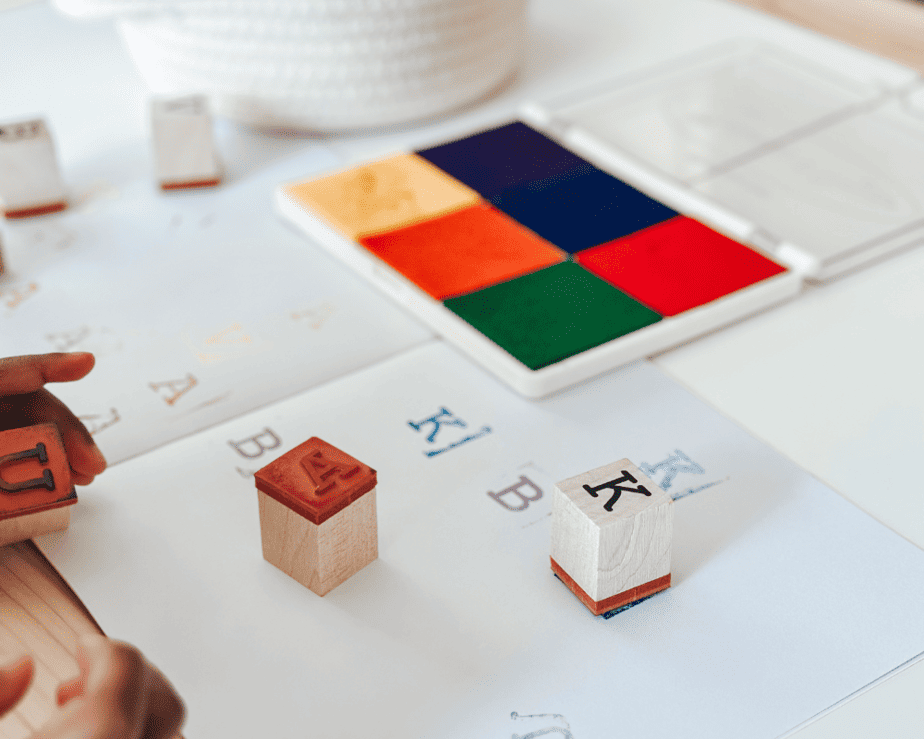 Affiliate Disclaimer: This post may contain affiliate links, which means I receive a small commission if you purchase through my links at no additional cost!
What is the best age to teach the alphabet?
Typically, by age 3, especially if your toddler attends a formal pre-k/ kindergarten school setting. However, every child is different; some toddlers learn it sooner, while others retain the alphabet a little later, which is also normal.
You must see when your child is ready and how you can help them.
Are you supposed to teach the alphabet in order?
In short, teaching the alphabet in order doesn't matter as much as people think. However, I believe in breaking the alphabet instead of bombarding children with all 26 letters at once.
What's most important is that at some point, your child can recognize the alphabet and letter sounds, which is an essential foundation for reading and writing skills.
There are specific sequences you could follow which break the alphabet up. If you're following a specific program or curriculum, they may provide you with a particular sequence when teaching the alphabet.
This comes down to personal choice and what is best for your child when teaching them the alphabet.
Should You Teach Uppercase or Lowercase First?
Teaching lowercase first makes the most sense when teaching small children the alphabet. Simply because lowercase letters are what they will see a majority of the time in books and even in their day-to-day routines.
Once they have mastered lowercase letters, you can move on to uppercase letters.
However, every child is different, so choose what your child is most interested in.
Other Posts You May Love:
How To Teach The Alphabet | 6 Easy Ways
No matter which method you use below, it's important to note that repetition is critical when teaching the alphabet. You need to incorporate at least one or two of the tips mentioned below into your everyday routine.
1. Sandpaper Letters
One of my favorite ways to introduce the alphabet to small children is using sandpaper letters.
Sandpaper letters are a Montessori approach that benefits small children learning the alphabet. With sandpaper letters, the objective is to have the child trace the letters using their fingers, which offers a visual and sensorial experience while learning the alphabet.
My favorite sandpaper letters are from Adena Montessori on Amazon. They are steady and easy for small hands to use, and the cards come with a storage box!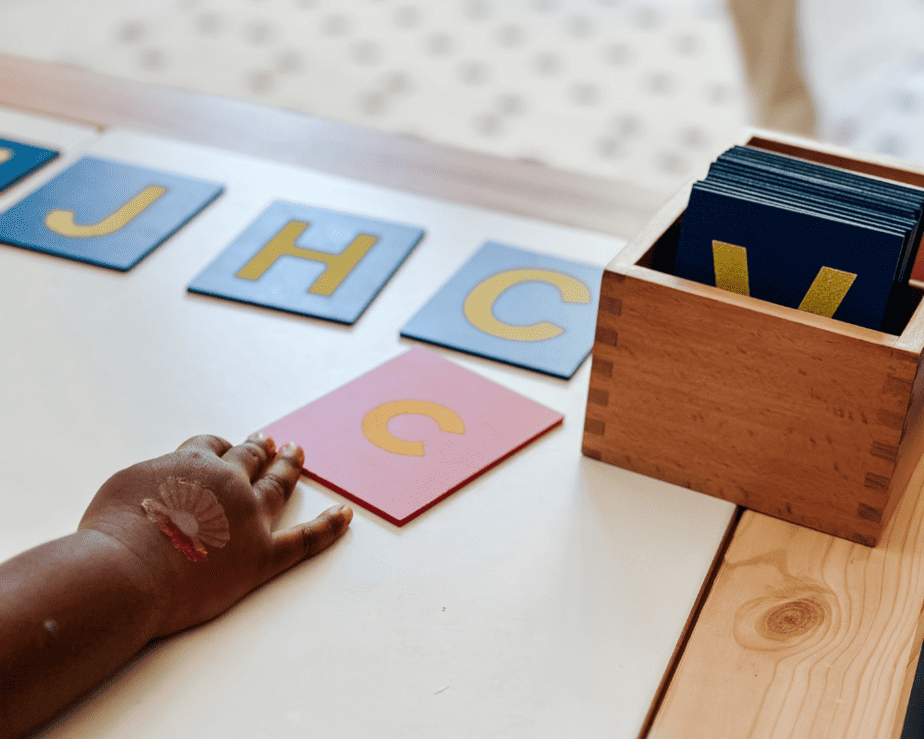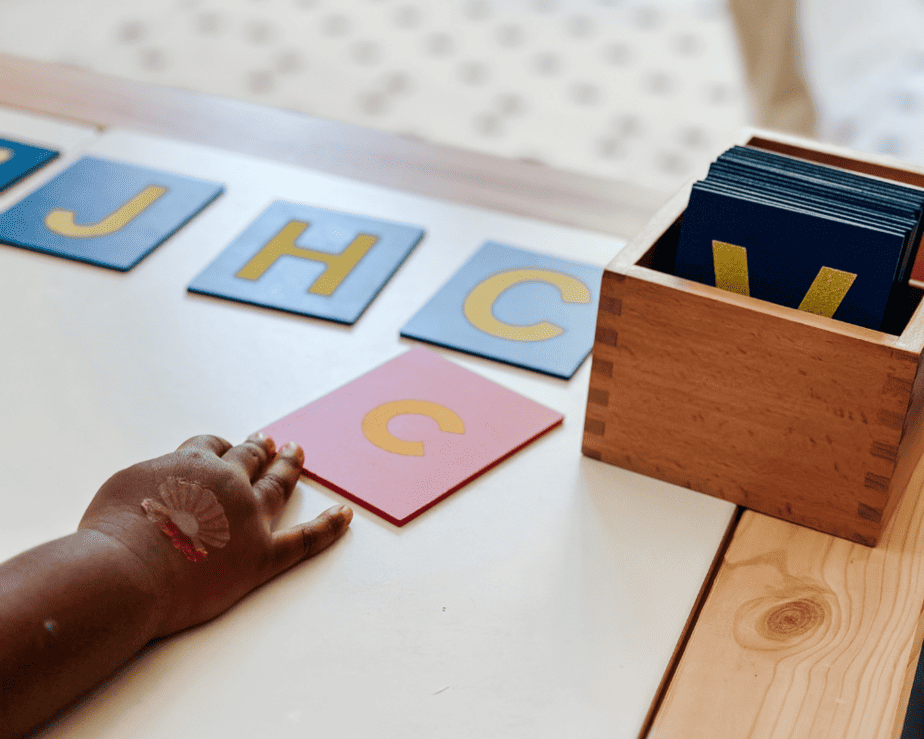 2. Books – Alphabet Books
It's no secret that reading books to babies and small children early on is extremely beneficial. It's no different when teaching the alphabet; repetition is vital, and introducing books that help with that concept is highly beneficial for children.
Here are a few of my favorite alphabet books for teaching the alphabet.
3. Alphabet Puzzles
Like alphabet books, alphabet puzzles are a great way to teach the alphabet. Puzzles, in general, encourage hand-eye coordination and fine motor skills practice. Adding puzzles to your alphabet theme is a great way to teach the alphabet.
Here are a few of my favorite Alphabet Puzzles, which you may also love.
4. Sensory Activities
As a preschool teacher, I always incorporated sensory activities into my daily routine with my students. Simply because little kids love sensory play, and it is a great way to teach new concepts and add a hands-on experience at the same time.
Sensory activities don't have to be super elaborate; the best sensory activities are simple and easy to set up. Using things you already have lying around the house.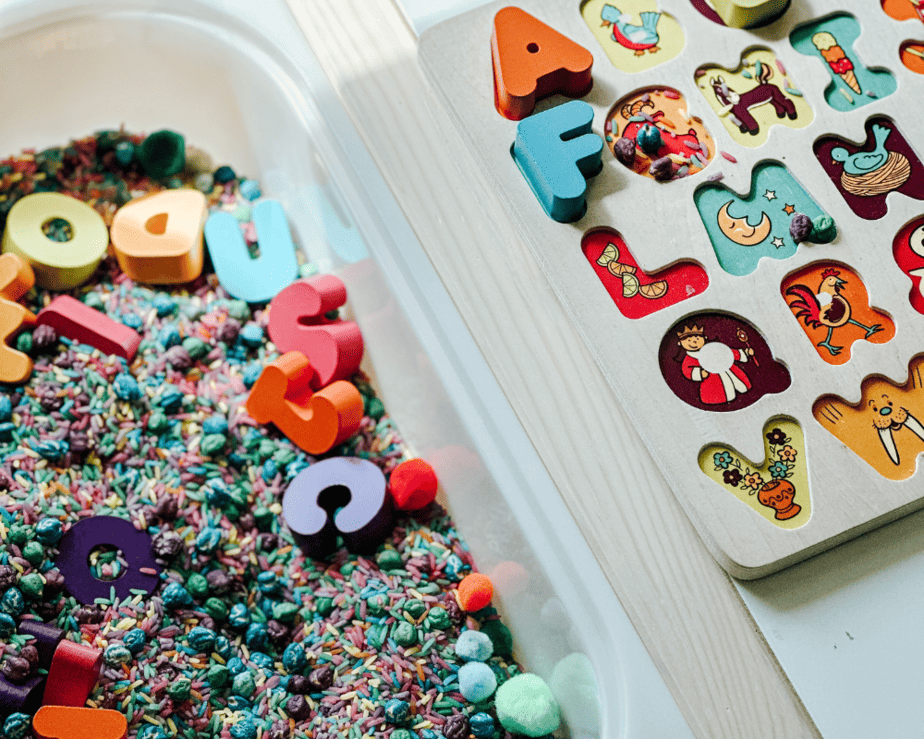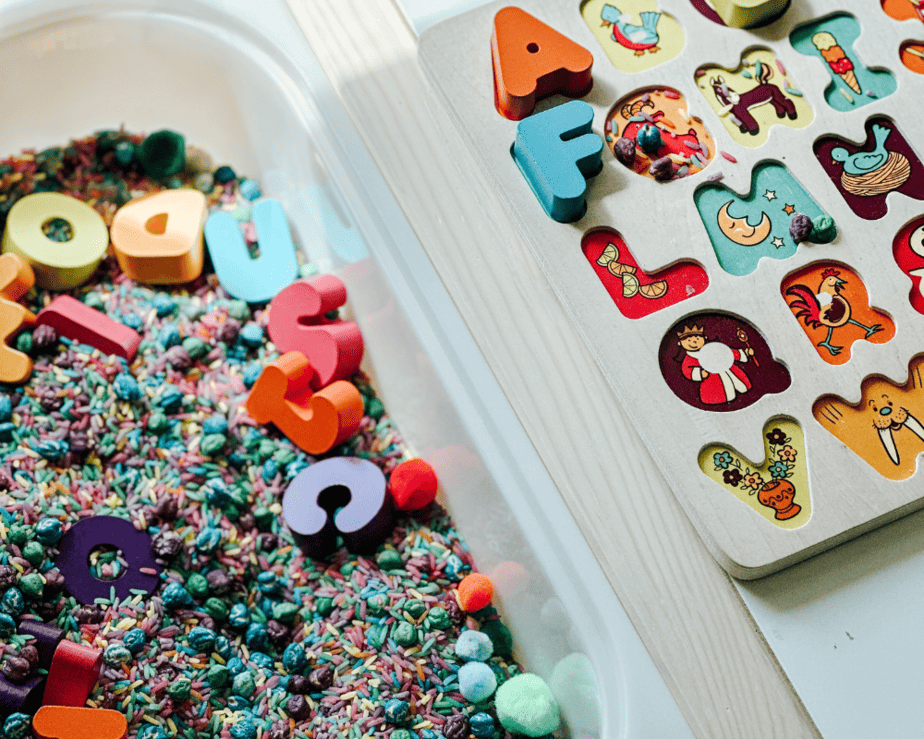 5. Interactive Alphabet Printables
Printables and flashcards often get a bad rap, but as a preschool teacher, having interactive printables for children is also essential. I like using this clothespin printable because it helps with letter recognition and encourages fine motor skill practice with the clothespins.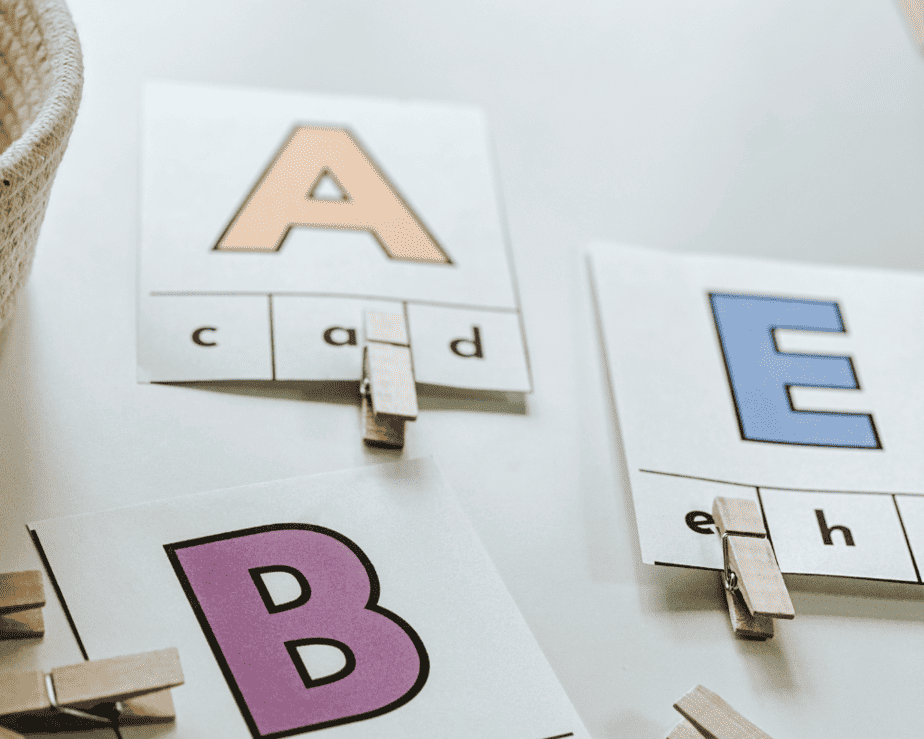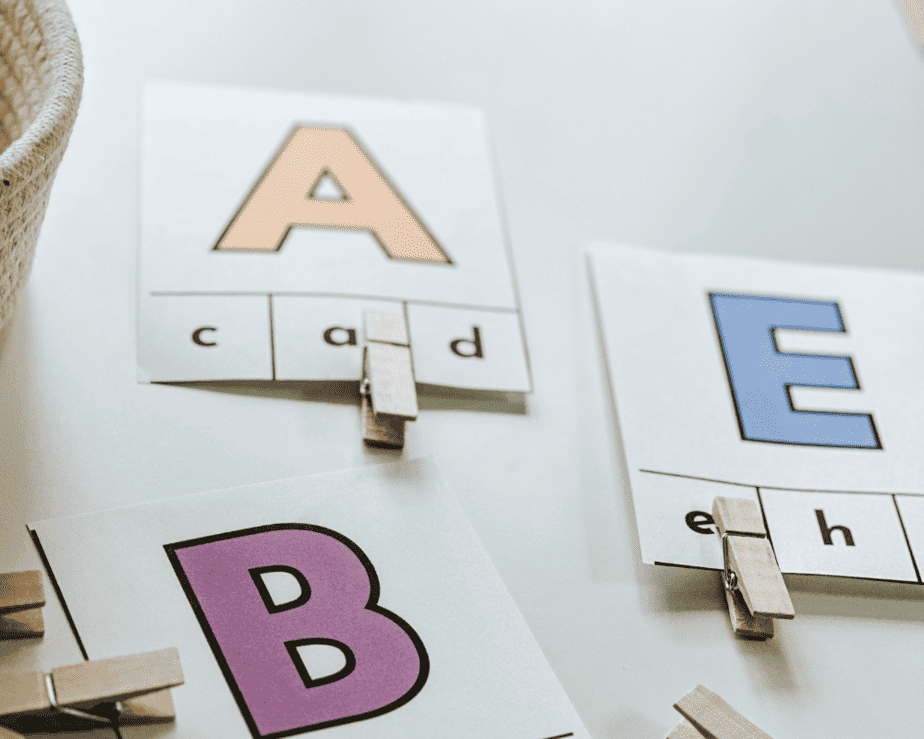 6. Music & Movement
Nothing gets toddlers moving like some good music and dancing around. I like incorporating songs that teach the alphabet and even alphabet sounds! Here are a few of my favorite alphabet songs for toddlers!