If your mom, you know just how much stuff we carry around when out and about with littles. Here are the best backpacks for moms. As a mom, I know what we need in a backpack to make our lives easier when out.
Best Backpacks For Mom: Top 3 Picks
BabbleRoo Diaper Backpack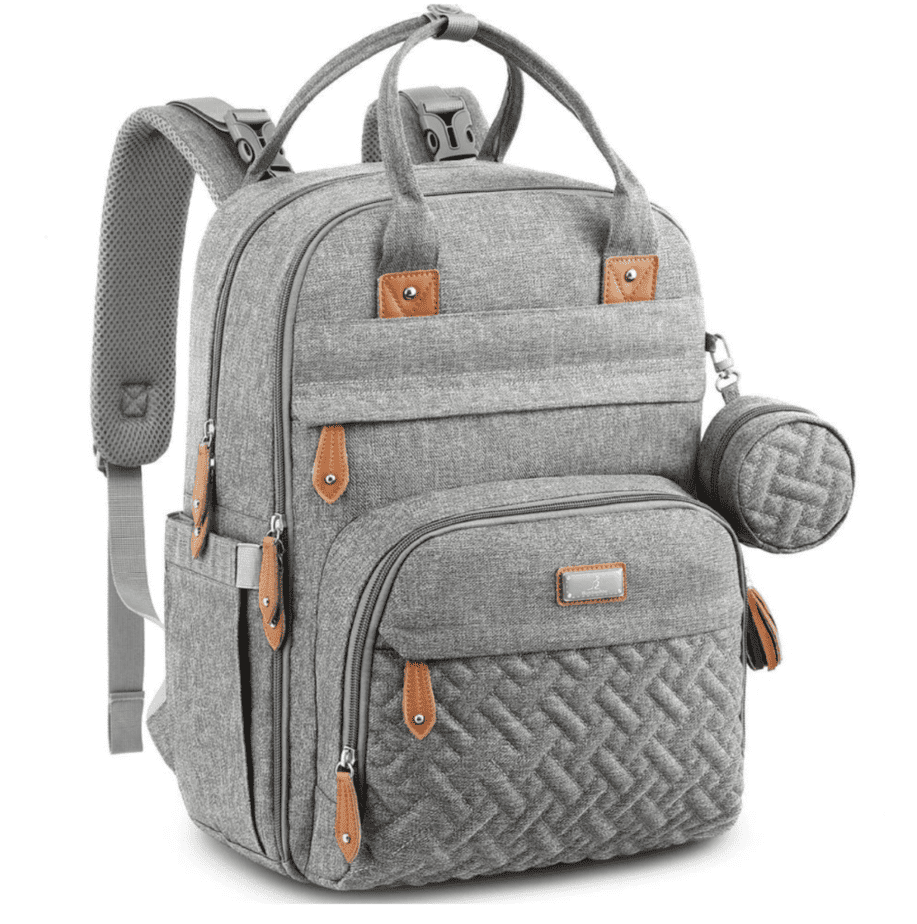 Best Seller On Amazon
Tons of Storage
Durable & Comfortable
Water Resistant
Freshly Picked Classic Bag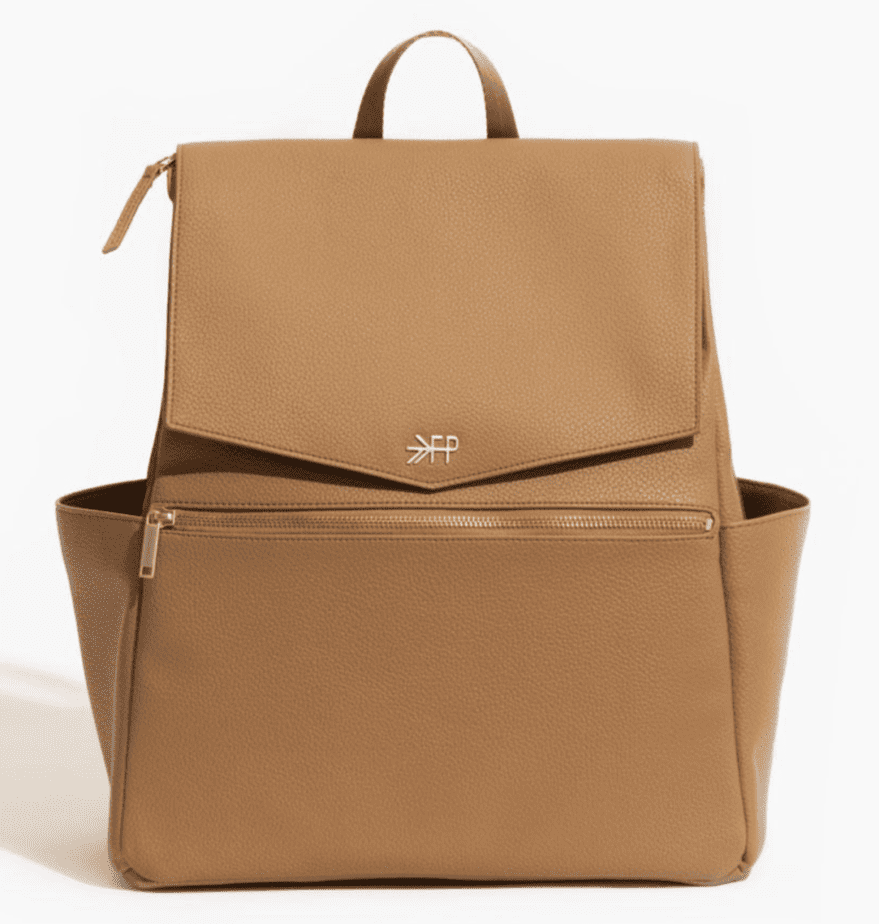 A Mom Favorite
Tons of storage & Durable
Comfortable & convenient
Stylish & Chic
Ruvalino Diaper Bag Backpack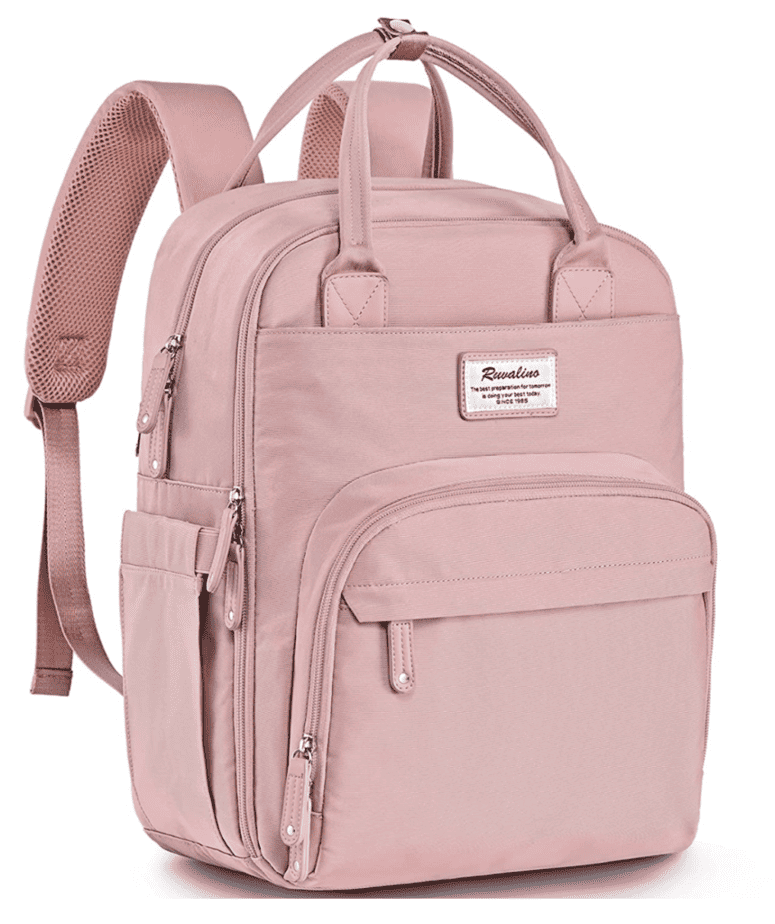 Amazon Best Choice
Multifunction backpack, great for travel as well.
Different compartments for everyday use
Affiliate Disclaimer: This post may contain affiliate links, which means I receive a small commission if you purchase through my links at no additional cost!
Moms, no more stuffing baby stuff into our purses only to leave us frustrated and overwhelmed when looking for our keys or even a diaper. As a mom, I know just how important it is to have functional, cute, and comfortable backpacks for mom.
Most importantly, the best backpacks for mom offers tons of storage and compartments. We need compartments for diapers, milk, food, and our items. The days of throwing everything into our purses are long gone.
What are the Best Backpacks For Mom?
Functionality: A functional backpack is ideal for moms. You should be able to use it to store your baby's stuff and your items.
Comfortable: Carrying around a lot of stuff can get pretty heavy. A backpack that is durable enough to hold everything and isn't uncomfortable to wear is ideal.
Storage & Compartments: The most important of them all, throwing everything into a bag, doesn't work. You want a backpack with different compartments and storage to put things in. This helps you get to it when needed without tearing apart the entire bag.
Not to Bulky: You have to carry a lot of stuff around, but that doesn't mean you want to feel like your carry-around luggage. A bag that gives you storage and space without being too bulky is ideal.
Stylish: Looking cute isn't negotiable, so a stylish and functional backpack is a win for us moms!
Freshly Picked Classic Leather Diaper Bag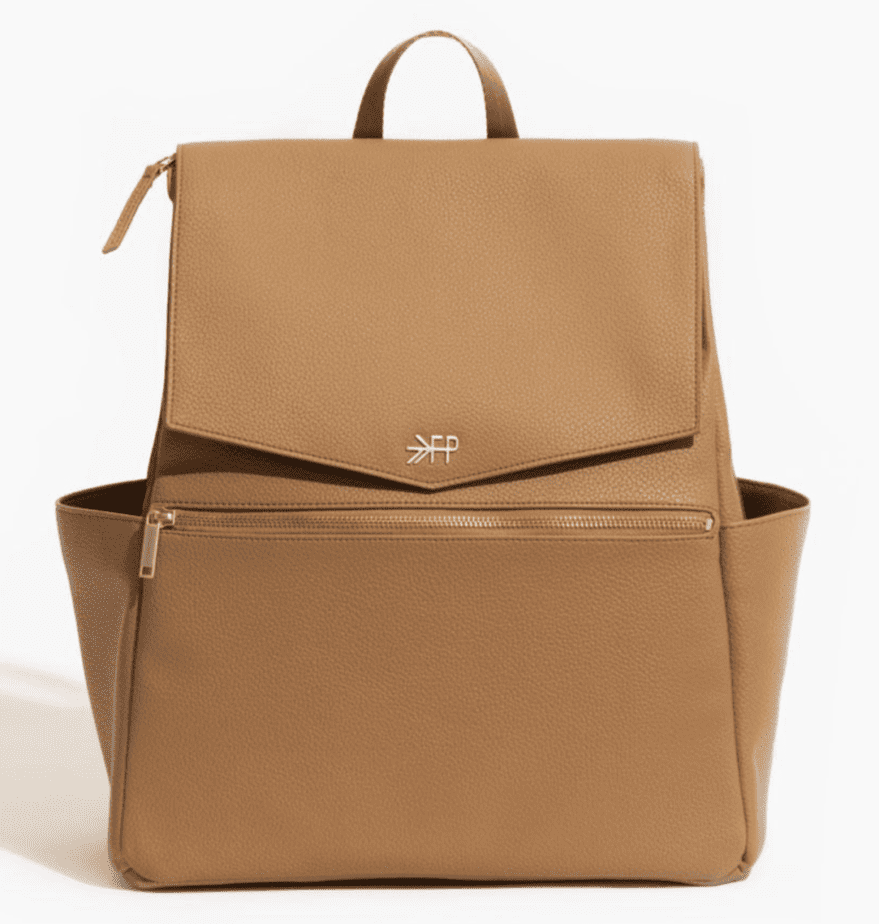 If you're looking for something chic, stylish, and functional, look no further. The Classic Leather Bag from Freshly Picked is the perfect backpack for mom! This backpack is a favorite among moms.
Has tons of space and compartments for mom and baby's stuff, with 10 compartments for easy storage and functionality—an insulated interior pocket.
Has adjustable straps to make it the perfect fit for you.
Functionality at its finest, this backpack can be worn 3 ways | Backpack, Cross-body. or purse.
Made out of premium vegan leather
Completely wipeable and spill-resistant interior and exterior
Interior 6″ Keyclip
Compatible with storing wearable breast pumps like the Elvie Pump and Elvie Stride Pump
MIA + SOPHIA Leather Diaper Bag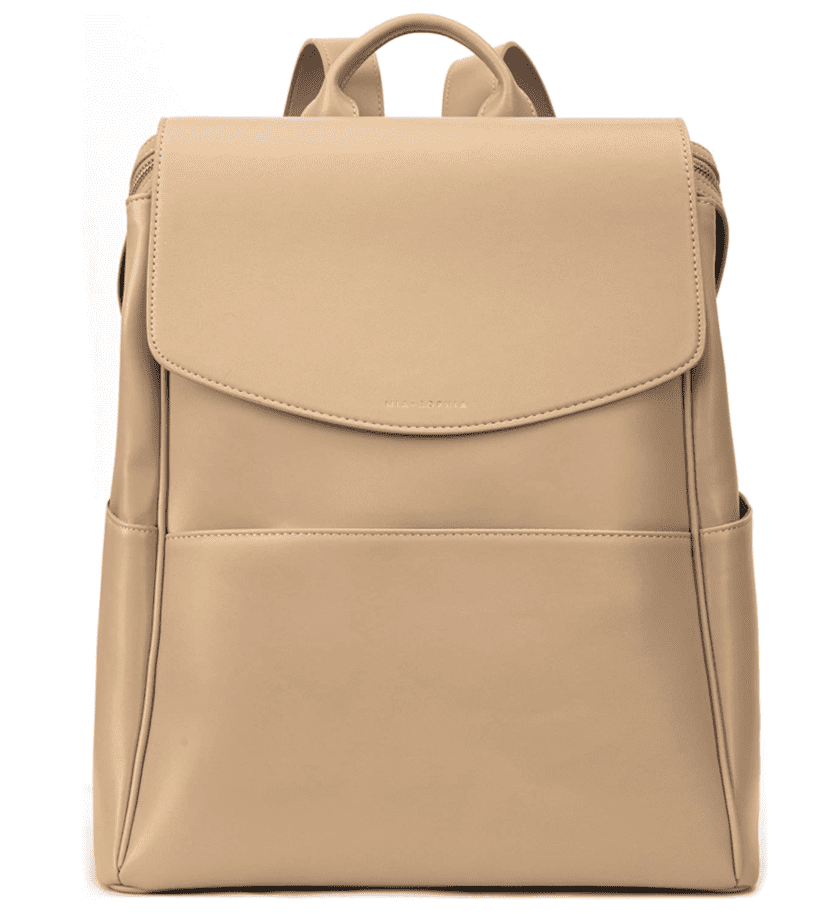 The Mia + Sophia Diaper Backpack is super stylish. but it doesn't stop there! This backpack has pretty much everything we need as moms! It has tons of storage and compartments, versatility in how we can wear it, and is made of premium material, making this bag super durable.
Built-in USB and Power Cable, great for charging your phone on the go. I love this added feature about this backpack. Im always looking for a charger to charge my phone!
Tons of storage and 15 pockets total for this backpack. 10 internal pockets, 5 external pockets, 6 insulated pockets, and a large s=center compartment for your laptop or breast pump.
Made of premium vegan either, and an easy-to-clean interior made of nylon.
Adjustable straps for durability and comfort
Included: Changing pad and Gold Hardware
BabbleRoo Diaper Backpack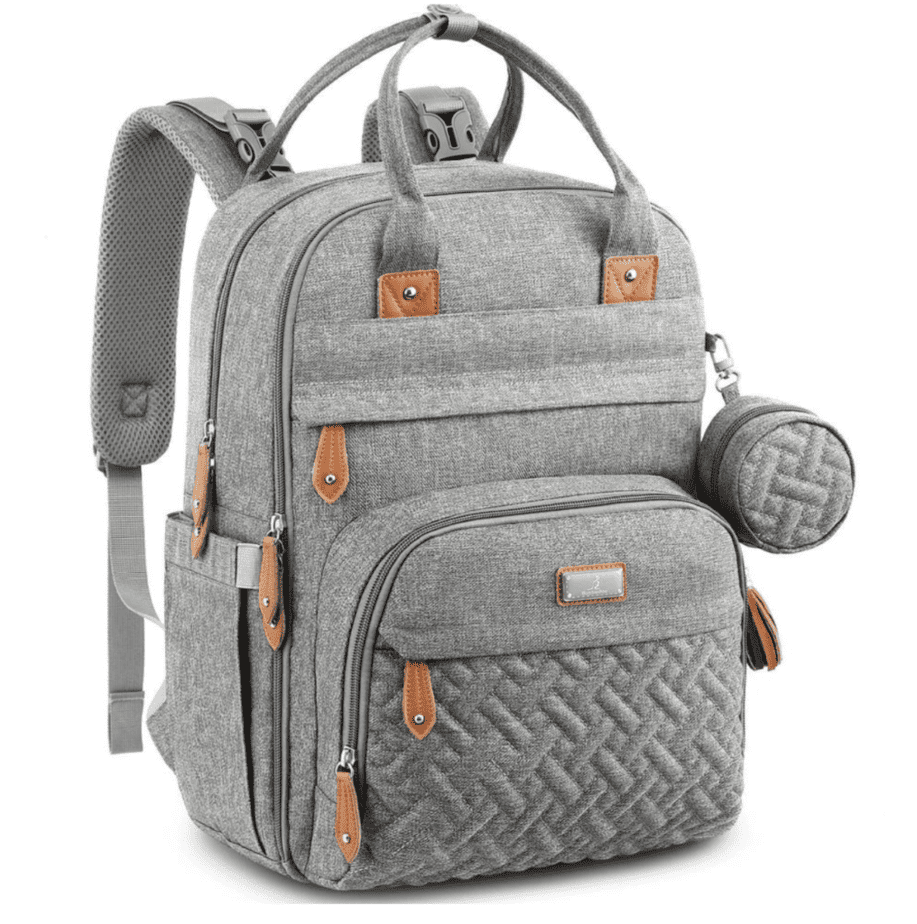 The BabbleRoo Diaper Bag Backpack is an Amazon Choice, and I see why! This backpack is super popular and a fan favorite amongst parents. This bag has everything we need as moms with small babies, from bottle holder compartments to detachable pacifier holders. It has it all.
Tons of storage, two main compartments, 5 insulated pockets ( perfect for baby bottles), a wipe holder pocket, a key loop, and a dedicated changing pad pocket.
Comfort and Durability, this backpack for moms is made of tear-resistant, water-resistant fabric, with strong zippers and lining, cushioned shoulder pads, and a padded back panel to distribute the bag's weight evenly across your back or shoulders. '
Built-in stroller straps
Ruvalino Diaper Bag Backpack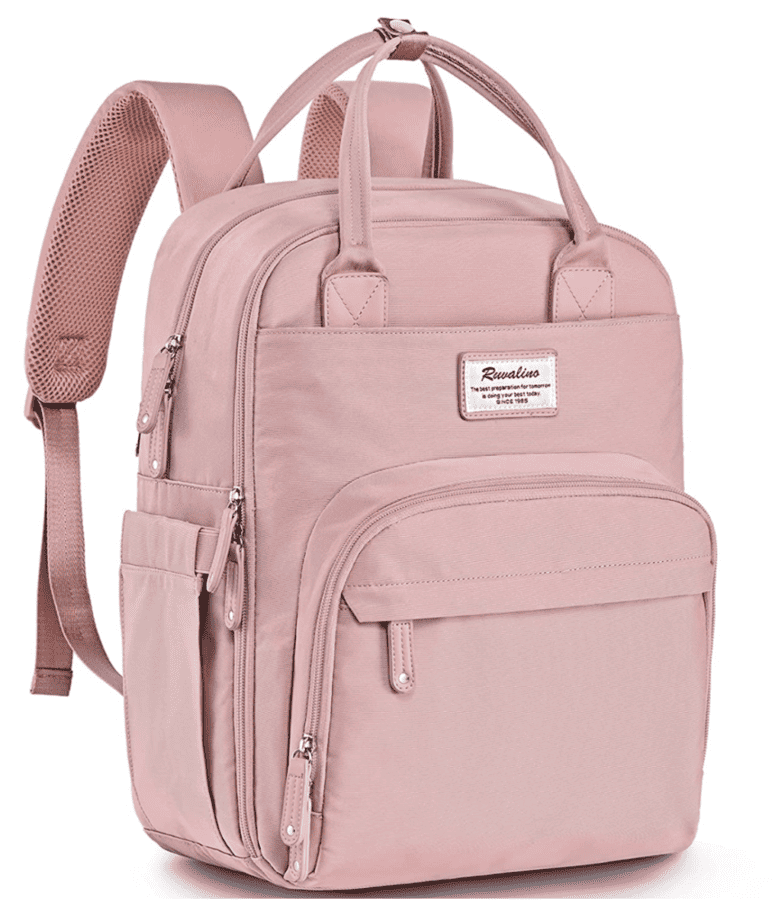 Ruvalino Diaper Bag Backpack is another Amazon Choice, which isn't surprising. This is another brand that had moms in mind when designing this backpack. This backpack is durable and comfortable and has tons of storage for a mom's everyday needs with small children.
Tons of Pockets for easy storing, changing pad pockets, two large zipper closure compartments, and 16 pockets, perfect for holding all of the babies' essentials; also come with insulated bottle pockets.
Versatility, this backpack can be worn as a backpack, handbag, or stroller. This bag has stroller clips.
Has diaper storage pockets, wipe storage, and so much more!