Are you looking for a simple alphabet activity to do with your toddlers? Keep reading to see how I created this simple letter activity for toddlers.
Affiliate Disclaimer: This post might contain affiliate links, which means I receive a small com soon if you purchase through my links, at no additional cost to you! I only recommend things that I love and have tried!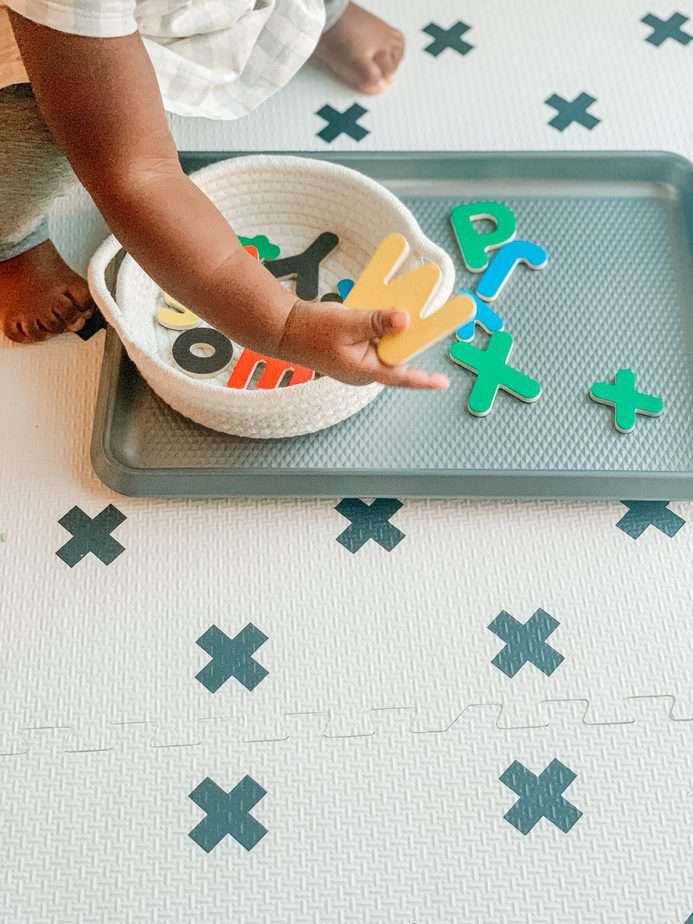 Related Post: How To teach The Alphabet
When Should I Start Teaching Letters?
By The age of 2 children will start to recognize some of the letters of the alphabet. By The ages of 3 and 4, children are typically able to recognize most if not all of the letters. Over the years as an ECE educator, I have noticed that most children begin to recognize the letters in their name first.
You can start to teach your toddler letters early. as early as 1-year-olds. The purpose of teaching letters early to toddlers is to get them familiar with the concept, Most Toddlers do not start to recognize them typically until around 2 years old. The goal isn't for them to recognize the letters just yet, the purpose is to just get them familiar with them.
Letter Recognition is skill that children develop over time.
It's important to remember that letter recognition is something that most children grasp over time. I know as parents and educators we sometimes stress over all the little things our toddlers are supposed to know before the age of 2. The reality is most children don't recognize letters until closer to 2 years old, and by 3 years old they may be able to recognize a few more.
Keeping a daily routine that offers different learning activities to your toddlers is important. When toddlers are repeatedly exposed to activities that promote development they start to become familiar with them over time.
Easy Magnetic Alphabet Activity For Toddlers
Let's get to the good stuff, this super fun, and easy alphabet activity for toddlers!
My daughter has been obsessed with this activity! I decided to set this activity up somewhere in her play space that it could stay, I knew this was an activity that she would come back to throughout the day, and she does exactly that!
Related Post: Best Alphabet Books For Toddlers
Setting this activity up will take less than 5 minutes!
What You Need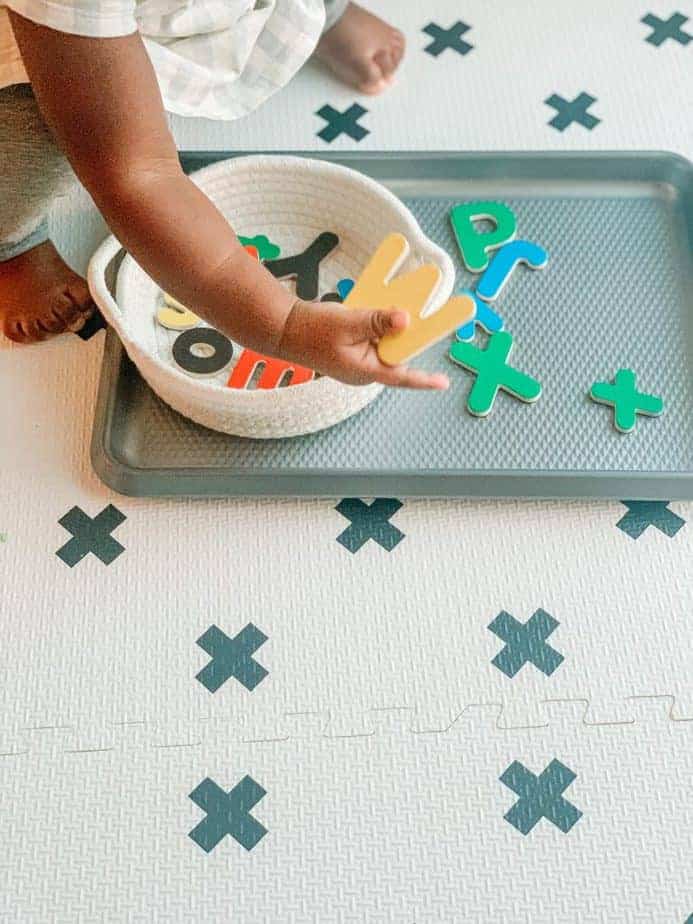 You can set this up anywhere!
This alphabet activity is so simple, and requires no prep! You can literally set it up anywhere that you feel is best. I would recommend placing it on a wall, rather than just flat on the floor.
I found that the activity, was much more enjoyable when my little one could stand, stick the letters on, and take them back off!
I would love to hear from you, Have you tried this activity with your little one? Did they love it?
This post is about a simple alphabet activity for toddlers!
---
This website participates in Amazon Services LLC Affiliate/ Associates Program. Which is an advertising program for sites to earn commissions and advertising fees for linking to Amazon.com and advertising.