Are you looking for a non-toxic playmat to add to your little one's playroom or play area? Here are 8 non-toxic play mats that are truly safe, and super cute for babies and kids!
Babies, Toddlers, and just kids, in general, spend a lot of time on the floor. Whether they are learning to crawl, or building a huge block tower. Kids tend to spend a large amount of time on the floor. This is why playmats are super popular and I completely understand why. Aside from being comfortable, playmats help protect our floors from some of the messier activities.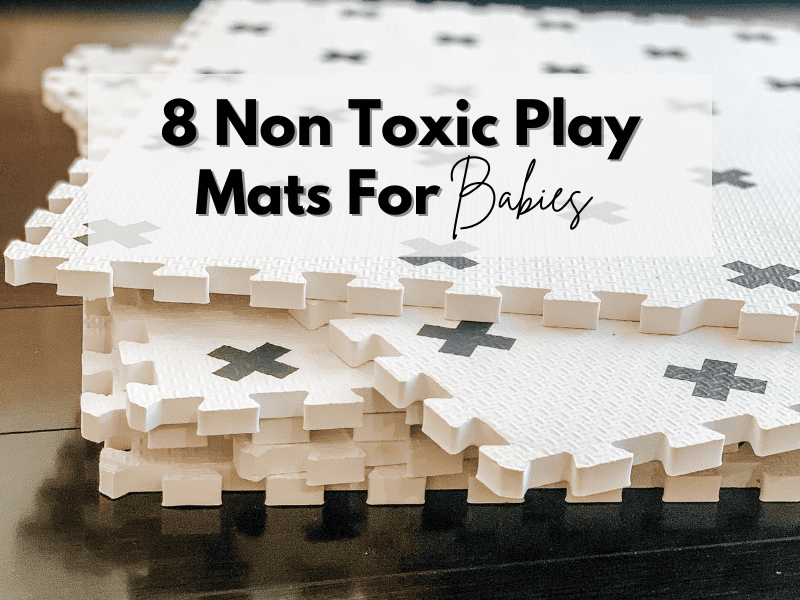 Affiliate Disclaimer: This post might contain affiliate links, which means I receive a small commission if you purchase through my links, at no additional cost to you!!
I personally wanted my little one to be comfortable when playing. So adding a play mat was one of the first things I did when I was creating a play area for my daughter.
Depending on what you're looking for I wanted to include categories for the playmats mentioned. I know for me I wanted something affordable and easy to clean! As a former preschool teacher, I know how messy play can get with toddlers, So these were the selling points for me when I shopped around for playmats.
Chemicals You Should Avoid
I think it's important to understand what chemicals to look out for when purchasing a non-toxic play mat for your little one! I have a little one who has sensitive skin and is allergic to latex. Before making a purchase, I always ask the brand for a list of the materials that were used to make the product. This helps me to truly understand which play mat would be the best fit for us and our home.
Here are some of the major chemicals you should avoid when purchasing a non-toxic playmat!
Flame Retardents
Unfortunately, a lot of common household items are treated with flame retardants, including some play mats and some toys. Knowing that a lot of what we use on a daily basis is sometimes treated with flame retardants is alarming. When choosing a non-toxic play mat, try to make sure that it has not been treated with flame retardants.
Flame retardants are ingested 10 more in children than adults, mainly from hand-to-mouth contact. It's no secret that children touch everything, and smaller toddlers tend to put a lot of things in their mouths, so whenever possible avoid flame retardants. Research has shown that exposure to flame retardants is linked to various health problems, and sometimes behavioral challenges.
Latex ( Natural Rubber )
Not considered a toxic material, however, latex allergies are more common than we may think. So if your little one is allergic to latex, make sure to get a playmat that doesn't contain latex. Latex can be found in things such as gloves, buttons on remote controls, rubber ducks, soles of our shoes, and so much more!
Formaldehyde
Formaldehyde exposure isn't as common anymore, but it is still something to look out for when purchasing anything for your little ones. Most items containing formaldehyde are wood products, glues, paints, lacquer, and finishes. When possible shop for products that are formaldehyde-free and do not contain any toxic glues.
BPA & Phthalates
Luckily products containing BPA"s and Phthalates are less common these days. Most companies will mention they are BPA-Free or that their product doesn't contain any phthalates. It's still worthwhile to double-check with the brand you are purchasing from to be sure. Exposure to BPA & Phthalates does pose a risk to children's endocrine system, It acts as a hormone.
Triclosan
Unfortunately, we are exposed to triclosan more often than not. Triclosan is found in toothpaste, hand soaps, cutting boards, school supplies, play toys, and more. Studies have shown that it gets into our airways and even affects most wildlife. This chemical is categorized as a pesticide and does pose a health risk to all of us.
When shopping for kids and babies I would double-check that the products don't contain this chemical.
8 Non-Toxic Play Mats For Babies & Kids
Recent Blog Post
Latest Blog Post
8 Non-Toxic Play Mats For Babies And Kids
This website participates in Amazon Services LLC Affiliate/ Associates Program. Which is an advertising program for sites to earn commissions and advertising fees for linking to Amazon.com and advertising.