Play kitchens are a staple in almost every household, but if you want to take things up a notch, try making a functional toddler kitchen, it's easier than you may think using the Ikea Duktig Play Kitchen.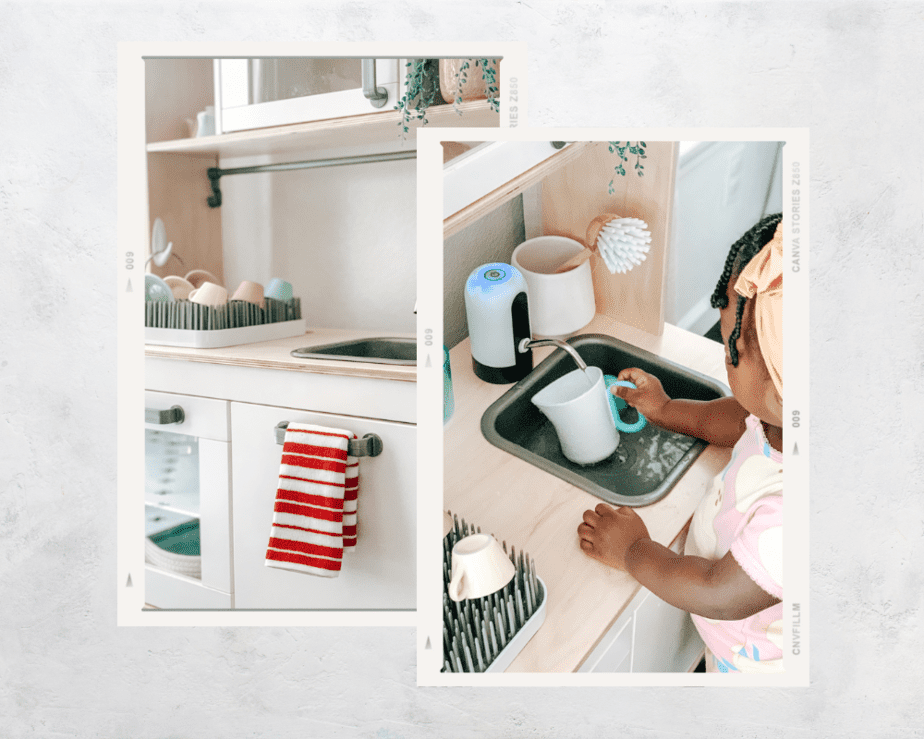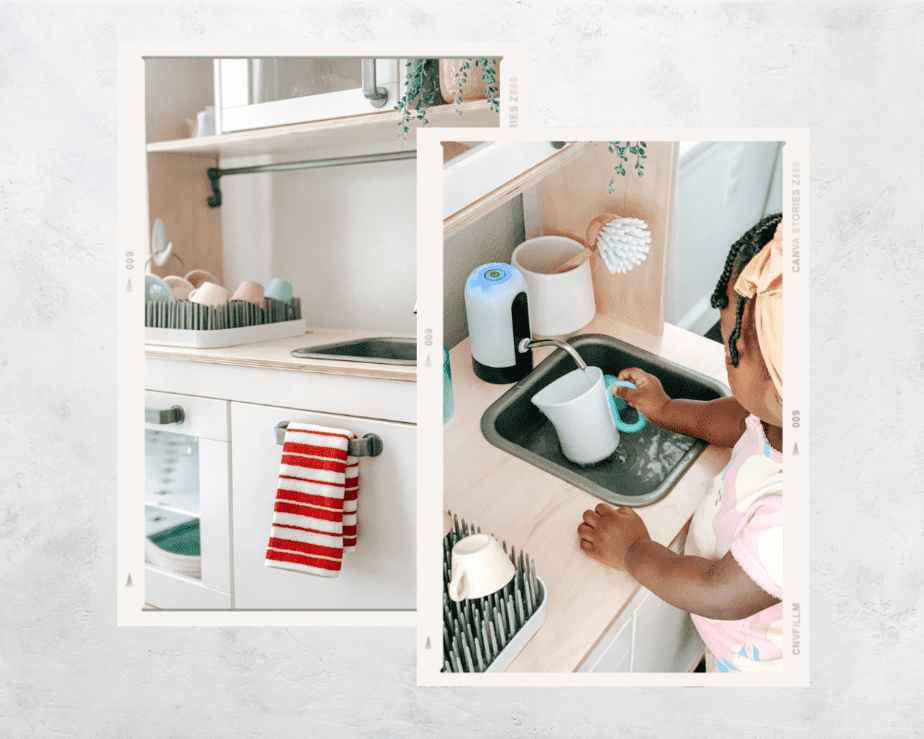 Affiliate Disclaimer: This post might contain affiliate links, meaning I receive a small commission if you purchase through my links at no additional cost!
Other Post Will Love:
How To Make A Functional Toddler Kitchen – 3 Easy Steps
Hacking the IKEA play kitchen to make it more functional is super easy! You only need a water dispenser, drying rack, and play kitchen accessories. This will take you about 15 to 20 minutes to hack!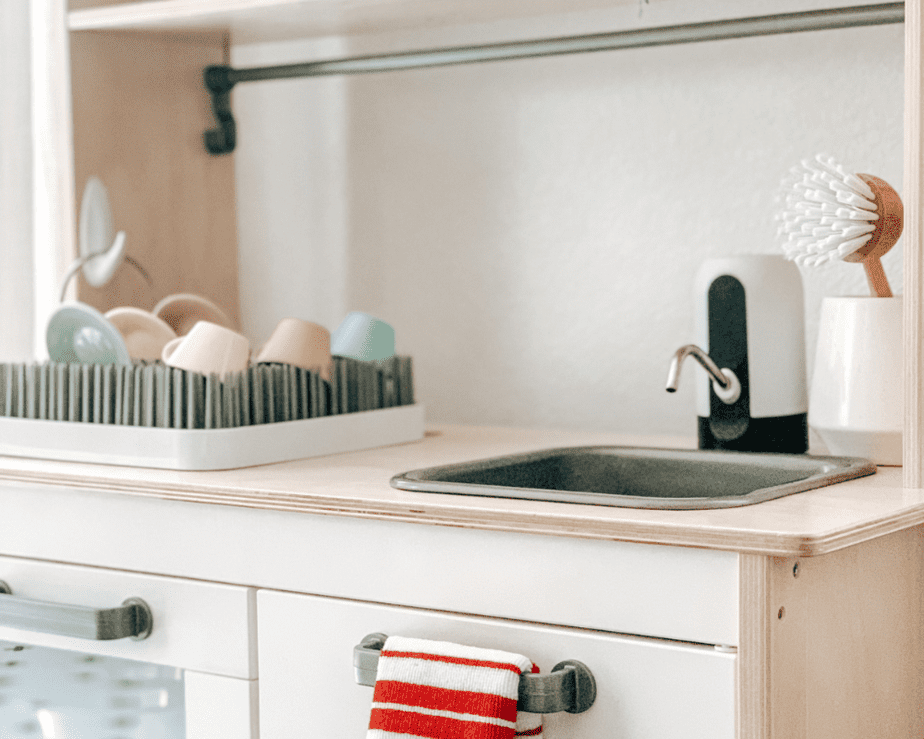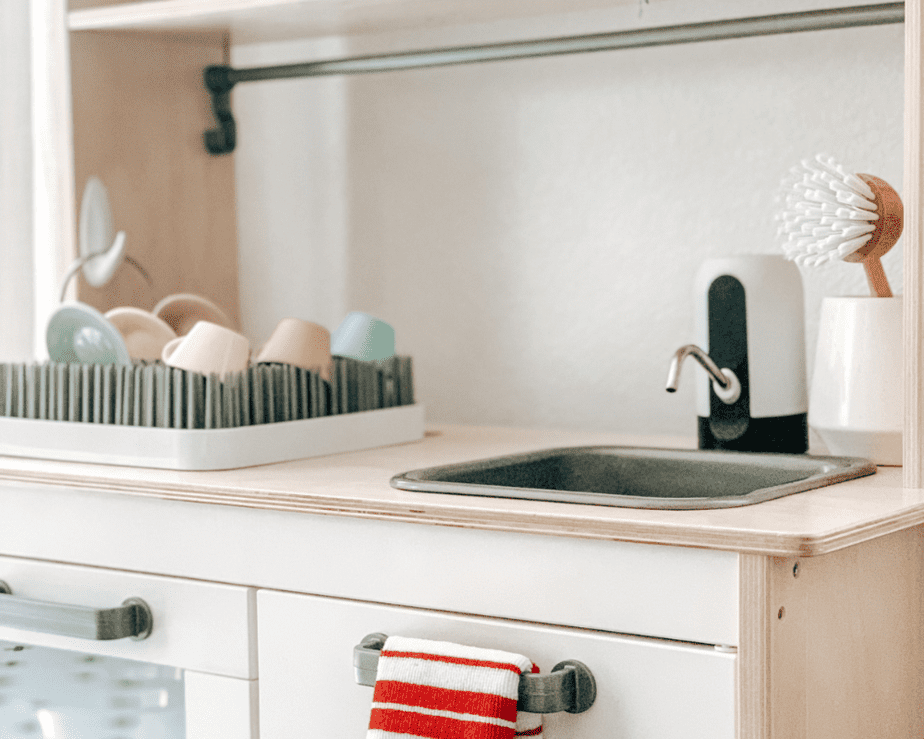 Step 1: Assemble the Duktig play kitchen from IKEA
For starters, you want to assemble the IKEA Duktig play kitchen according to the directions in the setup manual that comes with the kitchen.
Step 2: Add Running Water & Water Collection Jars
Once the kitchen is assembled, you should use a drill bit to poke holes in the sink. This will allow the water to drain once the water is one. 3-5 holes are adequate for the water to drain smoothly.
Using your water dispenser, remove the sink that comes with the kitchen, and replace it with the water dispenser. This is where the fun begins.
Next, add the large collecting jars under the sink; this will serve as your functional kitchen's drain and water refill system.
Step 3: Add kitchen accessories and utensils.
This is where you can start personalizing the kitchen to tailor it to your toddler's needs. This is when the play kitchen becomes a functional play kitchen for your toddler.
Here is a list of things you could add;
Drying Rack
Cutting Board
Hand Towels
Small Bowls, Cups, and utensils
Mini fridge to store cold snacks and drinks
Hand soap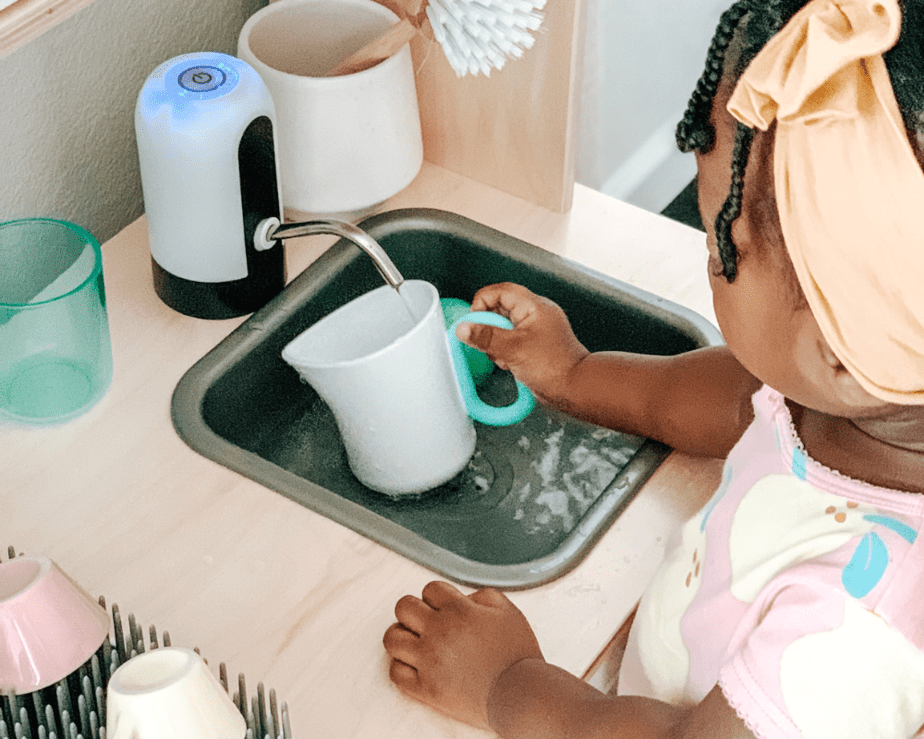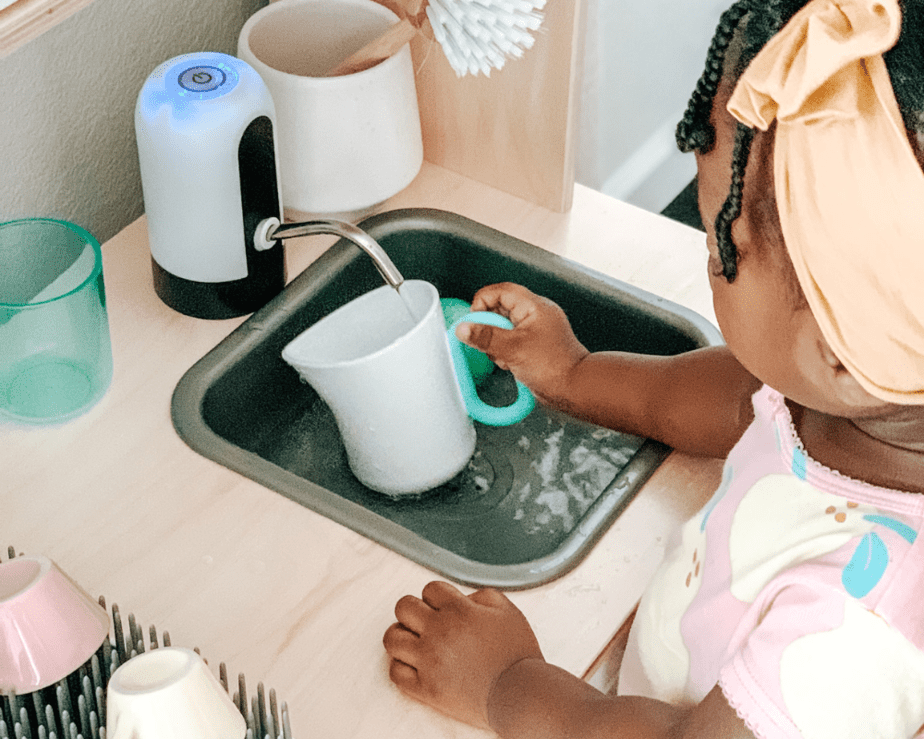 Is The Function Play Kitchen Worth It?
In short, yes, the IKEA play kitchen is worth it. The Montessori-like design and super affordable price make it a great purchase if you want a play kitchen for your toddler.
It's not one of those bulky play kitchens that take up much space! The IKEA play kitchen doesn't take up much space and can easily fit into your home's aesthetics.
Are Play Kitchens, Montessori?
Some may argue that play kitchens, in general, aren't needed. Although I agree, play kitchens are super fun for toddlers! And making a functional kitchen allows toddlers to participate in more practical life experiences.
If you are familiar with the Montessori method, you have already heard why play kitchens aren't " Montessori." It is believed that having a play kitchen takes away from the child doing the work, for example washing authentic dishes in the kitchen sink or even washing fruit at the kitchen sink. 
Is the play kitchen considered Montessori as a stand-alone? No! Can you turn it into something that better aligns with Montessori methods? Yes!
Other Post Will Love:
FREE Functional Toddler Kitchen Guide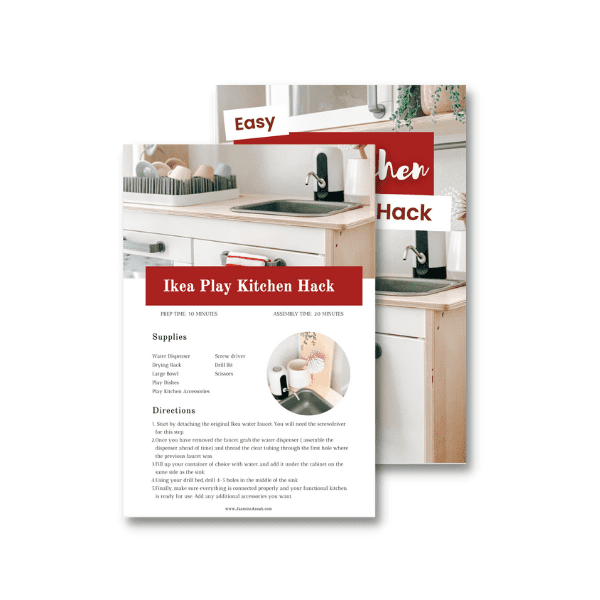 Functional Toddler Kitchen Guide
Grab this FREEBIE! Download & Print This guide, and use it as a reference when you assemble your functional kitchen!
Functional Toddler Kitchen Supply List + Free Guide!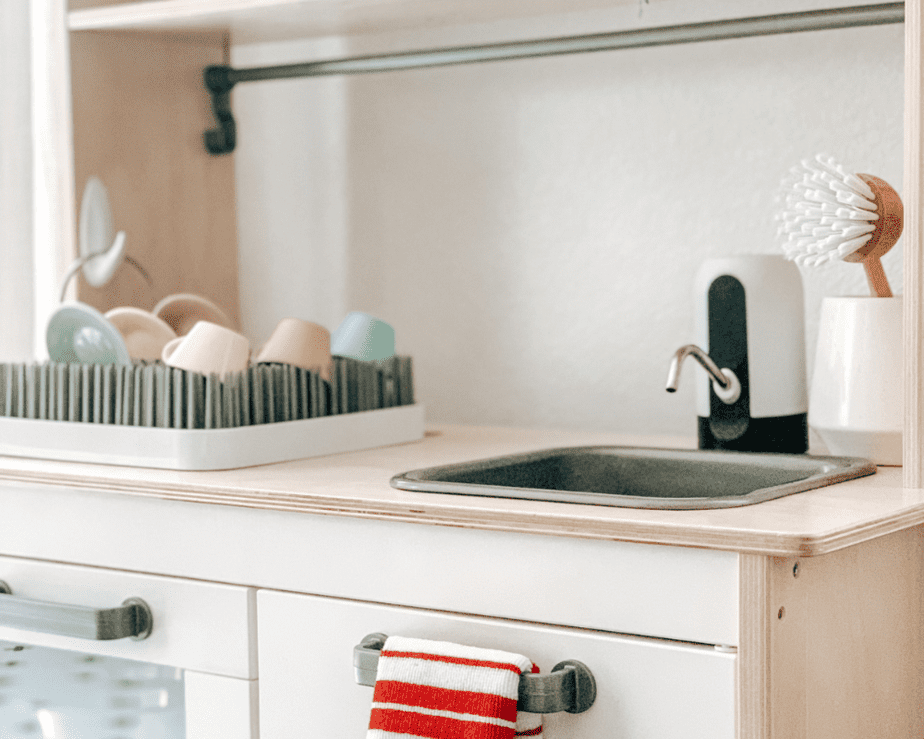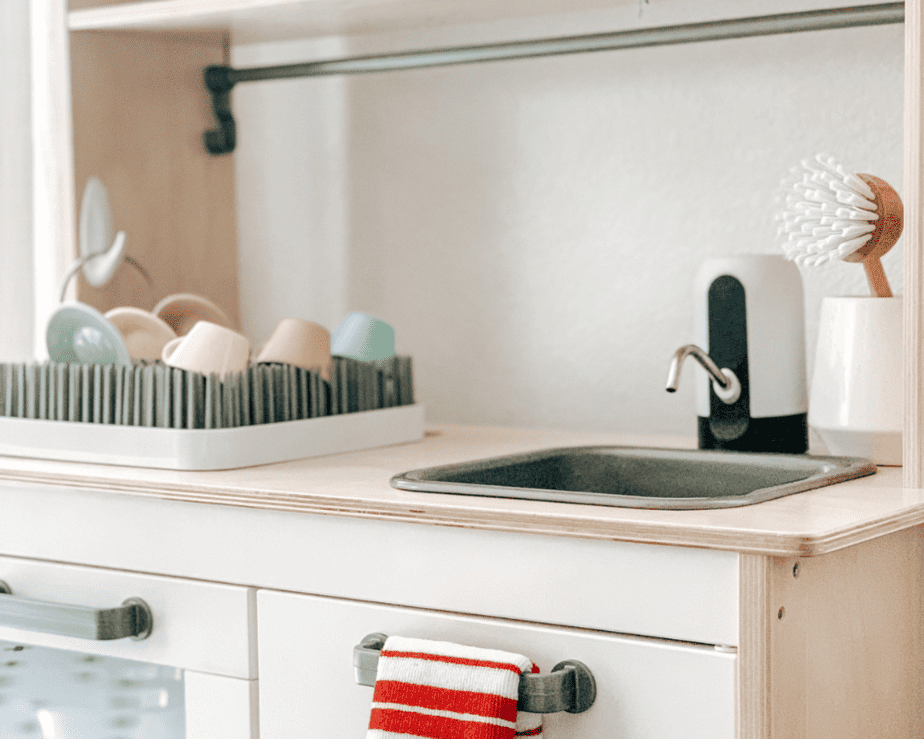 Other Post Will Love:
This post is about a functional toddler kitchen with the IKEA duktig play kitchen.