Are you looking for a simple guide on how to dye sensory rice that is safe for toddlers?
Well, I got you covered! As a former preschool teacher, I have had my fair share of sensory play! My top filler for sensory play is rice, not only is it fun, but it's super safe for toddlers! As a mama with a busy toddler, im always looking for safe and fun activity ideas for her!
Affiliate Disclaimer: This post might contain affiliate links, which means I receive a small com soon if you purchase through my links, at no additional cost to you! I only recommend things that I love and have tried!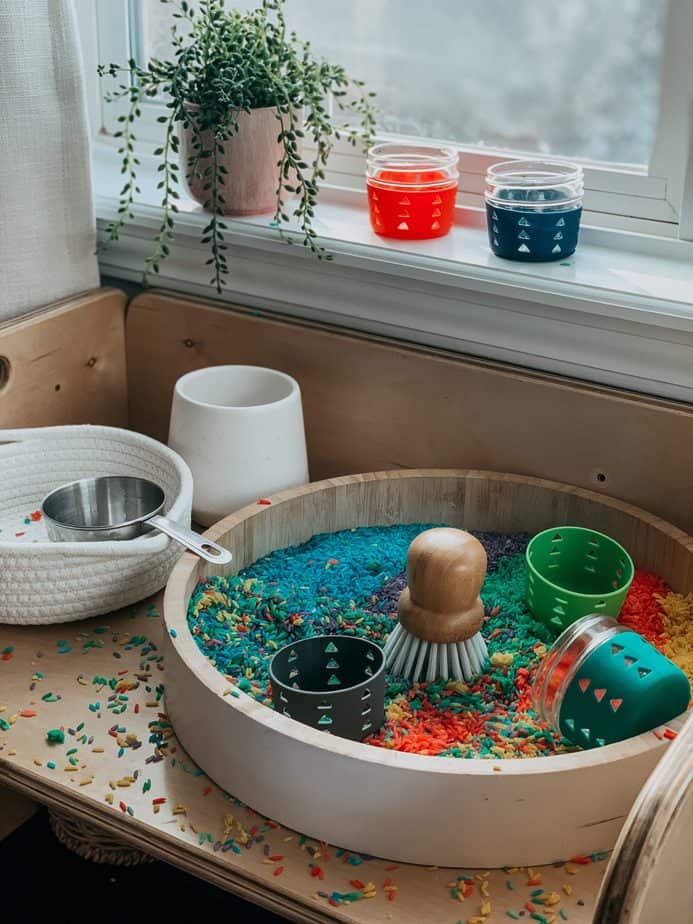 Completely Editable, And Safe For Toddlers
If you have a toddler then im sure you already know what im going to say! Toddlers put EVERYTHING in their mouths. It's another way of exploration for them, but drives us, parents, crazy! This recipe is safe, using natural ingredients only! So if your little one decides to give the rice a taste you won't have to worry about them ingesting toxic ingredients.
Post You May Like, That Is Related:
Simple Recipe, That You Can Use Anytime!
This recipe literally takes less than 5 minutes to create! It's super easy and completely customizable! You can pretty much create whatever color sensory rice you want with this recipe! Oh, I forgot to mention that the drying time is almost instant! There is really no need to leave this out overnight to dry. I make a batch before my daughter's morning nap, and by the time she wakes up the rice is ready!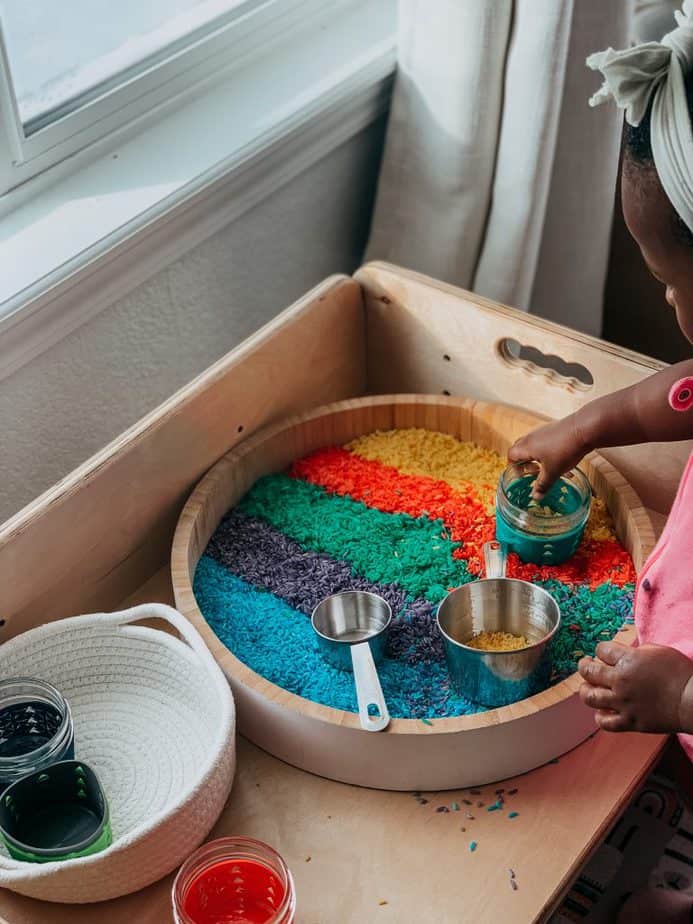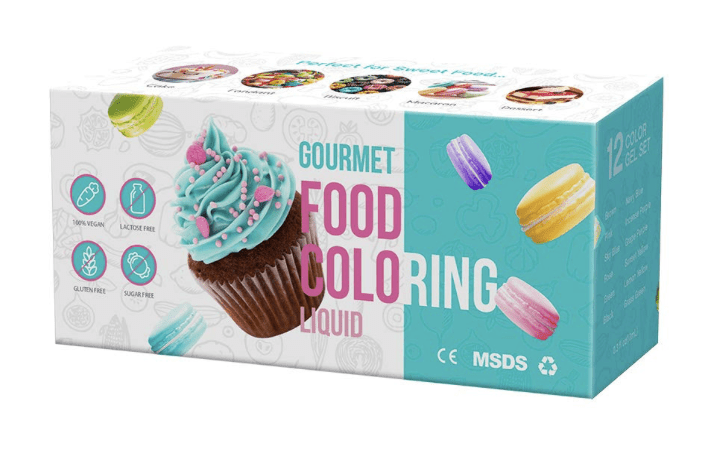 The Best Gel Food Coloring Ever!
You can thank me later! But this gel food coloring is the best I have used thus far. As a former preschool teacher, I have used many different food colorings, and this particular one is budget-friendly and from amazon!
How To Make Sensory Rice
Time needed: 5 minutes.
Add 2 Cups Of Rice To A Ziplock Bag Or Container

You can always add more or less rice if you want, this recipe is super forgiving and pretty much error-proof!

Add 1 Teaspoon Of Vinegar To Rice

I personally like to use less vinegar! I have found that using less vinegar works perfectly, and the rice doesn't smell like vinegar once it dries.

Add Food Coloring Of Choice

Depending on how vibrant you want your rice to be, you can add as many or little drops of food coloring as you prefer. More food coloring will give a bold color, Less food coloring will give a lighter color

Shake The Rice Vigorously For About 30 Seconds to 1 Minute

Continue shaking until all the food coloring is evenly distributed.

Spread Rice Out To Dry

Using paper towels, or a cookie sheet spread the rice into an even layer to dry


Once dry, Add rice to Your Sensory Bin Or tray

Drying time is fairly quick with this recipe. The rice should be completely dry in less than 1 hour
Are you wondering what to add to your sensory rice?
You can add pretty much anything to your sensory play bins. Here is a list of fun things you could add to your sensory rice for some fun sensory play!
Animal Figures
Pom Pom's
Kitchen Items
Buttons
Containers
Cups, Spoons, Cooking Spoons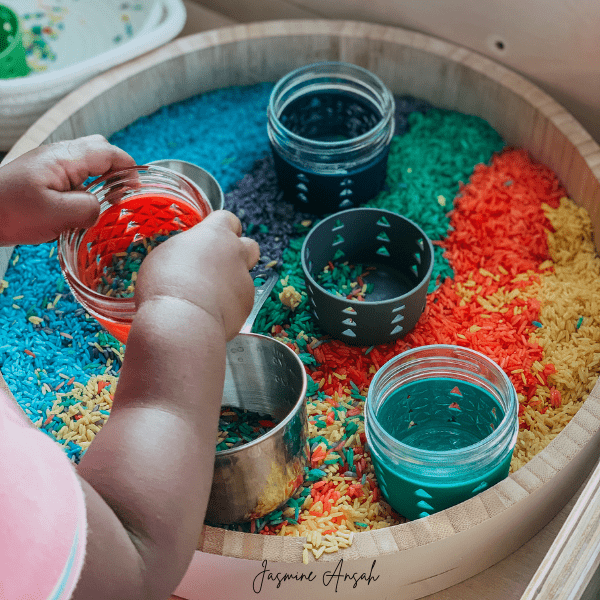 This post was about
How to dye sensory rice that is safe for toddlers!
Leave a comment below, What color are you going to dye your sensory rice? What fun things do you plan on adding to your sensory rice?