This is an in-depth Hiya Probiotics Review, Everything you need to know before you purchase them, and if they are actually beneficial for toddlers.
Hiya Vitamins has been a favorite of mine for about one year now. When I first learned about the Multivitamins, I ordered them right away. I loved the clean ingredients; they contained ZERO grams of sugar, which was a win!
When I heard about Hiya probiotics, I had to get my hands on them immediately, and that's precisely what I did! Here are my Hiya probiotics review and my take on them as a mom with a toddler.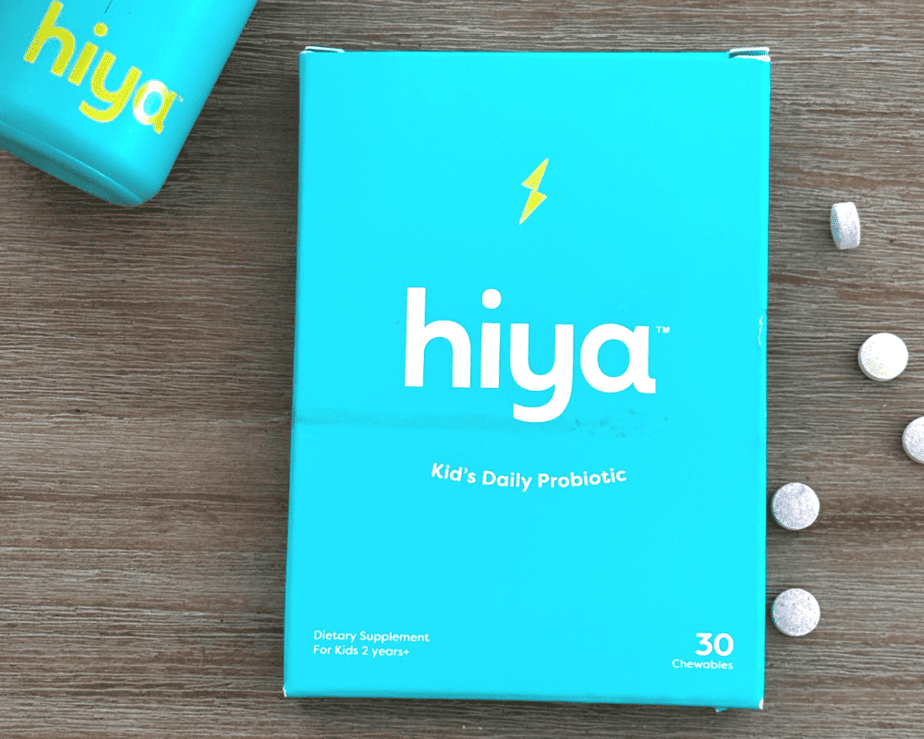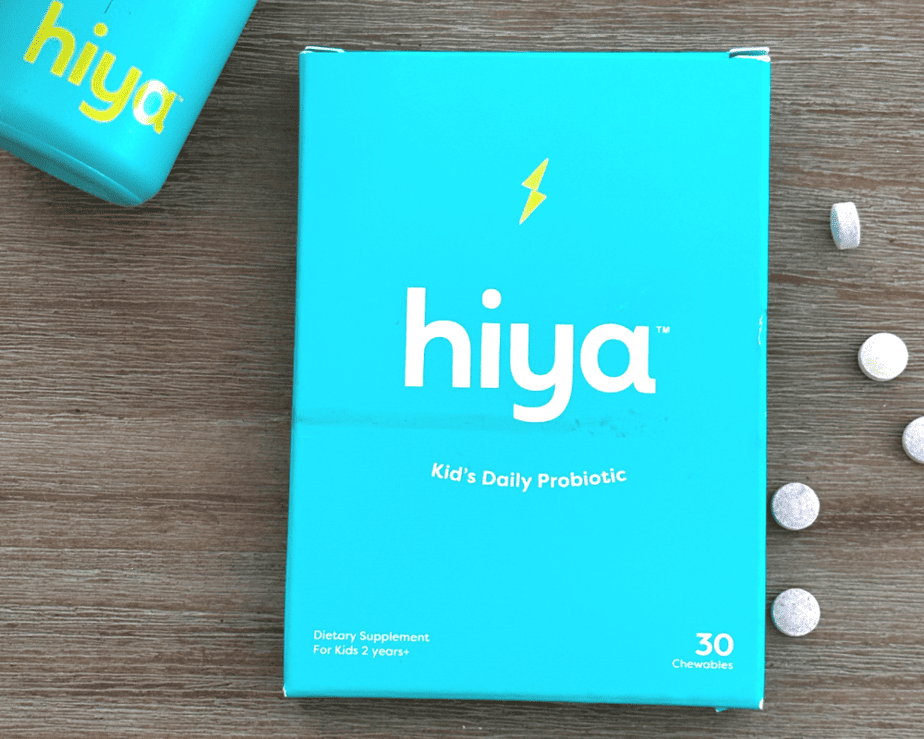 Affiliate Disclaimer: This post may contain affiliate links, which means I receive a small commission if you purchase through my links at no additional cost!
Other Posts You Will Love:
Hiya Probiotic Ingredients:
Hiya probiotic and prebiotic blend includes the following;
10 billion live cultures
Lactobacillus rhamnosus: Found in most dairy products, this bacteria produces the enzyme lactase. Which breaks down the sugar lactose found in dairy.
Lactobacillus Paracasei: responsible for aiding in the breakdown of foods and supporting the immune system. Most often used for common colds, eczema, asthma, and even diarrhea from antibiotics.
Bacillus Lactis: responsible for helping with your gastrointestinal function and supporting your immune system.
Larch Tree Fiber: used as a dietary fiber, said to help lower cholesterol and boost immunity.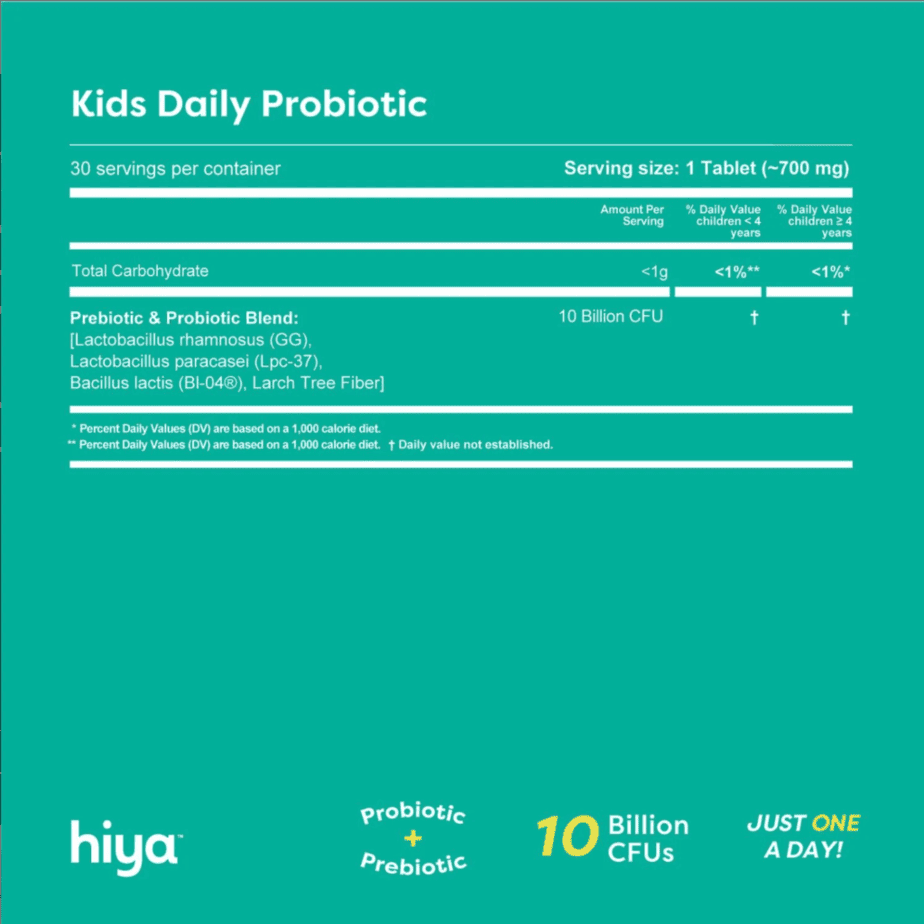 Do Toddlers Need Probiotics?
Gut health is often overlooked, which is unfortunate, considering our gut health plays a significant role in our health altogether.
The gut is made up of good bacteria that play a massive role in helping you digest foods and supports your immune system. Probiotics are helpful for all toddlers, especially little ones on antibiotics, because antibiotics tend to kill good and bad bacteria, so having great probiotics in your child's daily routine will help build up the needed bacteria, which also helps with diarrhea.
I've always believed in probiotics for supporting your immune system; the same benefits apply to young children.
As a former childcare provider, I know just how important immunity support is for small children, especially if they are in daycare. Probiotics are great for supporting toddlers' immune systems, which is why I love probiotics for toddlers!
The Benefits Of Probiotics For Toddlers And Kids
As a mom of an eczema baby, I started to dig deep into the benefits of probiotics on the skin when my daughter was around 1 year old. It's safe to say I went down a rabbit hole and discovered that probiotics have many excellent benefits for toddlers and kids, especially for little ones with eczema.
Some Of The Benefits:
Regular bowel movements
Immunity support
Good gut bacteria ( great for kids with any GI issues)
Eczema improvement
Probiotics and Probiotic-Rich Foods
Probiotics are naturally found in fermented foods such as kimchi, kombucha, sugar-free yogurt, sauerkraut, apple cider vinegar, kefir, and miso soup!
Getting the most nutrients from foods is ideal, but if you have a small toddler, you know that is easier said than done. Toddlers can be very selective about what they eat, making it sometimes impossible to ensure they get all the necessary nutrients!
This is why I love adding a great multivitamin and probiotic to my toddler's daily routine. It gives me peace of mind that she is getting everything she needs.
List Of Safe Probiotic-Rich Foods For Kids
| | |
| --- | --- |
| Kefir | Brine Cured Olives |
| Sauerkraut | Traditional Buttermilk |
| Yogurt | Traditional Kimchi |
| Tempah | Raw Cheese |
Where To Buy Hiya Probiotics
Hiya, Multivitamins, and probiotics are available on Hiya's website. The great thing that I love about Hiya is it's subscription-based! 
No more last-minute store runs or looking all over for probiotics. Each month you will get a refill package to refill your eco-friendly jars! 
Currently, the monthly subscription for the probiotics is $30.00. Check the Hiya website for the most up-to-date pricing.
Final Thoughts: As A Mom
As a mom, Hiya probiotics are the best kid's probiotics. I have tried most probiotics on the market, and nothing compares to Hiya, except for Mary Ruth's brand of multivitamins & probiotics. 
I love Hiya's transparency regarding what they put in their multivitamin and probiotics. My daughter, however, wasn't a massive fan of the taste, so I did have to reach out to Hiya customer service, and they had a few alternatives to helping kids adjust to the taste. 
Their customer service is amazing and very prompt, which I really liked as well.