Like many parents with young children, we often wonder if our kids get enough vitamins and nutrients from their daily diet. This became my reality when I stopped breastfeeding my daughter at around 18 months, and she entered the 2-year-old picky eater stage.
Over the past two years, I have researched the best multivitamin for toddlers, and we have tried out quite a few. Here are my top 5 best multivitamins for toddlers.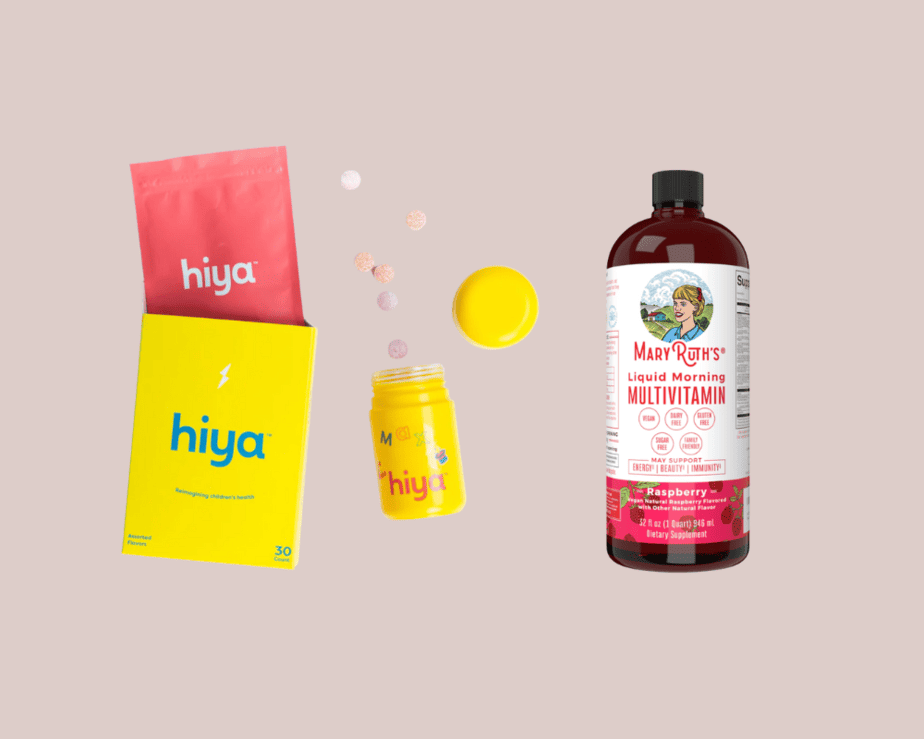 Affiliate Disclaimer: This post may contain affiliate links, which means I receive a small commission if you purchase through my links at no additional cost!
My Top Picks: Best Multivitamin For Kids
Are Multivitamins Recommended For Toddlers?
Ideally, you want to ensure your child gets the most nutrients and vitamins from food. This means offering a well-balanced diet full of variety. Like the saying " eat the rainbow," this holds true when ensuring your little one eats a well-balanced diet.
However, if you're like me, and have a 2-year-old who is very selective about what she wants to eat daily, then multivitamins may not be a bad addition to your child's daily routine. Always consult your child's pediatrician if you have any concerns about your child's nutritional needs.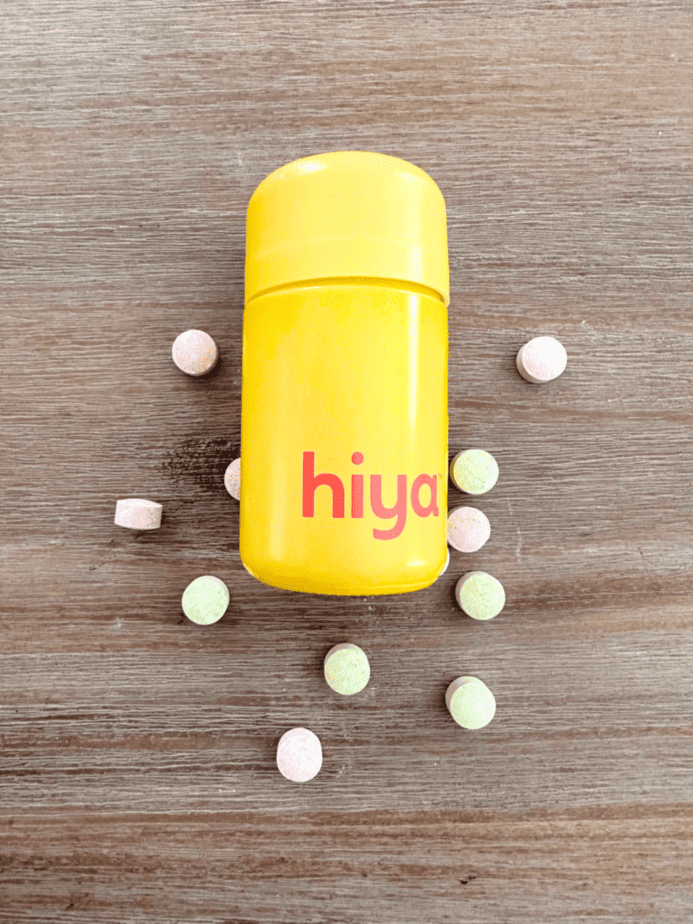 Other Posts You May Like:
There is nothing like Hiya Multivitamins regarding clean ingredients and 0g of sugar. Hiya vitamins come in eco-friendly packaging and stickers for your child to add a personal touch to their vitamins, which is pretty adorable.
Besides Hiya vitamins containing 0 grams of sugar, it also contains 15 essential minerals and vitamins, made specifically for kids, with a fruit and veggie blend. By far the best overall in terms of chewable multivitamins on the market.
Hiya is the best choice overall by far. However, there is one small drawback. The taste; is a personal preference for each kid. Since it does contain zero grams of sugar but is sweetened with monk fruit, it does have an acquiring taste. My daughter wasn't a fan of the taste right away, so I found other ways to get her still the vitamins.
If your little one dislikes the taste, try adding it to a smoothie or contacting Hiya directly. They have great alternative options for kids who are not a fan of the taste just yet.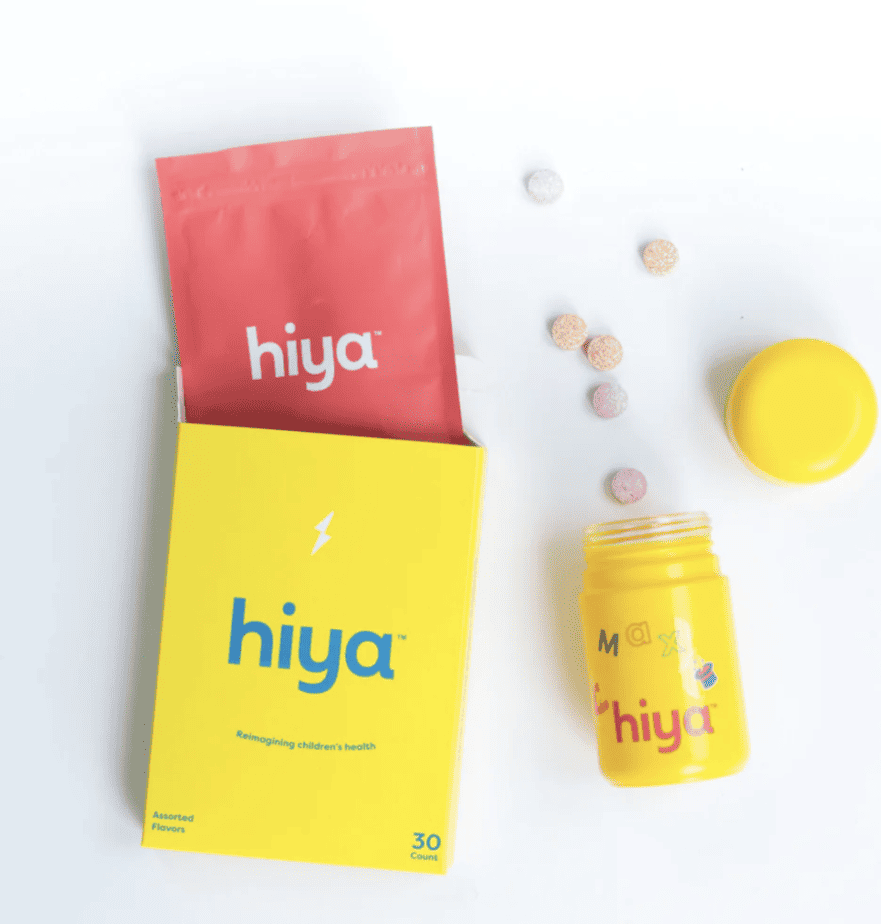 Key Features Of Hiya Multivitamins:
0 grams of sugar
15 essential minerals 7 vitamins
Organic fruit & Veggie blend
Made specifically for kids
Suppose you have a little one who refuses to take chewable or gummies! Mary Ruth's liquid morning multivitamin may be the perfect choice for you! I used the entire Mary Ruth's baby and toddler line when my daughter was smaller with no teeth. I love this brand because they have something for everyone.
When my daughter was younger, I used their Vitamin c drops and probiotics drops, which are designed specifically for young toddlers (1years+)
The liquid morning multivitamin from mary ruth's is a vegan multivitamin for all ages ( 2 years+}. This multivitamin contains key minerals, vitamins, amino acids, and essential vitamins for your body! What I love the most is that it can be added to almost anything without being detected by picky little ones.
As a mom, I love anything that makes my life a little easier!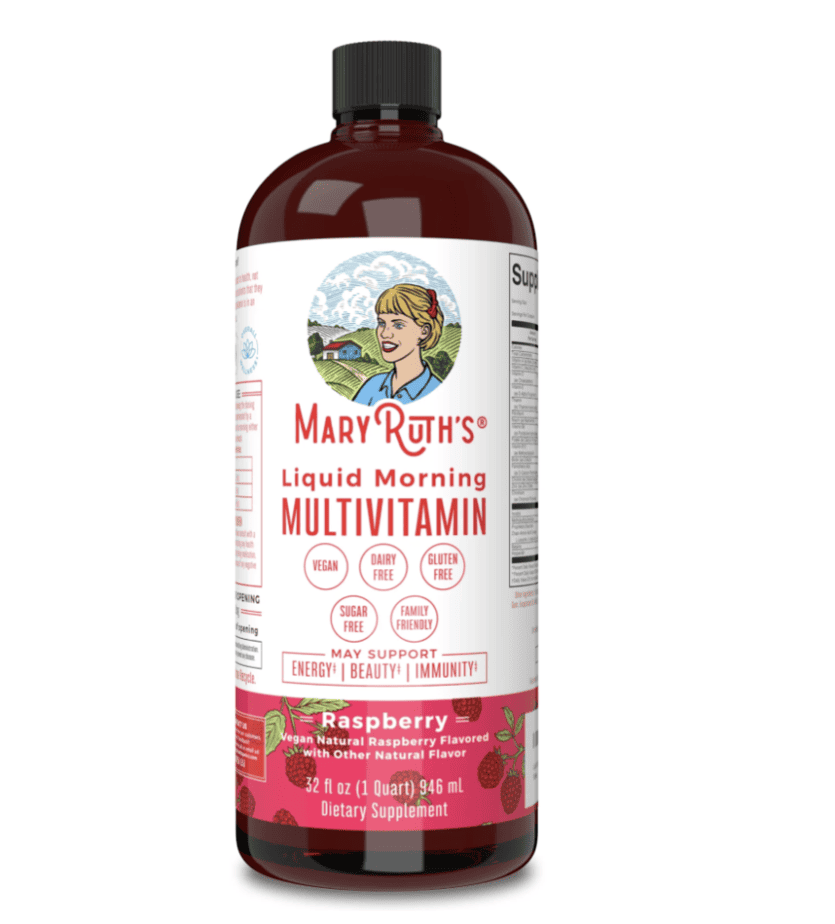 Key Features Of Mary Ruth's Multivitamins:
0 grams of sugar
Vegan formula ( Dairy Free )
Gluten-Free & Soy Free
Made specifically for the entire family
ages 2+ and up
First Day may be gummy if you're looking for good gummies with less sugar than the ones currently on the market. With only 2 grams of sugar, organic fruits and vegetables, and 9 essential vitamins, First Day is a great gummy option. Like the Hiya Multivitamin, First Day comes in eco-friendly packaging also.
First-Day Vitamins is a vegan and gluten-free dairy formula formulated in Germany with no artificial flavors or colors. The downside with a first-day multivitamin is that it does contain a small amount of sugar, and if you are not a fan of gummies, that may be a downside for you.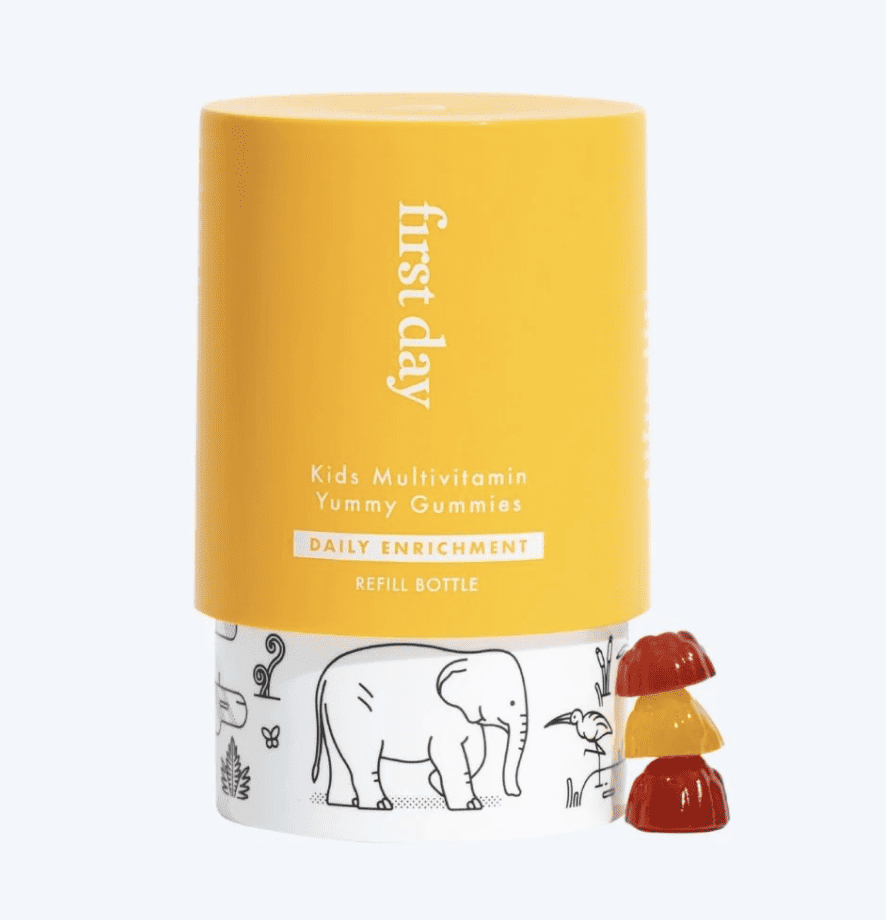 Key Features Of First-Day Multivitamins:
2 grams of sugar
Organic fruits & Veggies
Gluten-Free & Gelatin Free
no artificial flavors or colors
If you're looking for something a little more budget-friendly and convenient to pick up, Olly Kids may be an excellent option. Olly Kid's multi + probiotic contains both a multivitamin and a probiotic. As you may already know, vitamins and probiotics can get expensive, so this is a budget-friendly option.
Aside from being budget-friendly, there are a few significant drawbacks with the olly kids multi + probiotic. It does contain sugar 2 grams of, in addition to cane sugar, glucose syrup, gelatin, and other "natural flavors."
This is a multivitamin and probiotic. However, the amount of probiotics in this multi is extremely low compared to Hiya probiotics. Olly has 250 million CFU, whereas, Hiya contains 10 billion CFU, with prebiotic and probiotic blends.
Is this a budget-friendly option? Absolutely! But the ingredients aren't the greatest, which may be a drawback.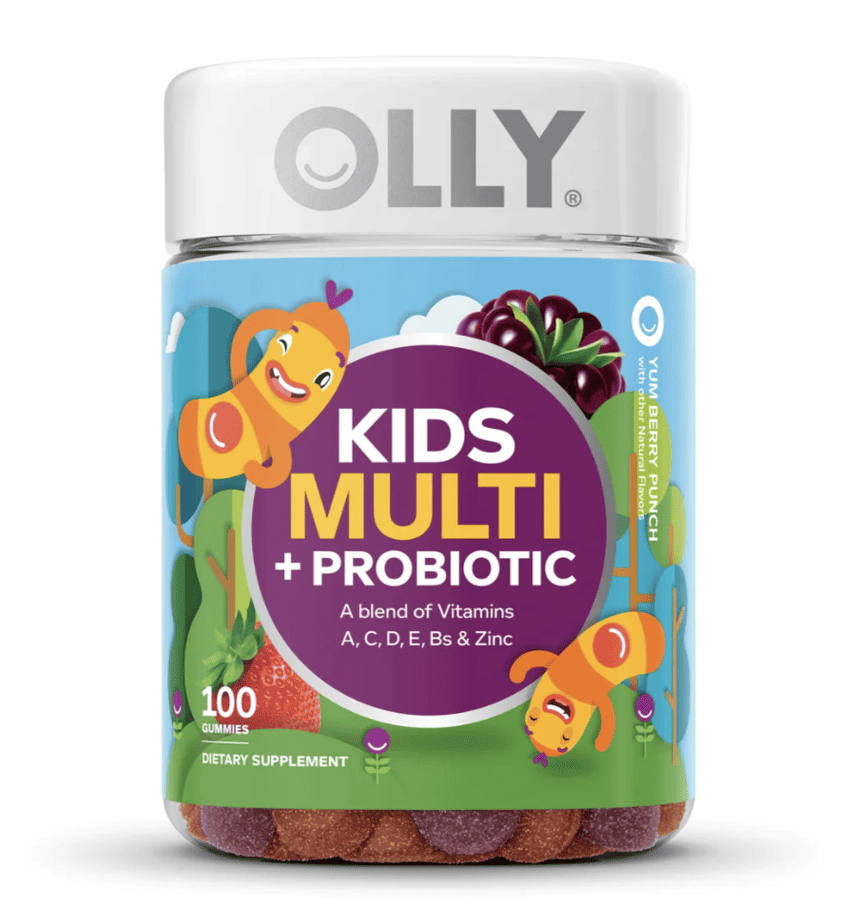 Key Features Of Olly Multivitamin + Probiotic:
Designed for ages 2+
1-2 grams of sugar
12 essential vitamins
does contain " artificial Flavors"
Multi + Probiotic gummy
Garden of Life Multivitamin Powder is an ideal solution for toddlers who are very particular about taste or moms who want to make giving vitamins much easier.
Since this is a powder formula, it can be added to beverages, foods, and even smoothies undetected. It can be difficult for young toddlers to take their vitamins if they don't like the taste. So I love the powder formula from this brand.
This Multivitamin is packed with 15 essential vitamins and minerals for toddlers and kids. It is made of certified organic real food ( fruit & vegetable blend), contains no artificial ingredients, and is non-GMO verified and gluten-free!
I have always been a massive fan of the Garden of Life brand, from its prenatal products to protein shakes. Overall they put good, quality, and clean ingredients in their products!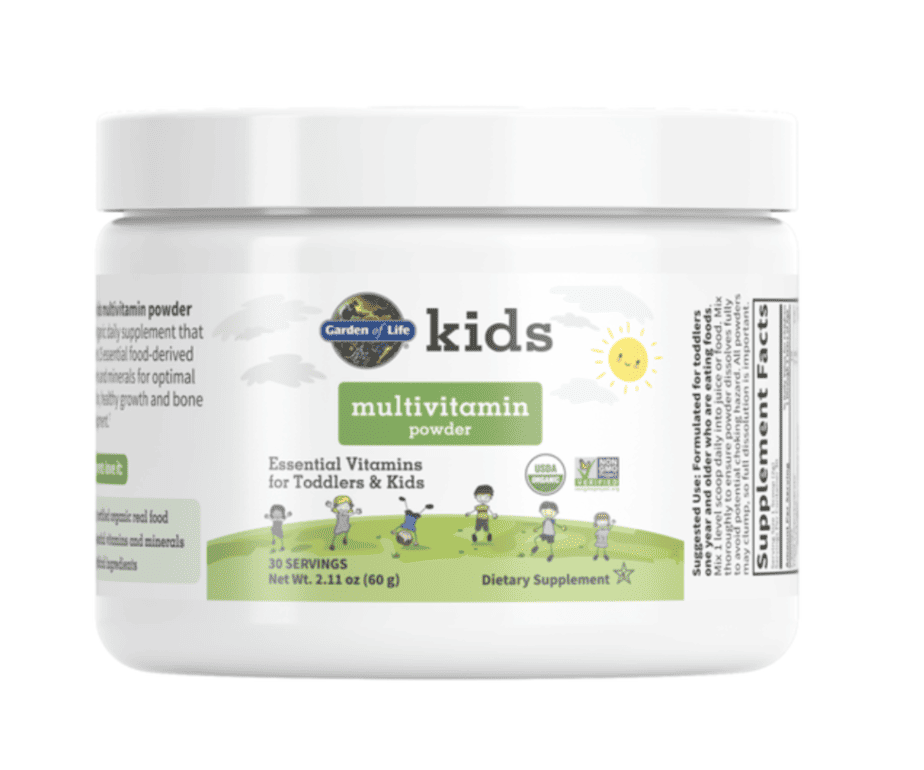 Key Features Of Garden of Life Organic Powder
Designed for toddlers & kids
Five essential minerals and vitamins
Healthy growth and bone development
Certified organic real food
no artificial Flavors
Non- Gmo Verified
Gluten-Free